As you will have noticed from the previous post about my balcony garden in the sky, one of the things I love to do is grow my own basil – one of the most aromatic and useful herbs there are.
It saddens me when I see it in little pots in the supermarket. All you get are weedy, little, soft stems and a poor plant that is far too big for the pot. The seedlings are grown indoors in their thousands and, once bought and brought home, tend to die quickly in their thousands too. The best basil is grown from seed and allowed to get good and strong outside. I'm certain that the buffeting of the wind strengthens their stems. The sunshine concentrates their scent. Is there anything nicer than the scent of fresh basil? It's enlivening.
OK, there's a lot of the time when you simply CAN'T grow basil outside but when the opportunity is there – make the most of it. Failing that, of course, you must have a windowsill?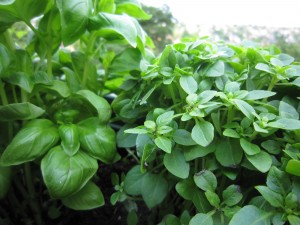 I like to grow the usual sweet basil, with its large soft leaves and the smaller leaved variety, Greek Basil. It's not really Greek at all, but Italian, originating in Chile. An international basil with the most wonderfully strong scent. It grows tidily too, like a tight,  little ball. I keep promising myself that next year I will grow it in two, tall and elegant pots and put them on either side of the french doors to the balcony. Can you imagine the smell of that, wafting into the living room on a hot night? Scented topiary. Blissful.
I use my basil in traditional ways in tomato based sauces, scattered on top of  beautiful buffalo mozzarella with tomatoes as a delicious salad, in pesto for a simple pasta dish and in oil that I would make to drizzle over salads or cheese or bread later. Always it seemed in savoury ways. I'd never even thought of using it in something sweet.
And then, in last month's Observer Food Magazine,  Nigel Slater wrote about going to the Royal Horticultural Society's Chelsea Flower Show and meeting his friend, Jekka McVicar (she of the famous Jekka's herbs). She handed him some basil biscuits…..
Basil biscuits?
Could this be a new use for some of the basil I was growing? I had to try.
And a biscuit, too…. well, it would be in the interests of research, obviously. You are allowed research on a diet, I'm sure of it. Obviously, me working in a University has caused me to develop serious academic concerns.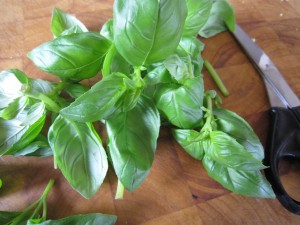 Besides, it was quick and easy. What more prompting did I need?
No more prompting but I did need 100g of butter, 50g of sugar, 50g of ground almonds, 100g of plain flour and a large bunch of basil leaves.
I like the symmetry of that recipe – easy to remember quantities and not many ingredients. Perfect!
The oven was switched on to 180 degrees C ( 160 degrees if you have a fan assisted oven) 350 degrees F.
It was a simple matter of creaming the butter and sugar together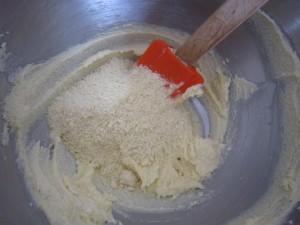 Then adding the ground almonds and then the flour.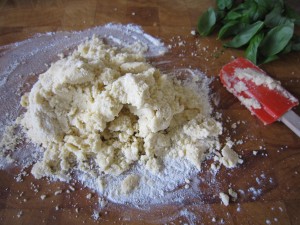 Pop that out onto a floured board and knead it into a dough.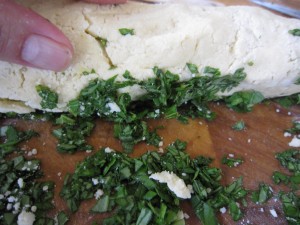 Then, chop your basil and start rolling the dough into it… the basil will  get right in there and the smell is magnificent.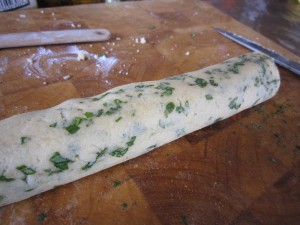 See?
All you have to do now is slice the roll into biscuits! The recipe says 15 -20 biscuits from this amount of dough so use your judgement. I can never work out, with any speed, just how big 1cm is. It's about the width of a little finger, if that's any help? And yes, I did just measure it with a ruler to check.
(Comes of being a child of the crossover age when we switched from Imperial measurements to metric, I suppose, although I do think all of us Brits are like that. It doesn't matter how long we have been metric, or how many regulations there are to stop shopkeepers selling us half a pound of butter when we should be asking for grams, or a pint of milk  instead of 0.5862 of a litre; we still, generally, think in pounds and ounces, pints and gallons, feet and inches.
Look at when a baby is born – we still coo with delight (and understand exactly) what a good 8lb baby will be like. Same goes for feet and inches. I am five feet three inches tall. I can understand that. 160 odd centimetres? Sounds like a giant! And my waist… well that used to be 24 inches – though with age and greed that has certainly increased. 24 inches? You know where you are with that. But 61 centimetres? Dear me.)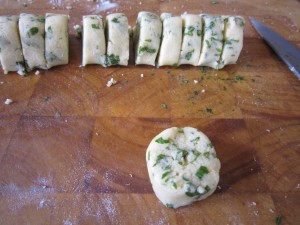 So, slice your biscuit dough into the appropriate size. Use whatever measurement you like. I am most fond of commonsense as a measurement.
Put them onto a baking tray – either grease it well or use, as I do, a silicone baking sheet so the cooked biscuits can slide off easily. (Saves on the washing up, too!)
Into the oven for 15 – 20 minutes and then you get this….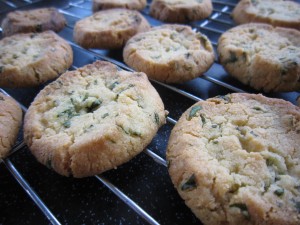 Deliciously golden, green flecked biscuits… the smell is utterly gorgeous. The taste is subtle, sweet and delicious.  very definitely more-ish.
Whoever would have thought that putting basil into a biscuit could be so inspired? Jekka McVicar deserves a medal.
I took some in to work and they were devoured there too.
All I can say is, basil is not just for tomatoes but for biscuits too!