While we were in the north I had high hopes of being snowed in and had made sure we had the makings of lots of delicious comfort food recipes  to see us through what could be a seige situation.
Of course, while there was snow we didn't exactly get trapped by it. It showed no sign of melting, though, so I felt entitled to think about something warm and sustaining. Calorific, even. After all, if it did turn nasty, we wanted to be able to fend of hypothermia.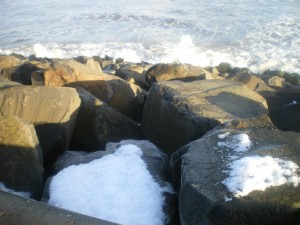 It really was cold, though. Colder than I have known in a long time. We went to the beach nearby and, even though it hadn't snowed for three, maybe four days, there was still snow on the rocks that are piled up for the sea defences.
Now these rocks are lashed by the sea daily. The waves often crash onto the promenade and you can taste the salt in the air. You'd expect, then, that the snow would have either been washed away or to have melted.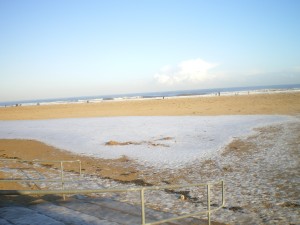 There was even snow on the beach.  Nothing was melting.
Faced with all that, I knew I had to make something to cheer us up, warm us through and fill us with each decadent mouthful.
It had to be Jansson's Temptation.  I was always told that it was called that because it is so delicious it caused a Swedish clergyman to break his vow not to indulge in earthly pleasures. If you haven't made it, try it. It will be something you dream about.
It is an oven baked dish of potatoes, onion, cream and Swedish sprats, anchovy style.
Now before you start scuttling backwards, shrieking that you don't like anchovies, bear with me. They are actually sprats, cured in the Swedish fashion, which means they are a beguiling mix of sweetness and saltiness. The best place to get them? That famous Swedish home furnishings superstore – Ikea.  And the tin to look out for?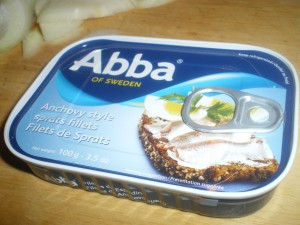 Right. First things first. Peel some potatoes and slice them, first one way and then the other until you have matchstick sized pieces of potatoes. I used two potatoes per person because, somehow, this just slides down.
That's probably a bad thing in terms of diets but a good thing in terms of sheer, unadulterated pleasure.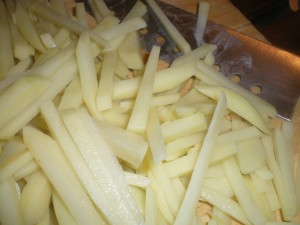 Parboil them for 3 or 4 minutes, then rinse them in cold water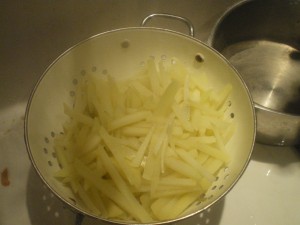 While that is going on,  peel and slice thinly, a large onion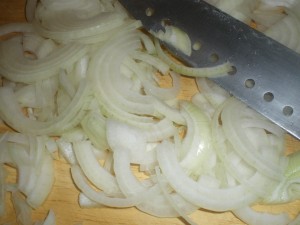 Butter an oven proof dish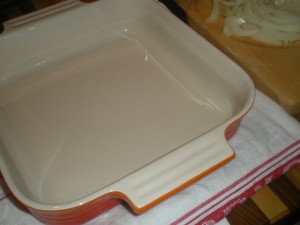 And then put a layer of potatoes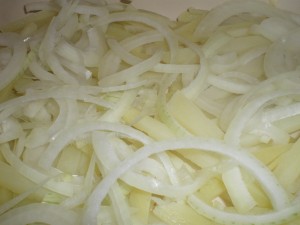 Followed by a layer of onions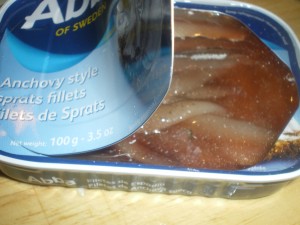 Then scatter your sweet and salty sprats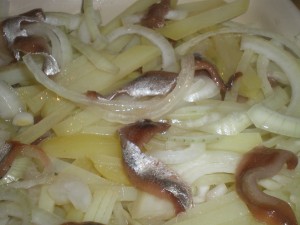 They are so pretty – pink and silver…. quite unlike Mediterranean anchovies.
I pour some of the liquid sweet brine over the potatoes as well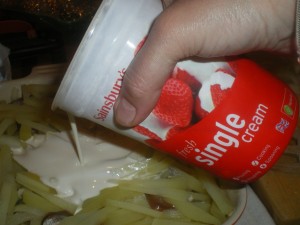 Then cover the lot with some single cream. A large pot should do it.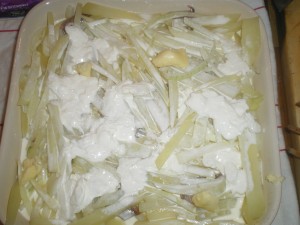 And then… well, what the heck… just put a few dots of butter on top of it….and then into an oven  at 170 degrees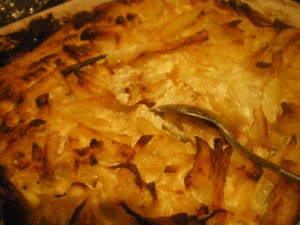 ……….until you have a golden brown,  delicious dish. It takes about 40 minutes or so.
 A bit longer, if you have other things to do. Just cover the top with tinfoil to stop it burning .
Then… heap your plate with what is probably the most delicious potato dish in the world. The sprats have dissolved completely into the cream and give a beautiful sweetly, savoury flavour. Unless you'd been told there were sprats or anchovies in there, you'd never know. This has everything you could wish for – the softness and comfort of potatoes, a creamy, mouth filling texture and that umami type of taste – all sweet, salty and deep.
You would just swoon with the first mouthful.
I serve it with plain roast meat – lamb is good… but the star of the meal really is the potato.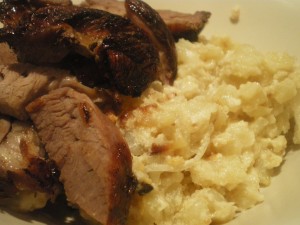 No wonder poor old Jannson succumbed.