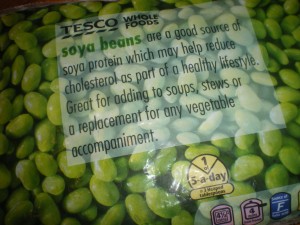 I really like the taste of soya beans – there's a lovely nuttiness to soya and the texture is really good. Not floury at all like so many beans, but clean and firm. I often make a mixed dish of soya beans and peas to serve with a meal as a vegetable side dish. It looks so pretty as well – bright green peas and beans together look beautifully fresh and taste clean and bright.
In the summer I had spotted a recipe in Good Food for Pea and Broad Bean Houmous and thought it looked delicious… but how much more delicious it would be, if the broad beans were replaced with soya beans.
As it is November, the heating systems have come on at work and they are proving difficult to control – it can be almost tropical at times, so a light and cooling lunch (that is ideal in summer time) actually has its place in the grey days of late autumn. You can make this and pack it easily for a lunch to be  taken to work… all you need are the soya beans, some peas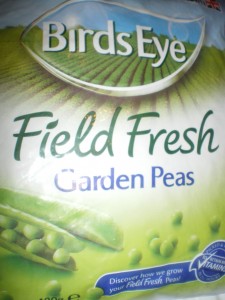 Some garlic, a lemon, some oil, fresh cheese  (well, I made it at the weekend in the Great Greek Yoghurt Experiment and I still have some left so that will be perfect instead of the goat's cheese in the original recipe) and some lovely, slow risen No Knead Bread.
Let's start on the houmous then….. start by boiling the soya beans. They are done first because they are bigger than the peas… so give them a few minutes in a pan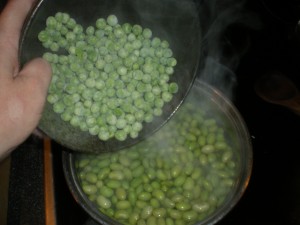 and then add the peas. Frozen vegetables, like peas and beans are marvellous because you end up with the freshest and tastiest little morsels – far sweeter than you could ever hope to get by buying them in pods.
The peas will only need a minute or two then drain the lot, rinsing them in cold water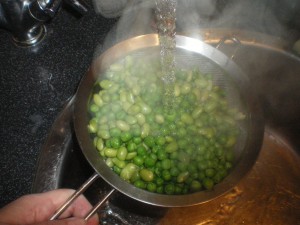 They really do look so lovely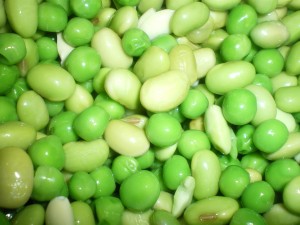 While they are rinsing and cooling down, pop two or three garlic cloves in the pan you have just emptied and add some oil…. this needs to be on the lowest setting so you can gently cosset those cloves into softness without burning them or making them change colour (though I have to say it isn't the end of the world if they do change colour…)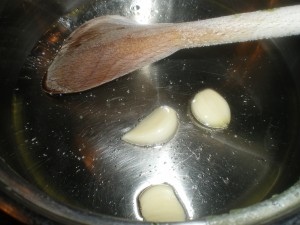 Then, whizz the peas and beans to a sort of roughishly smooth texture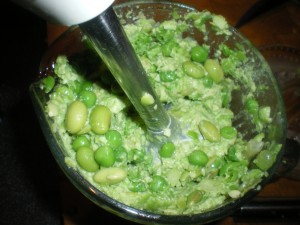 Once the garlic is soft, add the oil and the garlic to the pea and soya bean puree and whizz it round again – you want it smooth but not so smooth it has no texture at all. You are aiming for a graininess, I suppose.
And squeeze a lemon, after taking off its zest .. add the juice and the zest and stir ….season it well with salt and pepper…. it should taste lovely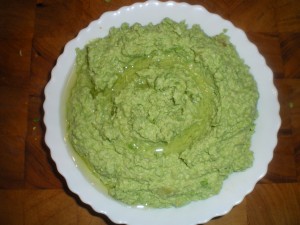 Put it in a bowl and drizzle with more oil… then… make some toast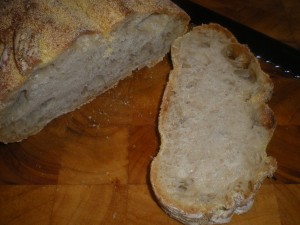 Get out your cheese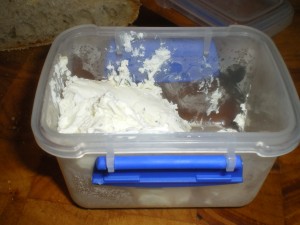 Spread lightly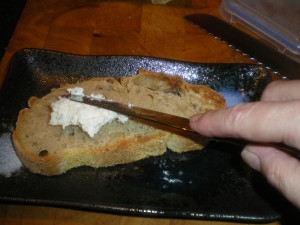 Then top with your lovely houmous….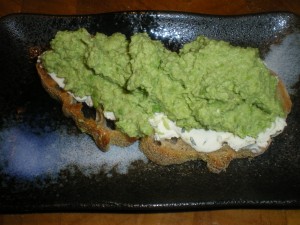 … there you go… light and fresh and so very tasty. Ideal in the tropical temperatures of an overheated office. Even if it is the dog end of November.