Not only do I love cooking and eating, I love reading recipes and articles about cooking and eating. I'm a great snipper and copier out of recipes that I think will be worth doing, or that interest me. I'm always on the lookout for recipes that can be made in advance – we lived in an apartment in Nottingham where the upper floor was an open space for the kitchen, dining and living area and here, in Malaysia, we have much the same layout. That's lovely when everything is tidy and ready to go but if you have guests sitting around with drinks it's not so great for them to see you juggling pans and plates, cursing mildly and getting hot and bothered.
I like to have things ready to bring out – for one thing, it gives me time to brush my hair and wipe flour, sweat and splashes off my shiny, red face.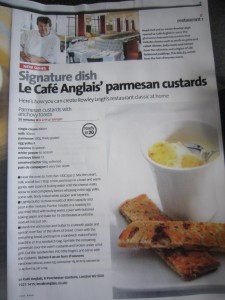 In my folder of Things I Really Must Make, I found this article, from Olive Magazine, dated June 2008,  but searching the site now, there's no recipe listed. You'll just have to follow what I write out.
Rowley Leigh, of Le Cafe Anglais has, amongst the many wonderful dishes he makes, a classic starter, Parmesan Custards – creamy, cheesey, savoury set custard served with thin fingers of toast, spread with a thin smear of anchovies, perfect as a simple, yet stunning, make ahead starter.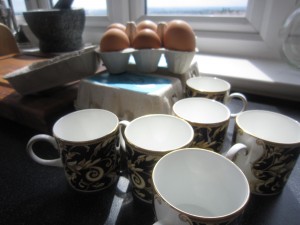 I have a set of espresso cups that are just about the right size and as they are part of my Wedgwood Cornucopia dinner service, they were going to look perfect at the table. We  were having good friends round to dinner and I wanted to make sure everything was as lovely as possible. There's no point in keeping things 'for best '- my motto is, if you've got it, use it! If you haven't got espresso cups, little ramekins or china moulds (they need to hold around 80 ml) will do just as well.
I needed 4 egg yolks; 300ml of single cream; 300ml of milk; 12 anchovy fillets; 100g of finely grated parmesan for the custard and another 150g for some parmesan crisps I was going to make as an extra; 50g of softened butter; 8 slices of good bread ( I used thinly sliced No Knead Bread) plus cayenne and white pepper to season everything with. The recipe said this would make 8 small pots but the six espresso cups took slightly more than the recommended 80 ml so everything evened out. Besides, there were going to be six of us eating.
This really is quick and easy – so easy, that the first thing you do is get the oven turned on to 150°C/300ºF/gas mark 2.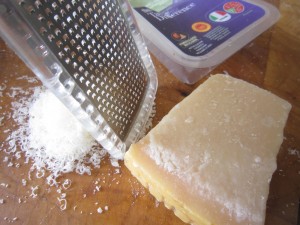 Then, grate the parmesan finely so it makes a lovely, light and airy mound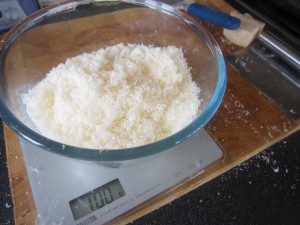 Remember that this is for the custard…. I need the rest of the parmesan for crisps, later.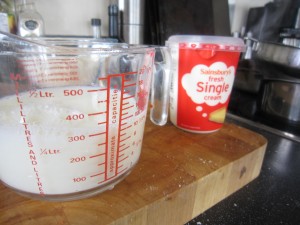 Mix 300ml each of the milk and the cream together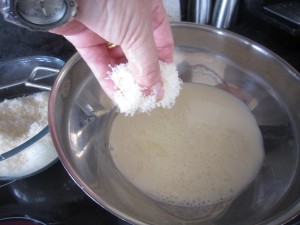 ….then add in all but a tablespoon of the parmesan, if you are using ramekins.  You save this because you can sprinkle this last bit on top and then grill your pots to make a crisp topping.  I was going to make parmesan crisps instead because I didn't want to put my lovely Wedgwood under the grill.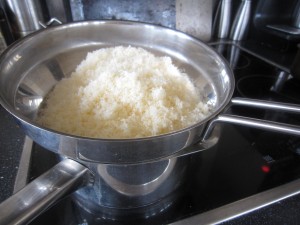 …and heat gently in a bowl or a bain marie, over a pan of boiling water until the parmesan melts.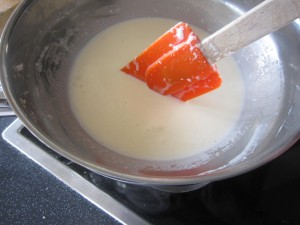 Allow this to cool completely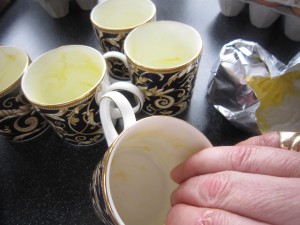 While the mix is cooling, butter your cups or little bowls.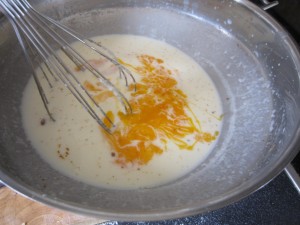 Once your mix is cool,  whisk in the four egg yolks, a pinch of cayenne, the same of finely ground white pepper and maybe a pinch of salt. You must let it coolproperly because otherwise you will end up with cheesey scrambled egg.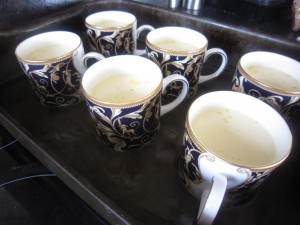 Put the cups in a roasting tin, then fill them with equal amounts of the custard mix, then put the tin on the oven racck before you add boiling water. You need enough to come maybe one third of the way up the cups. Doing it this way prevents the mix slopping about and you pouring boiling water over your feet. Always a plus point in my book.
Cover the  top of this with some buttered baking parchment or a silicone sheet and then let everything bake for about 15-20 minutes, when they will be just set.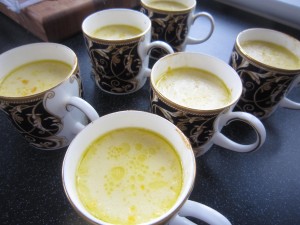 They emerge, looking gorgeous. I put them to one side while I made the toasts and the crisps……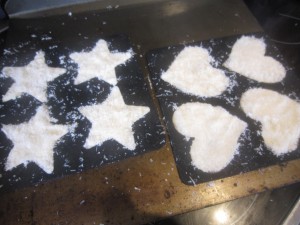 My sister gave me some Curtis Stone silicone wafer baker molds as a Christmas present and I really wanted to try them out  –  you simply pack them with the rest of the finely grated parmesan and put in a low oven, on a baking tray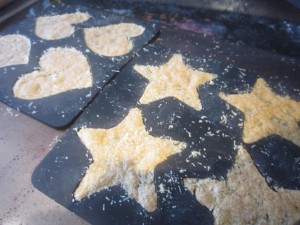 .. until they turn a soft, golden brown. Leave them to cool and you can get started on the anchovy toasts.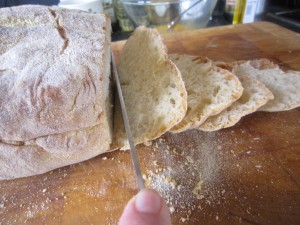 Thinly slice some good bread – each person will need a slice – and cut the crusts off to make lovely, neat, evenly sized rectangles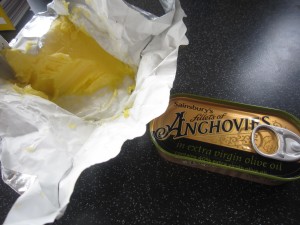 Then take your softened butter and the anchovies (drain them – you don't want the oil)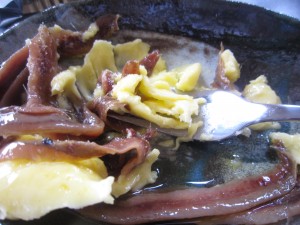 ….and mash them into a smooth paste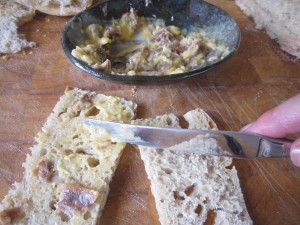 Lightly spread half of the slices of  bread – and I do mean lightly. You don't want to overpower everything with too much anchovy.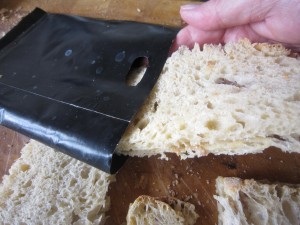 Lay a slice of unbuttered bread over the spread ones to make dainty sandwiches. The easiest way to toast them is in a toasted sandwich bag and then pop them in the toaster for a short time. You don't want to make them too toasty and crisp – you have to slice them into fingers after that…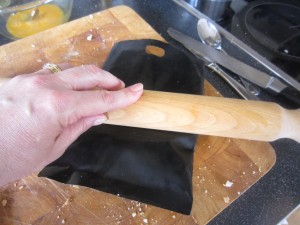 A good way to get very thin toasts is to roll them, still in the bag, with a rolling pin to get them nice and smooth, then toast them. When they are done they can easily be cut into fine fingers.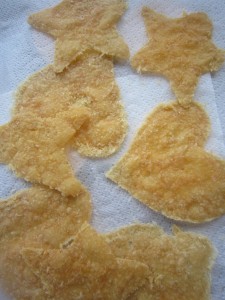 By now, the parmesan crisps are cool and can be gently lifted from the molds. How fantastic is that?
And then… well, then you are nearly ready.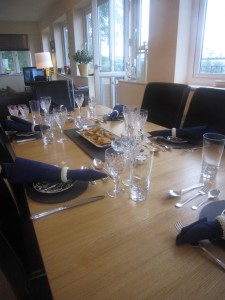 Wipe down the kitchen and set the table….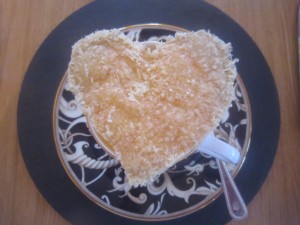 When you are ready to serve, if you are using ramekins or china molds, sprinkle the last of the parmesan on top of the custards and brown gently under a hot grill. I had my parmesan crisps to place on top, instead.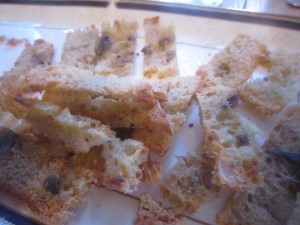 The fingers of anchovy toast were piled onto a plate
The starter was served…..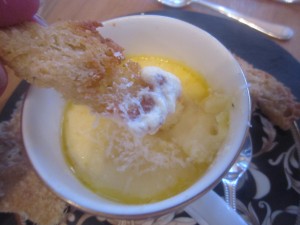 The crispness of the toast fingers contrasted deliciously with the soft, savoury custard.
The parmesan wafers added a gorgeous crisp bite.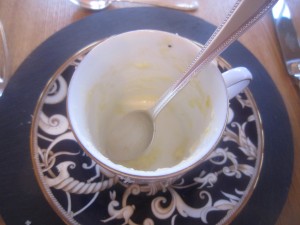 Successful? Yes.
Tasty? Very much so.
Easy to do? Yes, so much so that this, with its comforting creaminess and rich, savoury flavour, would be a great dish to do when you needed some lovely comfort food.
In fact, the more I think about this, the more I want to make it again. It will remind me of a wonderfully happy night in Nottingham and I can introduce it to my new friends here in Malaysia.  What a good reason to invite people round to supper!