Every country has some foods that are instantly recognised as being associated with it – for instance, in England  it is going to be roast beef and Yorkshire Puddings, or maybe fish and chips; Japan is probably  sushi. France? Maybe Foie gras or cheeses such as Camembert and Brie.
Argentina is famous for its meat, of course, and especially for the beef, but all Argentineans have a deep longing for sweetness….. because wherever you go in Argentina you will find dulce de leche (literally "sweet of milk")  – the most delicious caramelised milk, made from sweetened condensed milk. Sweet, sticky, almost softly caramel toffeeish…
When you go to breakfast, there are little pots of it, waiting to be spread on toast… when you have a pastry or a biscuit, there's usually dulce de leche involved somewhere, either as a filling or a flavouring. You can buy lovely large pots of artisan made Dulce de Leche or commercially produced packets. Whatever you get is guaranteed to taste delicious.
One of our dearest friends is from Argentina and he always looks wistful at the mention of dulce de leche when he is far away in cold, wet England.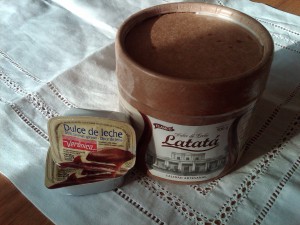 The thing is, it's not difficult to make… it is, however,  (usually) time consuming… and, in my eyes at least, just a bit scary.
The traditional way is to take a large quantity of milk and sugar and, after pouring it in a pan, slowly simmer it until it thickens as the water evaporates and it caramelises to a wonderful golden brown. Thing is, you have to stir it constantly – you can't walk away and leave it.
Another way is to take a tin of sweetened condensed milk and boil it, unopened, in a pan for a couple of hours. You can't walk away from that, either. If you let it boil dry the tin will explode and the kitchen (and any unwary inhabitants) will be covered in superheated caramel. If you avoid that fate then you have to take care to leave the tin to cool properly before you open it.
See what I mean about it being a bit scary? And if you went down the boiling tin route, how would you know that it had caramelised perfectly?
So, I was content to eat it but too afraid to try making it.
Until I found, whilst idling around various food blogs, (one of my favourite activities) an article by David Lebovitz telling me how to make it safely and quickly!
He says to make it in the oven in a bain marie and that it only takes one and a quarter hours…… what's to lose, I thought? I just had to try it out.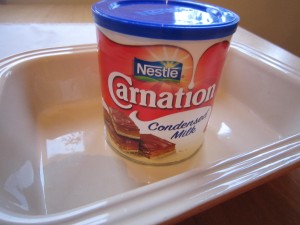 I needed an oven proof dish and a tin of sweetened, condensed milk.
The oven needed to be preheated to 220 degrees C/200 degrees if fan assisted) 425 degrees F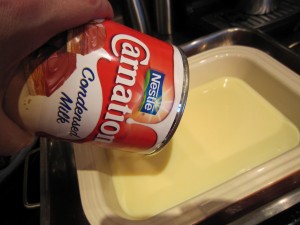 I put the oven proof dish inside a large metal roasting dish and then poured in the milk.
A sprinkle of Maldon sea salt was stirred through.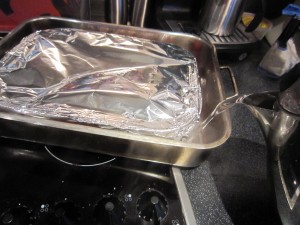 I wrapped tin foil tightly over the dish and poured hot water into the roasting pan until it was half way up the sides of the dish with the condensed milk it.
And that was it.
Into the oven for an hour and a quarter, or thereabouts.
And no standing over it, terrified that it might boil dry and the tine explode… no standing for hours, stirring it slowly. Just as well because this was a Friday night after my first week back at work with jet lag and all I wanted to do was slump on the sofa.
I did check after about 40 minutes that it hadn't boiled dry (it hadn't) and I couldn't resist having a peek at the colour…..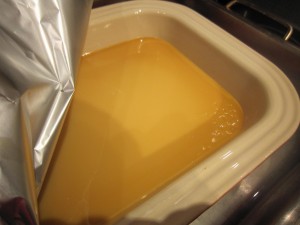 It was turning golden!
And, oh, the smell….. delicious, rich, sweet caramel aromas coming from the oven… Someone should make that smell into a scented candle or room perfume…
And then… just an hour and a quarter after putting it in the oven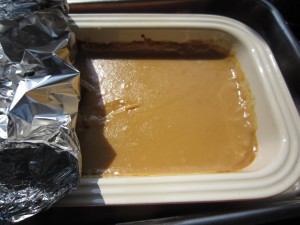 It looked good.
But it was too hot to taste so I had to leave it to cool. David said to whisk it to get out lumps out but it was fine.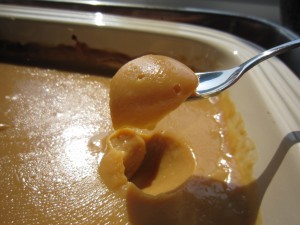 Oh my word.
Thick, delicious, spoonable delight. It was dulce de leche.
And I had such plans for it…..
But I needed a real assessment to be done – was it good enough? Did I have to go back to the traditional way of doing it?
As I said, we have a very dear friend from Argentina. It was his marvellous mother who organised all of our travels around the country (Thank you, P!) and he was with us for most of them. Who better, I thought, than N?
That was it – when I saw him, I marched up with a spoonful held out in front of me and demanded he tried it.
He liked it! Not only that he said it was delicious!
N's fiancee, L, had made it the traditional way before now and both of them reckon that this way produces dulce de leche of comparable deliciousness with a minmum of effort.
So, there we have it – quick, safe and easy. Delicious and moreish. Rated by people who know what it should taste like… and by those just want to scoop it into their greedy mouths!