As you may know (if you read my post about Game) I do tend to get my hands on a variety of game birds. The latest to turn up was pheasant.
One of the luxuries of having a ready supply of game is that you can experiment more readily than you would if you can only get  the occasional bird.
About a year ago, I scrawled some notes about a recipe for Partridge Tandoori. I know it was Valentine Warner but when I searched for it online, I couldn't find it, so I can't link to it. You'll have to take my word on it. He had worked out the calorie count as coming in around 329 calories per serving. Well, pheasant would do instead of partridge and it would still be able to feature in the 400 and Under section.
You don't need a tandoor oven to cook it on – you could use a barbecue, but I think in this weather, it is appropriate to stay indoors and use a griddle pan.
The trick with any tandoori dish is the marinade. The meat (whatever sort you are using) goes into that and stays overnight to absorb the flavour.  If you want this you need to start a day ahead . The only reason it is red is because of red food dye so we can miss that out, I think. So… start with making the marinade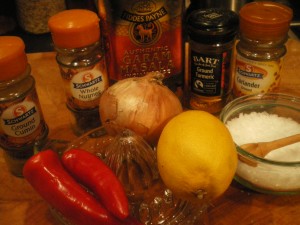 You'll need 2 tsp of ground cumin
2 tsp of turmeric
1 and a half teaspoons of ground coriander
1 tbsp of garam masala
Nutmeg – a good grating
1 tsp salt flakes
6 garlic cloves, peeled
Half a small onion
1 red chilli, de seeded
Half a juiced lemon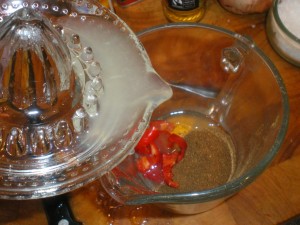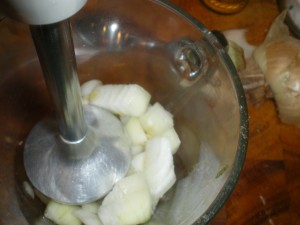 Blitz them all into a fine paste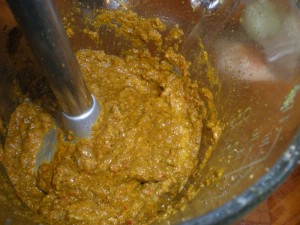 Then  add 250 ml yoghurt  – I was using the Total Greek Yoghurt 0%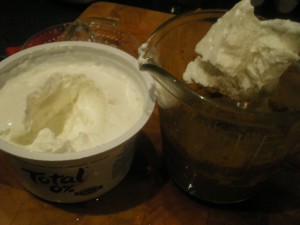 and give it a quick blitz but don't over process it – see it has some texture?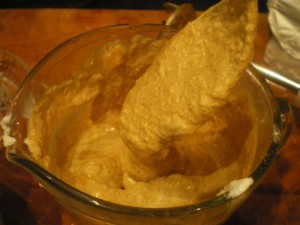 Put it all into a large bowl. It needs to be large because you are going to put your pheasant in there.
And now for the fun bit. I have some poultry shears, which are big, strong scissors that can snip their way through any bird… if you are going to be doing this sort of thing a lot then it would be a good idea to get some. If not then have at the carcass with a sharp knife – but watch your fingers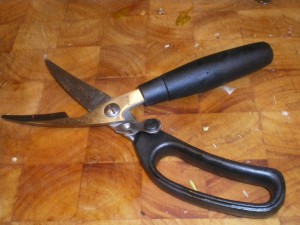 You need to cut the bird, first down the breast bone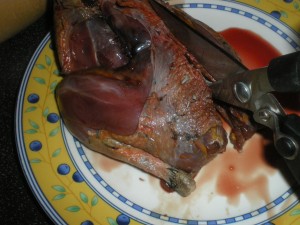 so you have two bits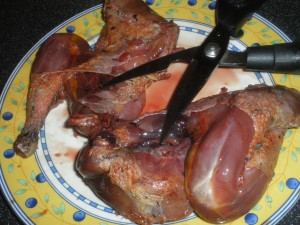 and then separate the legs and thighs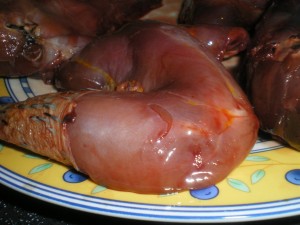 Then, take the skin off… the skin of game birds is not like the sweetly savoury crispy skin you can get on a roasted chicken, so just stick your fingers in there and rip it off. It's quite easy, really… and besides the skin is already torn from where it was shot.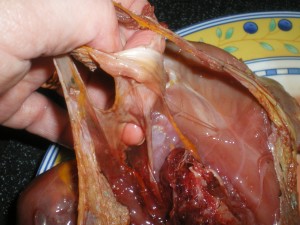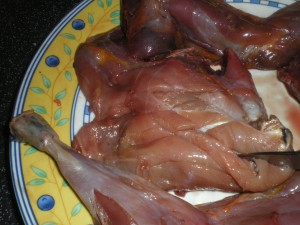 Now then.. you have a plate of naked pheasant, cut neatly (or not)  into pieces.
 Because you are going to marinade the pieces overnight, you want that spicy, yoghurty mix to get into the flesh. Score the breasts and thighs with a sharp knife so that the marinade can get into the flesh.
Really give it a good covering, squishing it about….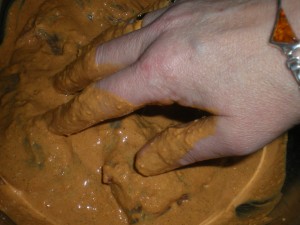 and then cover the bowl with cling film and leave overnight.
The next day, wipe your griddle with a piece of kitchen roll and vegetable oil then get it hot. Lift out each piece of pheasant at a time, shaking off the excess marinade and lie it down in the pan.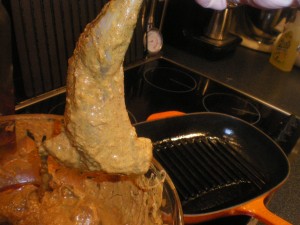 Don't move the pieces around too much because you want them to get a lovely. slightly charred crust…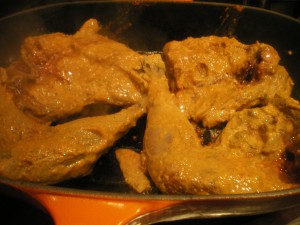 It will take maybe 8 or so minutes on each side…..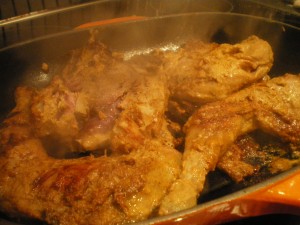 Just check that you are happy with the amount of cooking… I quite like it just cooked and tender but you may be different.
All you need to serve it with are some lemon quarters and maybe some naan braed on the side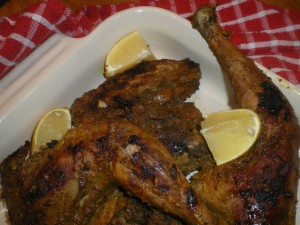 That was delicious … and perhaps one of the tastiest ways of eating pheasant.
All that and under 400 calories…. oooh, I feel thinner already!