I'm a lucky old thing, I know, and meeting the Bear was the best thing that has happened in my entire happy and lucky life. He's funny and sweet, very clever and tolerant and (and this is a good bit indeed) very helpful about the house.
I had a lot to do and, while I normally do the shopping because I like to choose what I'm going to cook with, I was running out of time to get everything done. The Bear had some spare time and offered to help….
What could go wrong? I had all the meat and vegetables (so there was no problem with choosing the best examples) and all I needed were things for the house and a few food or drink items for the cupboards. It wouldn't matter whether I picked them up or he did, they'd be the same….
So armed with a specific (very specific) shopping list the Bear set off and I got on with other stuff. We met later in the kitchen and I started to unpack the bags… cleaning stuff? Check. Dishwasher salt and rinse aid? Check. Kitchen rolls? Check. Butter, milk, cheese? Check. Tea and coffee? Check. Wine? Check, check and more check. (We were having friends round) Cordials? No check.
I had wanted a specific kind of cordial – Grape and Melon. They didn't have any apparently (and there's no point Googling or asking about other stockists because they have stopped making it now. Shame on you, Robinson's!) and the Bear had remembered not to deviate from the list and get another flavour. All well and good. We did have other cordials anyway so it didn't really matter.
I carried on emptying the bags…. and found, in the bottom of one of them, three cartons of prune juice!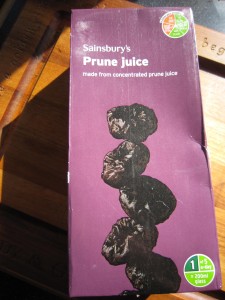 Prune juice? Whatever had possessed him to buy prune juice? I don't like prune juice and I don't need prune juice. I certainly didn't need three litres of it.
He started to explain. Quite frankly the reasoning behind it was flawed. They didn't have the clear and delicate tasting cordial I wanted so when he saw "Buy 3 for the price of 2"  next to the prune juice he thought he would use his initiative and grab us a bargain….
The prune juice went into the larder and there it stayed as a reminder that sometimes initiative is a terrible thing.
I can't bear waste though and eventually, months later, decided I would have to do something with it. I'd gone into the larder to get a new box of salt out and spotted the prune juice still loitering on the shelf. I was going to be cooking lamb shanks that day and it struck me that if I were to do lamb shanks in, say, a Moroccan tagine style then I might have used prunes in there. What if, I thought, I was to cook the shanks IN the prune juice, instead of adding them as whole fruit, replacing just a simple stock and so making a rich and tasty gravy?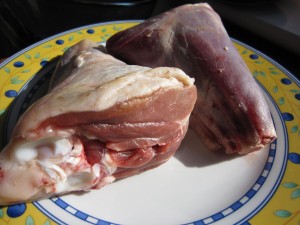 I had two lamb shanks that I was going to cook slowly while we were off doing other things.  I would have used the slow cooker but the two of them were too big for the pot and I decided that I'd just use a casserole instead. As long as you make sure you have enough liquid in there and keep the temperature low then it is safe to leave for a while.
It's also lovely to come back to a home that smells of deliciously cooking food……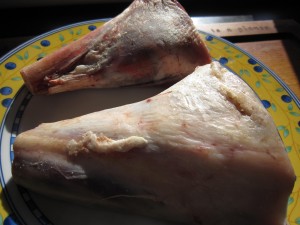 I love lamb shanks for many reasons. Firstly because they don't cost much at all and secondly,if you leave them to cook slowly and gently they will turn into the most deliciously melting pieces of meat, far tastier and more tender than most expensive cuts and thirdly because I don't have to do much at all to make it a perfect warming and mouthwatering meal.
Five minutes preparation and then you can walk off and leave them to glug quietly away for as long as you like. A perfect way to cook something while you are out at work or off out shopping at the weekend.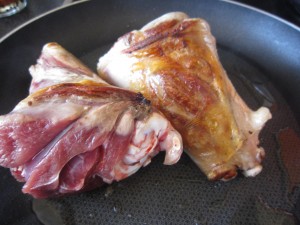 First of all, brown the outsides of the shanks. All it takes is a few minutes in a frying pan with a drop of oil to crisp and brown the skin. Yes, they are going to be cooked for hours and will cook all the way through but if you brown the outside you get a better depth of flavour and they also LOOK better. It's all very well being delicious… it's nice to appeal to the eye as well, though.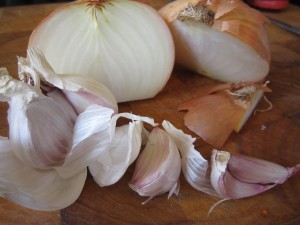 While the lamb is browning, quickly chop some onion and garlic.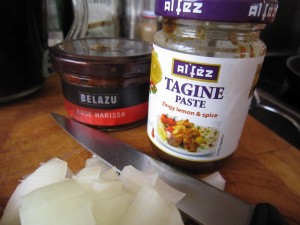 I had the remnants of some tagine paste that I could use to bring in a hint of Moroccan flavouring and some lovely Rose Harissa that would liven things up a bit. I wasn't making an authentic tagine but I wanted a definite nod in the direction of Morocco. You can get tagine flavourings in most supermarkets now so choose whtever you fancy.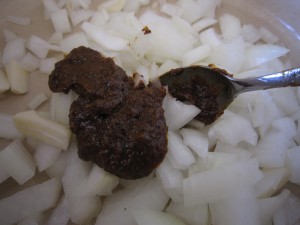 I put a spoonful of each into my casserole dish and stirred it through the chopped onion and garlic.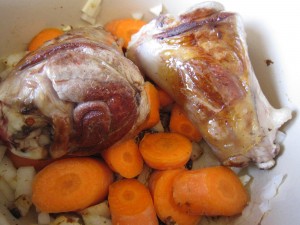 Carrots were roughly scraped clean and sliced and the browned lamb shanks were put in the pot on top of the vegetables.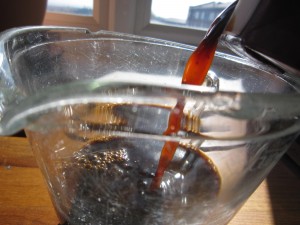 I poured a pint of prune juice into a jug – just look at the colour of it! Now while this could never replace a light and fresh tasting cordial as a drink I could see this was going to make a deliciously thick and tasty gravy. With the harissa and tagine paste to spice it it, I had high hopes of this turning out to be a success.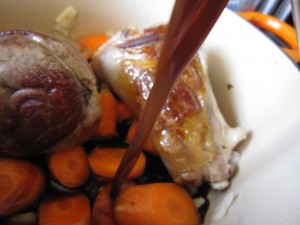 Mixed with some stock granules to add a salty, savoury taste, it was poured over the meat and vegetables.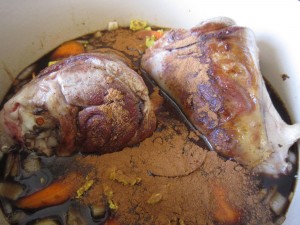 And then, because I love it and I knew it would be good, a couple of teaspoons of cinnamon powder were put in.
And that was it. The lid was put on and the casserole was put into a slow oven (165 degrees C/350 degrees F) and I went off to do what I needed to do. If I'd used the slow cooker I would have set it on Auto – which means it gets a high start then it turns down to a very low heat. The cast iron casserole would do just as well on a steady low temperature for hours.
After about three or four hours I came back and looked at the shanks…. they smelled delicious anyway.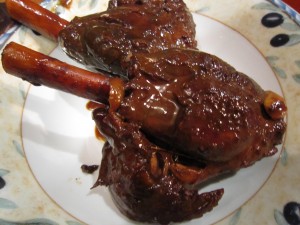 Rich and dark from the prune juice, steaming and the meat was falling from the bone.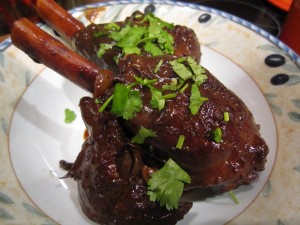 Chopped coriander would give just the right fresh herby taste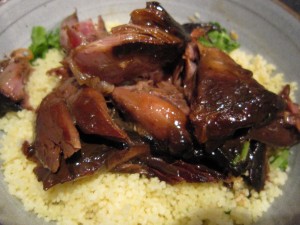 Couscous takes maybe three minutes to make – simply measure it out (the packet will tell you the proportions) and add boiling water so the grains fluff up.
You can add herbs and spices to flavour it if you are having plainer food but the gravy from the lamb would be flavourful enough, I thought.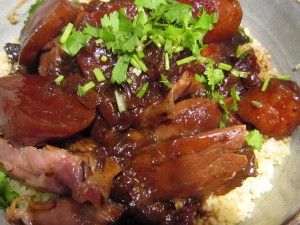 The meat just fell apart…. the prune juice gravy was rich, savoury and spicy with a mellow sweetness. It all soaked into the couscous making each mouthful delicious. Who would have thought mis-judged initiative could produce such a lovely result? Inexpensive cuts of meat, unwanted cartons of juice and a few hours in an oven produced a meal that I would have been proud to serve to guests.
We enjoyed every mouthful.
So, while I can't advocate the drinking of prune juice…. I can suggest you cook with it. You might just be as pleased as we were with it.