I love reading. I especially love reading food writing.  I think there's nothing better than reading the story behind the recipe. A recipe just set down by itself doesn't grab me the way a recipe does when I get to know more about the cook… the reasons why they made that recipe and just how they did it.
 I have quite a large collection of cookery books  (well over 150) and a mountain of food magazines. The Bear is always on at me to do something with them but I just can't. I suppose I should go through the magazines at least and cut out the recipes I really want to try but I just haven't got around to it yet. Part of it is, I think, that I was bought up never to despoil a book (and by extension, a magazine.) I would no more take a pair of scissors to a book than I would turn down the corner of a book or crack its spine. Books are to treasure and read again and again.
Jeffrey Steingarten – now, there's a writer! A lawyer turned food writer for Vogue, his books "The man who ate everything" and "It must have been something I ate" kept me enthralled for hours and I still go back and read a chapter every now and again. That's not so much recipes as mini essays and it is one of the things the Bear and I bonded over when we first met. If you are looking for entertaining (hugely entertaining) and erudite, informative stories about food, he's your man.
Nigel Slater is another – endlessly fascinating with a huge list of cookery books to his name. "Toast: The Story of a Boy's Hunger" is his autobiography… start to read that and I bet you won't put it down. His "Kitchen Diaries" is one of my favourite books of all time. Nigel also writes for The Observer and the monthly Observer Food Magazine is one of my treats. There's always something I want to cook from his articles –   everything he does is so beautiful – just look at his website and see what I mean.
The last Observer Food magazine (June 2010) featured his garden recipes and there was one in there that instantly appealled – Strawberry Pistachio Shortbreads. Strangely, for England, we have been having a marvellous summer – lovely bright days with lots of sun and the strawberries are making the most of it. There are mounds of fresh British strawberries everwyehere and this was my chance to make the most of them.
I wanted to take something nice to a friend's house and the thought of lovely shortbreads topped with strawberries and vanilla cream seemed to be a brilliant idea. Very summery. Very British. Which would be good, because we were going to J's house (he's from Catalonia) and meeting N (from Argentina)  and L from the Czech Republic! Our get togethers are always brilliant international affairs.
Anyway, that was what I was going to make.
I needed  100g of butter, 3 tablespoons of caster sugar, an egg yolk, 200g of plain flour and 100g of finely ground pistachios for the shortbread….
And that is when I started to wonder. If you look at the article you can see a picture of the shortbreads and they seem to have bits of pistachios in there… not finely ground at all. So what should I do?
I sat at my desk (OK, so I was at work, but a girl can't work constantly…) and flicked through the article again… it definitely said ground pistachios and the picture didn't show that. Then I noticed at the end of the article was Nigel's email address at the Observer.
Nothing ventured, nothing gained has always been my motto, so I emailed him, just asking for clarification. I mean, had he done it one way and decided the other way was better?
I didn't really expect an answer but within 20 minutes he had replied! How marvellous was that? I never for a minute anticipated a reply.. or if I had got one, it would have been a standard response, copied and pasted into an email some weeks later. What a gentleman!
And the answer… you can use ground or roughly chopped as you choose. the resulting difference will only be the texture.
I liked the look of the ones in his photograph so I decided to do roughly chopped pistachios.
So… I was ready…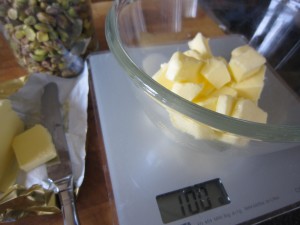 I weighed 100g of butter, beat it until it was soft and fluffy with 3 tablespoons of caster sugar (that's superfine to those of you across the Atlantic)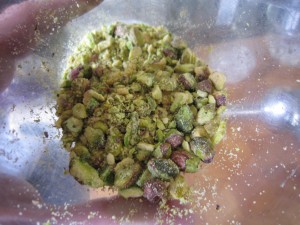 Roughly blitzed (briefly) 100g of pistachios so I got a range of shapes and sizes of bits of nuts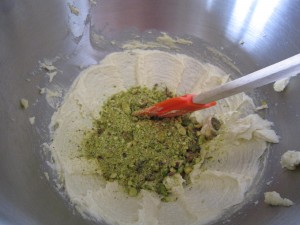 Then dropped the pistachio bits into the buttery mix and mixed it in well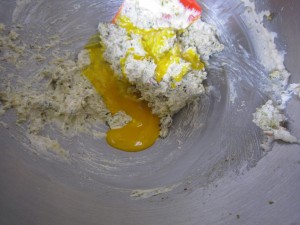 One egg yolk was added to bind it together and then the  200g of flour was added.
It was a stiff mix and Nigel advised adding a tablespoon of water to it all to make it into a firm dough.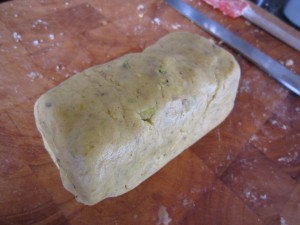 This had to be kneaded into a ball and then rolled into a thick sausage shape. As this was to serve 8, I could see how big the roll should be.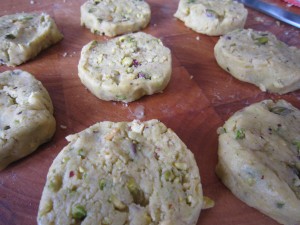 Don't they look pretty?
I pre-heated the oven to 180 degrees C/355 degrees F (actually, Nigel didn't put the temperature on the recipe but I used what I thought would be appropriate and anyway, it was a bit late to be emailing him again. I couldn't really expect him to be sitting there just looking at his emails)
In they went, lying on a silicone sheet for ten minutes or thereabouts. They weren't to get coloured really,  just dry to the touch.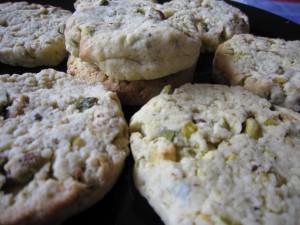 The cream was made by mixing extra thick double cream with some vanilla seeds…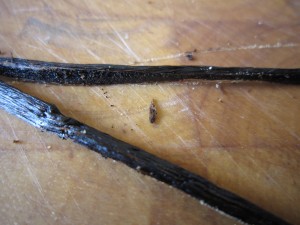 just slit the pods with a sharp knife and scrape out the seeds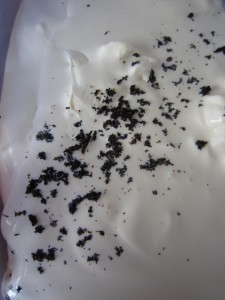 and mix it through for the most gorgeous vanilla cream.
I sliced my beautiful strawberries and they were ready to be balanced on great, generous spoonfuls of delicious cream… on top of those gorgeous shortbreads.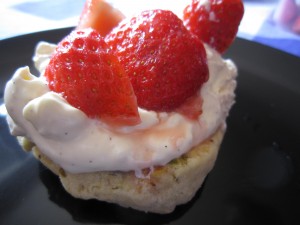 What could be more British than strawberries and cream on a hot summer's day? Our international gathering made short work of them.
Thanks, Nigel. Thanks a lot – they were lovely. And thanks for replying!