If there's only one thing you cook from reading my Malaysian adventures then it has to be beef rendang. Unless, of course, you are a vegetarian or a vegan….because, quite frankly, beef just won't work for you. Or unless you can't eat coconut because that, too, would mean the beef rendang just isn't going to be your thing. But let's not bother with 'unless'…let's focus instead on the most delicious Malaysian recipe ever.
Rendang is an iconic Malaysian recipe – a mouth-filling melange of spices, coconut and slow cooked meat making an aromatic dish that has you longing to eat it again and again. The first friends I made in Malaysia, Roger and King, took me to lunch at Madam Kwan's where we had her delicious rendang. Her version has the beef slow cooked and shredded and it is rich and delicious so little goes a long way with plain rice. King swore that this was the best rendang in Kuala Lumpur and who was I to argue?
I spent a long time looking for a recipe that would give me the right taste – every cook will have their own version. Eventually I came across (in a small, inexpensive Malaysian cookbook by Betty Saw, from Marshall Cavendish, that cost 9.90 ringgit, that's just under £2) Rendang terlagi-lagi. 'Lagi' in Malay means 'more' and I was assured that having eaten this dish people would ask for more….and more. That had to be worth trying.
Now, before we go any further, it's perhaps worth pointing out that authentic Malaysian cooking doesn't rely on the kitchen gadgets that make our lives so easy. Most recipes involve spice mixes that are ground…and when they say ground they mean that they been pounded into a juicy rubble with a pestle and mortar.
What also might be worth pointing out is that while pounding produces an authentic roughness to the mix (some bits are pounded more finely than others) the pounding itself is hard physical labour. I have done this in an authentic a fashion as possible but in the interests of getting you to try this, I think it will be perfectly acceptable to use a blender to get the spice mix made. Don't keep pulverising everything to a smooth paste, though, try and keep a certain roughness to it.
Also, if you are trying this and don't have access to the same fresh ingredients that I can get here in Kuala Lumpur, don't worry. Do your best. Supermarkets sell jars of ready prepared ginger, lemon grass and garlic. Use them if you can get them…it will be a lot easier than pounding.
The important thing is that you try to make this. If you like it enough you can always attempt pounding on the next go. Or maybe if you like it enough you can carry on using the prepared spices because that will mean you can make it quickly and easily. Just make it, right?
What you'll need to make this is first of all 600g (1lb 5 oz) of beef.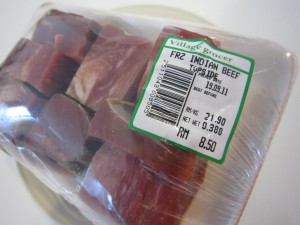 The first time I made it was with deep frozen Indian buffalo which is all I could find in the supermarket and the resulting rendang was delicious but tough. Eventually, I found some nice beef cubes that made a deliciously tender rendang. Rendang is not cooked for a long time so try and avoid those cuts that will need hours of slow cooking.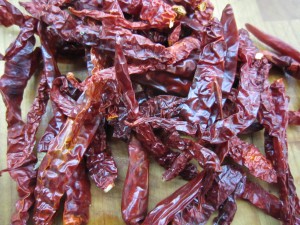 You'll need some dried chillies (maybe 8 or 10, say) and some thick dark soy sauce (this has a roasted almost caramel taste)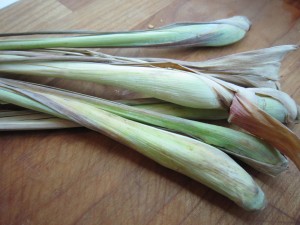 4 stalks of lemon grass (I think that 4 teaspoons of the prepared lemongrass in a jar would be the equivalent); a can of coconut cream ; some tamarind paste; and some kerisik (essentially grated coconut, roasted in a pan until golden brown and then ground finely. I think you could use desiccated coconut instead. It is important you make this, though there's no real work involved, because it adds a gloriously rich, deep and sludgy level to the sauce surrounding the meat )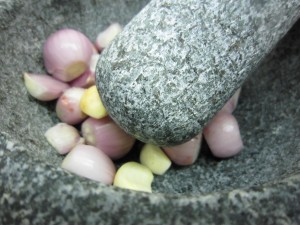 The next set of ingredients are classed as the ones that are to be ground – 300g/11 oz shallots, 4 garlic cloves and a 1 inch knob of ginger, peeled.
So, once you have everything assembled, you're ready for the off. This is really a simple recipe and now I have done this a few times I can prepare it quickly. I make the ground spice mix first and put it in the fridge so I can split the work. If you were using  prepared spices you'll be able to do this really quickly.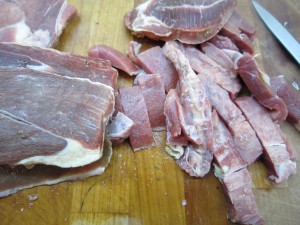 First, cut the beef into strips, maybe a quarter of an inch thick and one and a half inches long.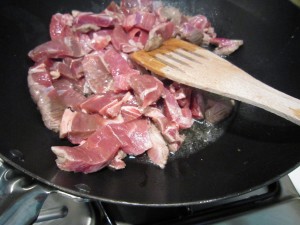 Fry the beef over a moderate heat in 125 ml/4 fl oz/ half a cup of oil, for 15 minutes.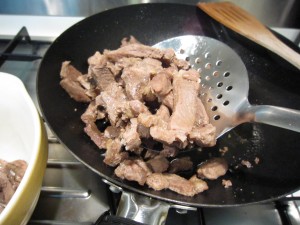 Take the beef out, leaving the oil in the pan as you'll need this later.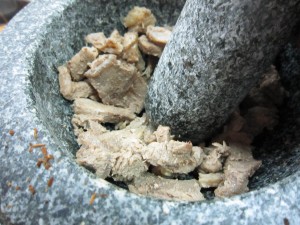 The beef needs to be pounded lightly while it is still hot – I use the pestle that I used in grinding the spices. Use a steak hammer if you have one….what you are aiming for is a flattening of the pieces of beef, breaking down the meat fibres so they can absorb the flavours better and the beef becomes more tender.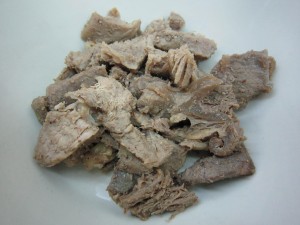 This really is just a light pummelling so don't go mad and destroy the beef pieces.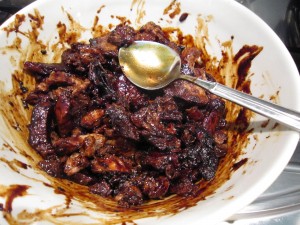 Then pour a tablespoon of thick, dark soy over the meat, stirring it round so the pieces get covered, then pop the meat into the fridge for at least an hour. I've done this the night before when I have been cooking this for guests and it works out pretty well.
Then, start on preparing the ground ingredients. Either do it with a pestle and mortar or use a blender or use prepared spices. The garlic and shallots and ginger get crushed to a gritty paste. If you use a blender don't go as far as a smooth mush… part of the joy of this is in the texture of the sauce.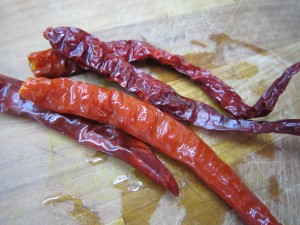 Dried chillies need soaking separately until they are soft and then need pounding or blitzing. It's easier if you chop them first before pounding them and make sure you keep  your hand over the top of the mortar to keep chilli splashes away from your eyes. I speak from experience.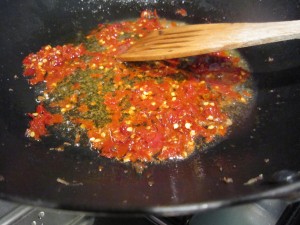 Fry the ground chillies for two to three minutes in the oil left over from the beef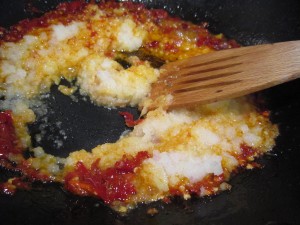 Then add the ground ingredients (shallots, garlic and ginger and the lemongrass).If you decide to pound the lemongrass first, it's easier if you chop it into little pieces. Otherwise use the prepared lemongrass in a jar. Fry the mix until it is fragrant and the oil starts to separate out. This will take maybe 8 to 10 minutes over a gentle heat.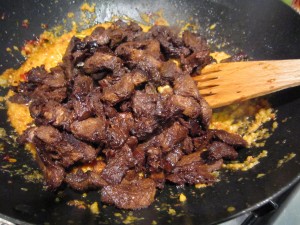 Once this is done, add the beef and stir it round well.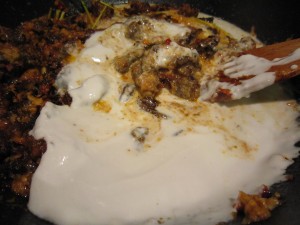 Add the coconut cream.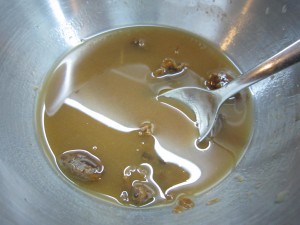 One tablespoon of tamarind paste needs adding to 5 tablespoons of water and stirring round and then strained off, leaving the pulp and stone residue behind. Add that liquid to the beef and stir in. You will probably be able to buy tamarind paste without the seeds in… here, I can't  get that and I have to sieve out the seeds. You do need the tamarind though because it adds a sharp hint that brightens the deep and satisfying richness of the meat.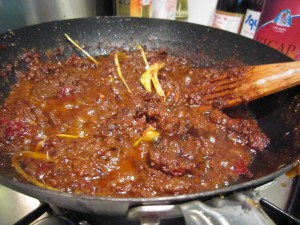 Bring everything to the boil and then reduce the heat and simmer gently until the colour has darkened and it is almost dry. In that picture I had just crushed the lenongrass and I had to pick it out later. It's better when you either use the ready crushed into a paste version or chop it into small pices and then pound the living daylights out of it.
Next you need the kerisik. This is toasted and ground coconut.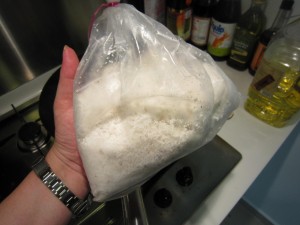 I can buy bags of freshly grated coconut  but you could manage with some dessicated coconut, I reckon. My Malay friends think it will be OK, so I'd go along with that.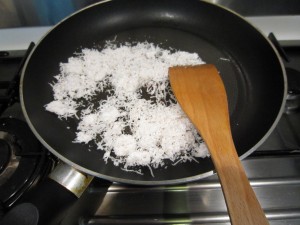 I dry fry a cup full until it browns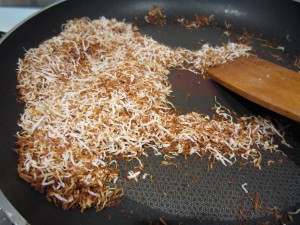 Be careful because it can suddenly go from white to burnt, so do stand and stir and keep checking  while you are roasting and toasting the coconut.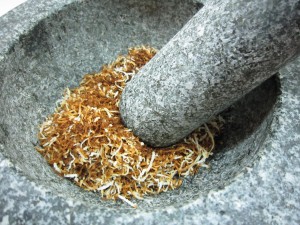 and then I grind it to a fine powder. The first time I did it I used the pestle and mortar….after that I used the Bamix and the spice grinding attachment. Far quicker.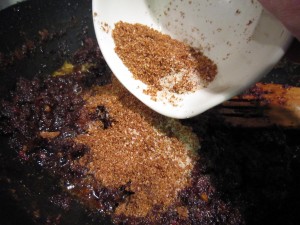 Anyway….add in the kerisik, a teaspoon or so of sugar and some salt to taste. Stir it all in and keep stirring until it begins to look like this….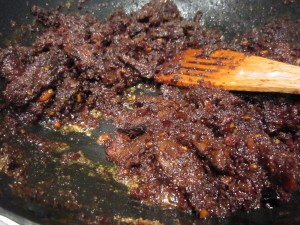 And that's it. Taste it. Realise you have made the most delicious rendang…..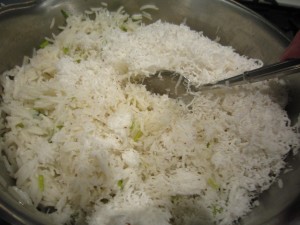 I serve it over plain boiled rice that I have added some of the fresh grated coconut to and some chopped coriander.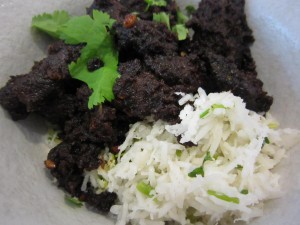 And then all I do is hope that there will be some left over to either eat the next day or freeze. It is a rich and deliciously tasting meat with layers of flavour becoming apparent as you eat it.
I think this has become one of our favourite Malaysian dishes and when we get back to the UK I will use (because I'll have to) the shortcuts I've told you about. I'll do anything, really to keep on eating this. It is rich and delicious, spicy but not mouth burningly so and the simple mix of spices blend together to make a complex, mouth-filling in its intensity, taste. It is deeply satisfying.
Try it… try it then tell me what you think of it. I've done my best to make it easy for you… now you do your best to make it!