I know… I know…. it's been so long since I wrote anything but there's been so much going on. We've had guests staying and we've been on trips abroad and time just slips on by. It didn't help that twice I wrote out this recipe and twice something went wrong. I saved everything, both times, but half of the post still went missing. Technology, eh?
So, I'll start again. Things have changed a lot since we moved in here with just a couple of suitcases. While we waited for the container to arrive, I did go and buy us the bare minimum of stuff to see us through…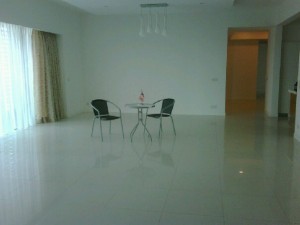 And when I say the bare minimum, that's what I mean.Thank goodness for IKEA. That balcony table and chairs were all we had to eat at unless we wanted to sit on the bed, which was the only other thing we had. Mind you, that gave me time to think about what I really wanted…
Having friends round to eat with us is a big part of our life. We love to share evenings and food with people and  we wanted to make sure that when we did get a table, we'd get the perfect table.
We wanted a square table because if we got a rectangular one, it meant there was someone sitting at the head of that table and for us, there's no head of the table. Everyone eating around it is equal. We also didn't want legs either, as someone on the corner (me, usually) always ended up banging knees on the legs. But finding the perfect table… well, that was the hard part.  I looked everywhere and there was nothing I could find that was right for us.
And then I found Teakia, where all they asked was what was it that I wanted…. square? Yes, certainly. Five feet square should be large enough? A central pedestal? Of course, what carving would I like on the pedestal? Teak? Naturally. Chairs? Try this chair… or that? What suits you? Ten chairs would fit round that perfectly.
You have no idea how happy I was. Everything made to my specification. This was the ultimate customer service.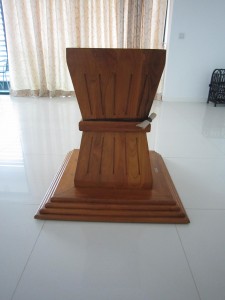 And then it arrived…. the beautiful, solid, central pedestal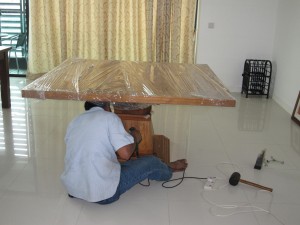 .. the square table top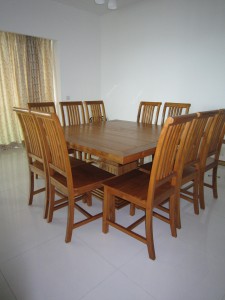 … and ten lovely chairs!
No excuse now… I had to cook for our friends. I wanted us to sit down together, laughing, eating and drinking; celebrating our new start in Malaysia.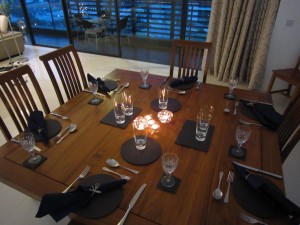 One of the first things I cooked was something I'd had a local restaurant – pineapple and prawn curry. I don't think I'd had anything like that before but it was the most lovely dish – the pineapple was sweet and sharp while the prawns added a salty savouriness to a spicy sauce.
I went and got a big bag of prawns ( weighing them, cleaned and peeled later, they came to about 300g) ; a pineapple (you could use a tin of good pineapple in its own juice); a stalk of lemongrass, some mild red chillies, a piece of turmeric root, although ground turmeric will work as well; shallots; garlic; dried shrimp paste; coriander seeds and coconut cream. I can buy coconut cream, freshly squeezed in bags but if you don't have access to that, a can will do just as well.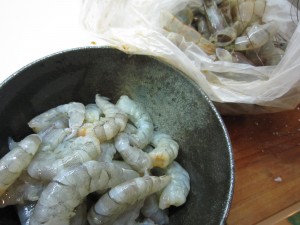 First of all, peel and de-vein the prawns, running a knife down their backs and pulling out the black cord of their intestines.  Put them into the fridge to keep cool, as you will add them at the end of the cooking.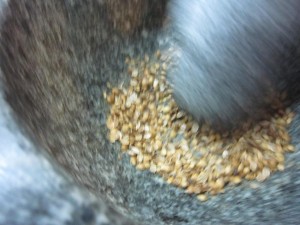 The next thing to do is also something that will be needed later but it makes sense to do it straightaway and besides, you will need the pestle and mortar to do other stuff…. so, grind three tablespoons of coriander seeds and put them to one side. I'm quite fond of pounding away with a pestle and mortar as it gets the tension out of me….. If you have no tension, you could, of course, use ground coriander. Maybe three teaspoons would do.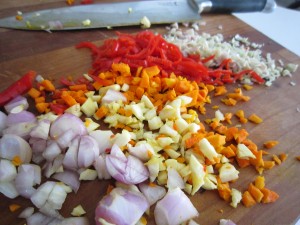 Now, chop all of the other ingredients  – the lemongrass stalk; the shallots (maybe five or six); three or so cloves of garlic; about an inch or so or turmeric root ( a teaspoon and a half if you used ground powder) and three or four red chillies. This makes them easier to pound… or grind if you want to blitz them.
Once everything is in a smoothish paste  add in chopped soaked, dried chillies and pound some more. Remove the seeds from the chillies first and they add a lovely soft and rich taste to the spice mix, without overpowering everything. Using a pestle and mortar gives you a rougher mix than if you blitz it all,  and I like the difference in textures, but a  quick blitz will give the same results.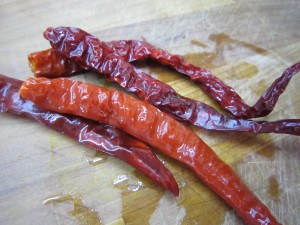 Then, heat a frying pan and add some oil – you have to fry the spice mix for a few minutes to let all the flavours blend properly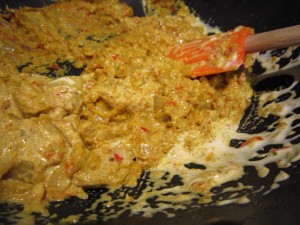 Adding some of the coconut cream, maybe half of the can, if that is what you are using, and it will stop it burning.
Add in the ground coriander and a quarter or half teaspoon of dried shrimp paste and stir it round gently before adding the rest of the coconut cream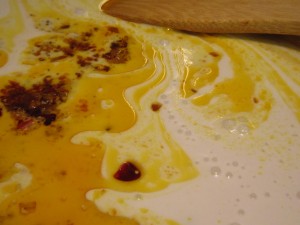 Look at how it all swirls together. It smells really good, too.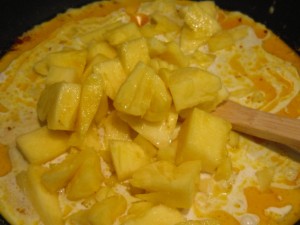 The pineapple goes in now and needs to cook  gently so it softens.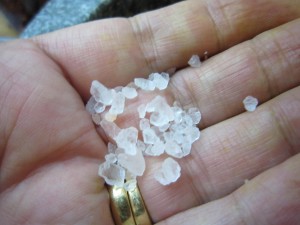 Some Maldon salt needs to be added to balance the flavour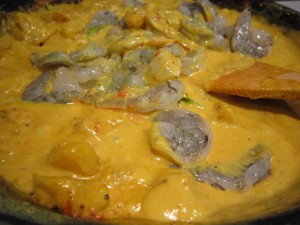 Then… throw in those fresh prawns, Grey now, because they are raw, but stir gently and watch them turn a beautiful rosy pink.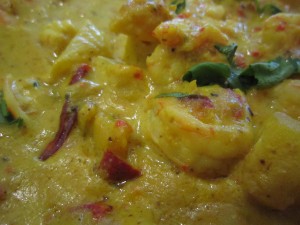 Five more minutes of simmering and then it will be ready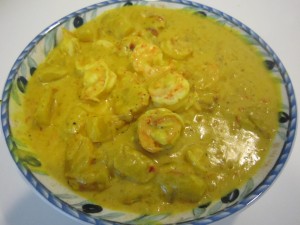 All we needed was some rice and to get up to the table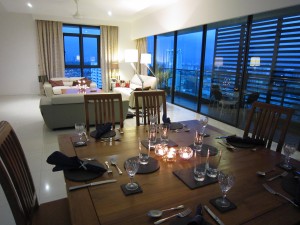 Dinner was served.
The sweet sharpness of the pineapple was balanced by the rich smoothness of the coconut cream and the salty, savoury prawns in that spicy gravy made it into a perfect supper dish.
Perfect dish at a perfect table. It was worth the wait.