When I was much younger, I took it into my head to have an adventure and set off to Morocco. I travelled around on ordinary buses, with chickens in boxes on the racks and priests blessing both the journey and the travellers. I ate at roadside cafes and in back street restaurants.  I slept on rooftops of village houses in the Anti Atlas mountains and shared food with the people who lived there.
It was my first real adventure and it was so exciting. The food was so vibrant, so different to anything I had eaten at home – you have to remember this was twenty years or more ago and for a girl from the north of England it was an entirely new world.
Ever since then I have always been intrigued by Middle Eastern and North African food and adore the complex layers of flavours and spices, so whenever I see something new I am irresistably drawn towards it.  I was reading Sabrina Ghayour's Persian recipes on Foodepedia and spotted Koreshteh Fesenjan and knew that this was going to be next on the agenda.
Koreshteh Fesenjan is chicken stew with walnuts and pomegranate molasses – and the way Sabrina described it made me long to eat it.
I wanted to do it so much that instead of waiting until I got boneless chicken thighs as she suggested, I just took the only pack of chicken I had in the freezer and sorted through the larder for walnuts and my pomegranate molasses.
It didn't matter – it was delicious… so delicious I think you ought to make this, so get your ingredients ready – Sabrina's recipe feeds 6 to 8… what I'm doing will feed half that. There was a reason for that – in my greed and eagerness, I knew I had all of the ingredients, just not enough of them to make as much as she did.
That was OK. though. There were only the two of us and while we routinely have a second helping the next day we might not be wanting to eat it the day after that as well.
Get some chicken thighs  – you can buy a packet of them,  already skinless and boneless, (which would have been a better bet than the chicken legs I found, but what the heck!)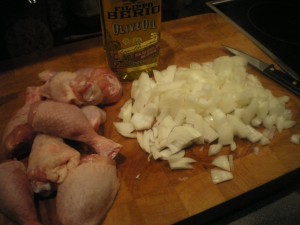 Chop a couple of onions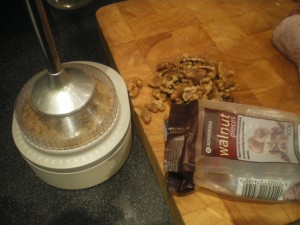 250g of walnuts – that was the two and a half, nearly three bags of walnuts I had .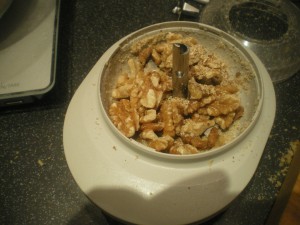 They need to be ground and as we normally buy them as walnut halves then I have to grind them.  My Bamix has a grinder attachment, so I did it with that, otherwise use a food processor, making sure the walnuts are finely ground.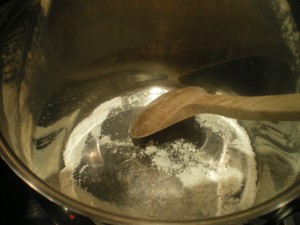 You will need two big pans for this… in the first, put a tablespoon of flour in and, over a medium heat, let it cook abit until it changes colour slightly.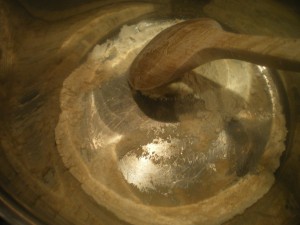 See? I know it's not a good photograph, but you can see what I mean.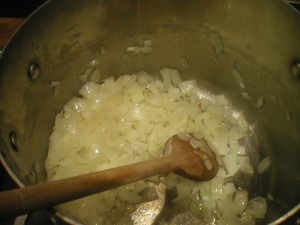 Meanwhile , in the other pan, start cooking the chopped onions in a tablespoon or so of olive oil.  You want the onions to become translucent, then add your chicken, after seasoning it with salt and pepper. Turn the heat up and turn the chicken in the onions until it is well sealed. Then turn the heat off and leave it.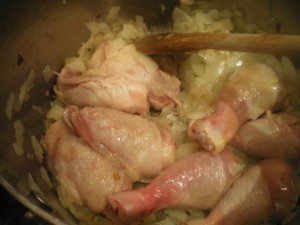 Now, back to the other pan…. add the walnuts and stir them in to the flour. You won't need any oil as the walnuts have, as Sabrina says, a high fat content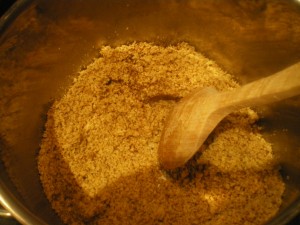 After about 5 minutes, add a pint or so of cold water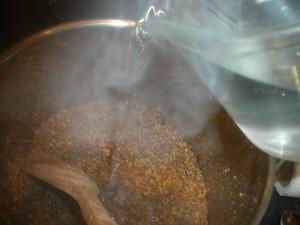 Give it a good stir and bring it to a gentle boil then turn it down, cover it and let it bubble along for about an hour. I thought that seemed long but I was determined to get this right – it is necessary so you cook the walnuts until you see the walnut oil forming on the surface.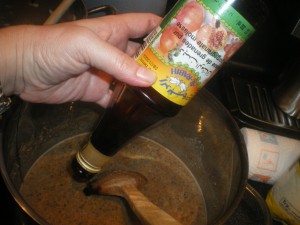 Then stir in a tablespoon of caster sugar and just over half a bottle of pomegranate molasses – oh, I love that. It is sweet but not sugary sweet and sharp in a tangy way. Stir it in and make sure it all dissolves properly and then….
… add the chicken and onion from the other pan and stir round.
Make sure there is enough of the sauce to cover the chicken – add some water if you ned to and then leave to cook, very slowly, for a couple of hours, stirring it occasionally to make sure those walnuts don't stick to the pan and burn.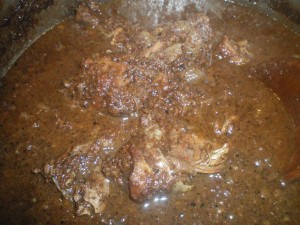 The smell of this is divine, it really is.
A sneaky taste every now and again (just to check, you understand) bears this out….the walnut and pomegranate sauce gets darker and the smell fills the room.
Serve with basmati rice, says Sabrina, so that's what I do to serve with it….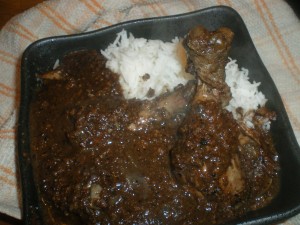 And then?
Have you ever eaten anything that makes you whimper quietly with pleasure?
Oh, it was more than delicious – the texture of the walnuts, with their lovely deep flavour, mixed with the sweet sharpness of the pomegranate molasses and the softness and richness of the chicken …. it made me wonder why no one had told me about this before.
I'm making this again, I tell you. All I can say is thank you, Sabrina for writing about this in the first place.
It needs time to do it, so choose a Saturday or Sunday when the weather is bad. Lock yourself in and make this to cheer you and your loved ones and be very glad that this recipe exists.