Sometimes, when you plan things, they don't turn out exactly as you envisaged.  Sometimes that's a bad thing and sometimes it's absolutely marvellous. Let me tell you about a marvellous thing.
We'd been planning to have J and R round for dinner because both of them got wonderful new jobs within a couple of days of each other and that deserved a celebration. Juggling the diaries so that everyone could make it took ages but eventually we settled on a Saturday night that would work for us all.
In the meantime, separate to all of this, the Bear had invited Anthony, founder and CEO of Kaggle, which is a platform for data prediction, to give a talk at the University and, as is the way of things, we got talking at work. You know how you know there are people you can get along with? Well, Anth was like that so, when we heard he was staying in Nottingham for the weekend to explore, we immediately invited him to come to dinner too. He'd fit in well round our table and we knew he would add to the general good humour and laughs that we were expecting.
As J is a vegetarian, I'd been thinking of things to make that would be suitable. I decided that a starter of mushroom pâté with  melba toast and caramelised red onions would start us off well but I also needed to find  something delicious for the main course. I wanted tasty yet relaxed… this was going to be a fun evening and we weren't looking at being formal at all.
I'd spotted something that looked interesting (more than interesting, actually, positively delicious if truth be told)  on Rhi's Foodie World… Squash, Roasted Garlic and Goat's Cheese Lasagne. Now lasagne is one of our favourite things and here was a recipe that would be perfect for a vegetarian main course. Rhi said it was so lovely that she would cook it again and again, which is pretty much of a guarantee of deliciousness because every food blogger is always trying to cook something different all the time.
It ticked several boxes for me – delicious, vegetarian and it was something that could be made in advance, which is always a bonus. In our apartment, the upper floor (which is our kitchen, living room and dining area)  is open plan and stretches the entire width of the building. That's a great space for entertaining  but it also means the kitchen area is on view to any guests. There's no hiding the pots and pans by shutting doors and I like to have everything cleared away and as much ready (or hiding, cooking in the oven) as possible.
I could have a leisurely morning, preparing everything, then clean the kitchen and set the table, then put the lasagne in before they arrive. That would be perfect. What was even more perfect was that I had everything I needed… two lovely butternut squash, garlic, a roll of goat's cheese, a couple of tins of plum tomatoes, and a box of lasagne sheets. This was surely a sign that I had to make the lasagne.
Now when I read Rhi's description she peeled, then cubed her squash – I was in the mood for rattling along in the kitchen so I cut mine into wedges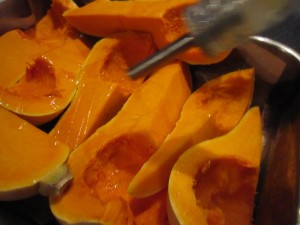 I laid them in a roasting tin that I'd lined with a silicone sheet (oh, how I hate scouring tins. This way means I can roast things and the vegetable sugars from the carbohydrates don't burn onto the bottom. I can just wipe the sheet clean. I do love to make my life as easy as possible)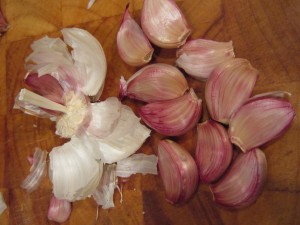 I drizzled some chilli oil over the wedges and scattered through about 6 or 7 fat cloves of garlic, still in their skins. If you do this to garlic, you can squeeze the soft white middle out later.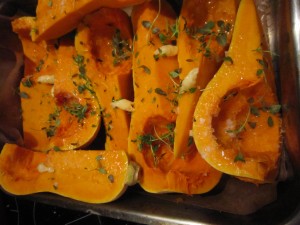 Rhi had used sage but all I had growing on my windowsill was some thyme, so I scattered that over the top, with some Maldon salt to season it all.
And into the oven it went at 180°C/350°F for three quarters of an hour or so while I got on with other stuff.
I needed the squash and the garlic to roast down softly and the squash sweeten and deepen in flavour as it softens.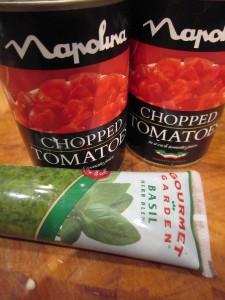 And the other stuff was making a rich and delicious tomato sauce to layer the lasagne with. I had some tubes of Gourmet Garden fresh chopped herbs (surely a life saver for us when our windowsill herb pots are dying off. A life savour, perhaps?)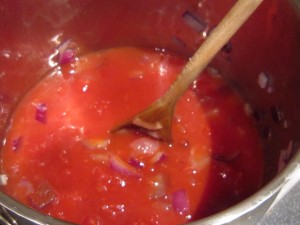 I gently cooked a red onion (well, I still had some left from when I made caramelised red onions) and then added the tomatoes to cook down.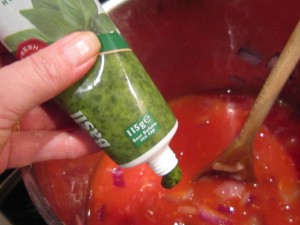 A good squeeze of the basil would make a truly gorgeous tomato sauce.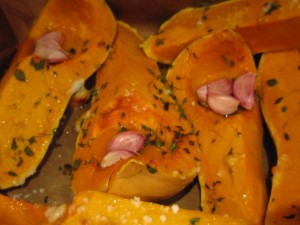 By now the squash had roasted to a delicious softness.
And just look how it had roasted. The colour of the squash had deepened and the smell was mouthwatering. The garlic was soft inside its papery skin and just ready to squeeze into the tomato sauce.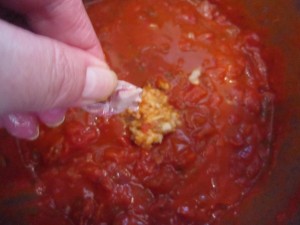 I squeezed all of the cloves into the sauce and stirred it round.
Roasting garlic takes away any harshness, leaving a sweet and aromatic garlic flavour.
(Now I know that picture makes the garlic look orangey  and incredibly bulbous but there's a reason for that….and that is, if you ever try to squeeze an oiled and roasted clove of garlic, one handed, while trying to take a picture over a steaming pot of tomato sauce, your lens is likely to steam up, your fingers slip and the angle of the shot changes. That pile of garlic was well below the clove and had already got splashed by one of those molten lava-like bubbles. Take it from me, what emerged from the clove was soft and glisteningly white.)
Stir it all in anyway and let the roasted garlic infuse that sauce.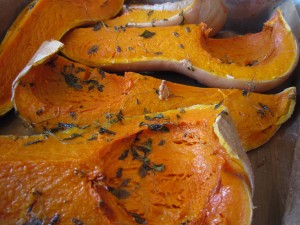 Now I had to scoop out that delicious squash….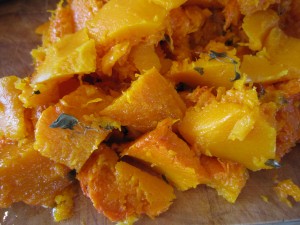 It was so soft I could spoon it out from the skin.
I love that colour. So bright and cheerful. I'd paint the walls that colour if I could get away with it, but the Bear is more of a magnolia man.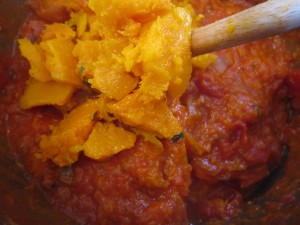 And then? Then just spoon it into the tomato sauce and stir it round.
It thickens it and gives it a lovely texture. In a strange way, the squash seems to lighten it.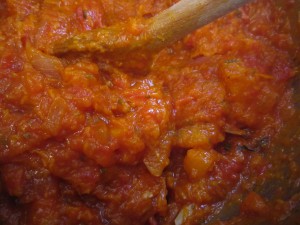 The next thing to do is to make the bechamel.
The proportions for a good bechamel are, first of all, equal amounts of fat and flour must be cooked together as a roux. I do it by tablespoons, rather than weight because that's quicker.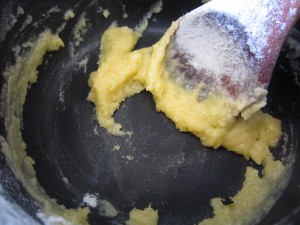 A couple of tablespoons of each, stirred together, over a gentle heat until it becomes a beautiful golden paste as the flour cooks.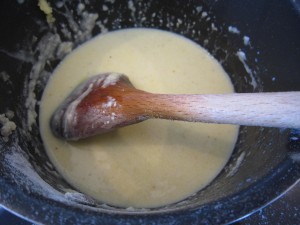 Then, a pint of milk and cream – I got my jug and put in half a pint of cream and topped it up with milk, stirring it round to mix it. It might look lumpy at first but it soon smooths out to make a silky sauce.
(I didn't say I was doing a diet version, did I? This is a celebratory meal for friends, so I'm making the sauce taste even more rich and delicious) Once it has thickened to a rich and savoury white sauce, you can start to think about putting everything together.
And now the best bit – layering the lasagne.
Start by putting down a layer of lasagne sheets to cover the bottom of a large dish. There's no need to soak them, generally, the moisture from the sauce will soften them as everything bakes.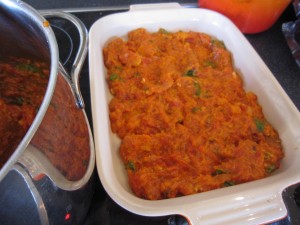 Then put your first layer of the rich and soft tomato, squash and garlic sauce.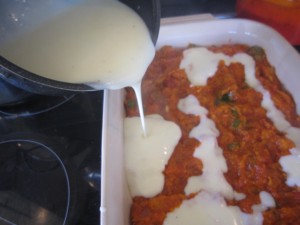 Bechamel next, poured gently over the tomatoey layer.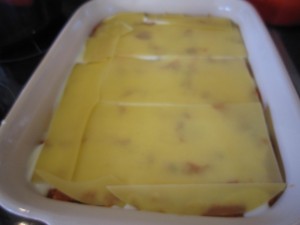 Then more lasagne sheets (and look how I have snapped them to fit!) and more tomato sauce spread over that.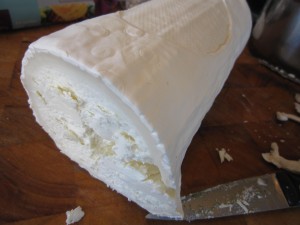 I had a beautifully fresh and crumbly goat's cheese log… about 100g or so. It needed to be sliced into deliciously, almost sticky, rounds.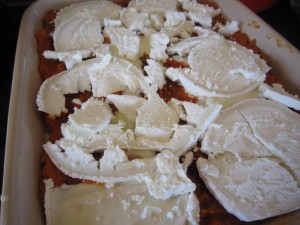 And a thick layer was spread over the tomato sauce.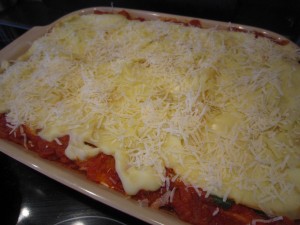 And so it went on with another layer of lasagne, more sauce and the last of the bechamel, finishing with a lovely grating of Grana Padano cheese to add a spikier, cheesier topping. I could have used parmesan, but the Grana Padano was at hand.  Doesn't that look lovely? You just know that this is going to turn out beautifully.
And once I was at that stage, I could set the kitchen to rights and leave the lasagne, ready for cooking later.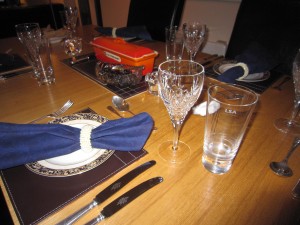 All that remained was to set the table and put the lasagne in when the guests arrived.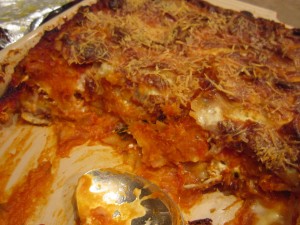 Half an hour or so, maybe forty minutes, at 190°C/ 375°F produced the most glorious lasagne… beautifully layered, fragrant and savoury. Don't worry if you need it to be delayed – just cover it so it doesn't burn and turn the heat down. This is a very forgiving dish.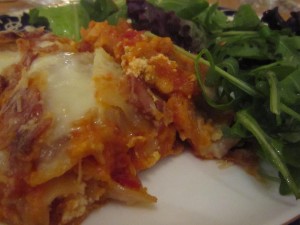 And served with green salad and plenty of red wine, it really was lovely.
The squash really lightened the lasagne in a strange way and there was certainly no feeling of lacking anything by not using meat. It was savoury and delicious. As for the guests? We all laughed as we ate and drank. Everyone cleared their plates… it was a success.
Remember how I said that somethings don't turn out as you planned? That happened this  night. I certainly didn't plan that we'd be singing at the table, between mouthfuls.
A is Australian and somehow the conversation veered round to Rolf Harris (the world's greatest living Australian) …. who, Anth said, he wasn't really aware of.
Not aware of Rolf? He's a hero to us all and has been part of all of our growing up and adult years, so we all chipped in with great enthusiasm to tell him about the painting, the pets and the singing. And then, as these things happen, nothing else would do until we had propped up a laptop, brought up Youtube .
Poor A. He sat there in stunned amazement as we all sang, word perfect and in tune to "Two Little Boys" I defy anyone not to have a tear in their eye when Rolf sings that. Although maybe that could have been the wine we drank……..
So, thank you, Rhi. A fantastic recipe that was exceptionally delicious and helped turn an evening into a fantastic occasion.
Singing, eh? Who would have thought a lasagne would have made you sing? But it does… Australian guests or not, this was so lovely you will want to burst into song.