Everybody, welcome Angela, the newest T.O.B. Cook. Angela is my dear friend from the North.
We were both Northern girls and adored our birthplace… but I married and moved to the Midlands to be with the Bear and she married and then moved away even further. She's ended up in Georgia, USA.
Angela's the one I think of when I try and do gluten-free food as she is coeliac (or celiac as they spell it in the USA) We keep in touch, most days, through email and Facebook and she follows what happens on here. She'd read the posts on Apple Butter and Apple Butter Cake and, after a jaunt out with her neighbours where she picked apples, decided to see what she could do….this is what she wrote to me this morning:
"I needed to make some bread so, I thought, as I was putting the oven on, I might as well make the apple cake. And as I was chopping apples, I thought, I might as well make the apple butter. OK, I'm not a novice in the kitchen, but I'm not an accomplished chef either…. maybe it was all a bit over-enthusiastic…
Oh, I started off by sterilising the jars and the lids – in the dishwasher!!! Only the Americans could come up with such an easy way? That gave me a couple of hours to get everything done….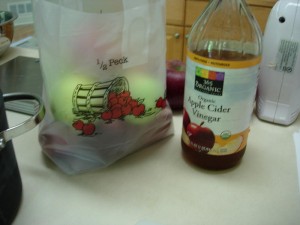 So I mixed the gluten-free bread mix, put it in the laundry room to rise. That gave me 45 minutes….
I chopped all the apples, putting 4 ½ lbs in a pan with apple cider vinegar, which then got left whilst I…
… made the cake mix. I used "Bob's Red Mill All-Purpose Baking Flour" to which I added Xanthan Gum. I had no yoghurt so used low fat sour cream. I, for some reason, bought brown sugar instead of caster sugar.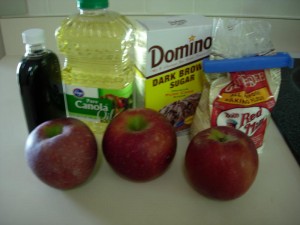 I, for some reason, bought canola oil and can't find out why.
(I'd already been shopping on Thursday, but then went back up again on Friday! But – I did see a good yard sale……)
Vanilla pods were replaced by 'fake'  vanilla and I had no bicarb!!! Instead of "3 smallish apples and a box of stewed apple" I used 3 large apples – too many apples to be honest!
45 minutes was up, so the bread and the cake went in the oven.
Apples by this time had been left for over an hour… but were nicely mushy. I don't have a Mouli and, to be honest, I do as little transferring and dirtying of dishes as possible.
(Hey, I'd already used two bowls for the bread, two bowls for the cake, chopping boards, pans, cake tins, bread tins…. the kitchen looked like a massacre… and by this point last night's empty wine glass kept catching my eye….)
So, I used 'Billy Blender'… I have to say I thought it would be really sharp – apples plus cider vinegar, but it tasted good – so no sugar was added.
It was 6.30, what about tea? So on top of all that I started making a salmon and prawn risotto.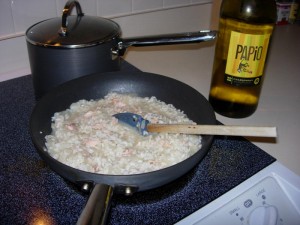 Stir the apples, stir the risotto. Wine was required for the risotto……
Bread was taking an age, so turned the oven down for the bread and the cake. I think they were both in for an hour, maybe the cake was in for a bit longer.
Risotto was nice, if a little too much wine had been added!!!
Bread was normal – takes longer than it says on the packet, but gets there in the end.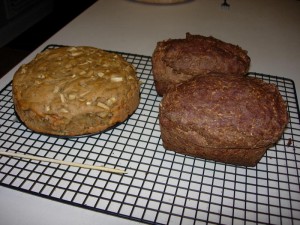 Cake was absolutely gorgeous. Very moist – quite heavy. As I don't eat cake or biscuits very often it was absolute bliss. I had been cooking since 4.30. By now it was 8 – 8.30 pm.
The spoon was leaving a trail. So…. jar filling….
What the hell happened?!?!?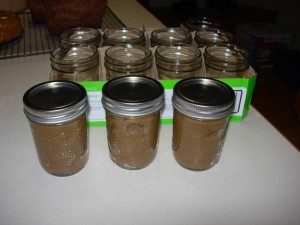 3 jars? 3 jars is all I got.
Four bloody hours of cooking and I got 3 measly 8 oz jars!!!
I'd bought 12 Mason jars! Cost me 10 bucks!
4½ lb of apples and I got 3 measly jars. What went wrong?
I used 4½ lb  and I got 3  jars.  Lorraine got 10 jars – dunno what 14 cups translates as? You used 3lbs – how many jars did you get?
Maybe I cooked it for too long? Maybe I didn't cook it for long enough – it's more like jam/spread than 'butter'.
It tastes OK – very, very rich taste though. But with vinegar – no need for sugar, which is good?
I won't be making apple butter again, but will, most definitely, make the cake! And bread. And risotto….."
I read all of this when I got to work in the morning and yes, I laughed.
Not in a mean way, you understand, but as I often laugh when I read her emails. I could just picture her glaring at the pans and staring at the wine bottle. I laughed at the thought of her looking at the canola oil and wondering why she bought it. I could just imagine her outrage at only ending up with 3 jars… "THREE measly jars".
I suppose I should have told her than when I did my second batch of Apple Butter I did, in fact, use at least ten or twelve pounds of apples….
Still, she has cake that she can eat while she plans going out to get more apples!
Let her eat cake, I say…..