I do love autumn. As a season it suits  me better than any other. I love the cooking I do then… I like the cooler weather.. I absolutely adore the darker nights and getting home to our warm and cosy apartment and putting the lights on so the place glows. I love the colours of the trees and the crispness of the air. When I get up in the morning the skies are just starting to lighten and the view is magnificent.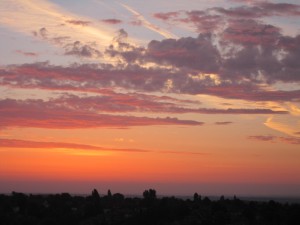 In autumn I start to bake again.
I decided that as it was getting cooler it would be fine to have a nice cake to have with coffee. I wanted something  that could be classed as a plain cake… but not too plain. If you having a cup of tea or coffee you want a cake that will enhance the experience, not fight against it.
One of my great favourites is the Blueberry Yoghurt cake but right at this time? I had no blueberries  but I did have a lot of apples. All that foraging we did meant that there are still lots of apples left.
I thought I could adapt the recipe and add in apples… and as I have a lot of Apple Butter I could use that as well.
In my reading about apple butter, before I made it, there were mentions of it being used in baking as a fat substitute. The apple keeps moisture in the cake just as fat does. Now I wasn't going to go all the way along that route as I'd never cooked with it before and I was using a recipe for another cake entirely, but I was going to give it a go.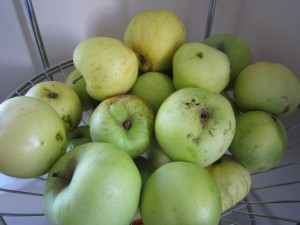 Plenty of apples to work with, anyway.
First of all, the oven was put on at 180 degrees C/350 degrees F and I lined a springform cake tin with a siliconed paper liner.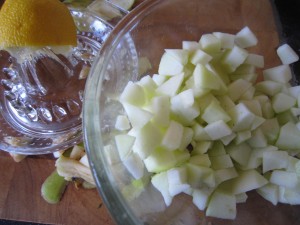 I peeled, cored and diced 6 smallish apples and put them in a bowl with the juice of half a lemon to stop the apple pieces turning brown.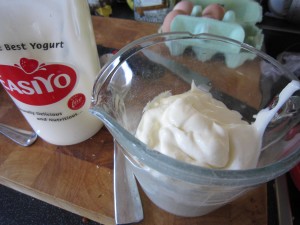 250ml of yoghurt was measured out and put in the mixing bowl'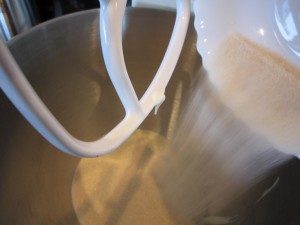 with 200g of sugar and 60ml of vegetable oil.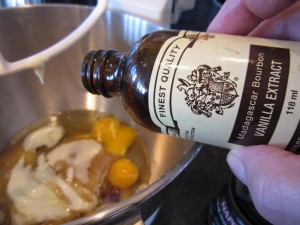 Two eggs and a teaspoon of  vanilla extract went in next.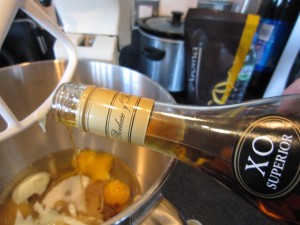 I would have liked to have added Calvados  to the mix as a good apple brandy will enhance the flavours… thing is, we had had Calvados and as it was good, so good that we no longer had any….well, we'd drunk it. Ordinary brandy would have to do instead. I poured a good sloosh…maybe a couple of tablespoons.
All of these wet ingredients were gently mixed together. Gently, you note, not thrashed to death in a high speed mixing frenzy.
Next, the dry ingredients had to be mixed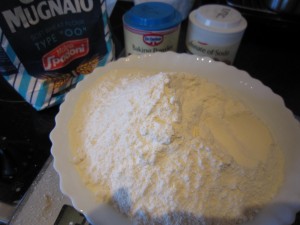 300 g  of plain flour and 1 ½ teaspoon baking powder and  ½ teaspoon bicarbonate of soda have to be mixed together properly to make sure everything is evenly distributed because then you have to add that to the cake mix.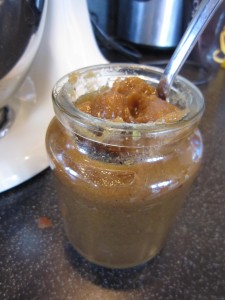 Before that went in though, I got my jar of Apple Butter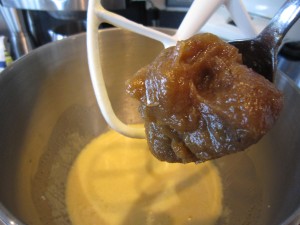 and added two heaped dessertspoonfuls of apple butter to the mix.
Now this, I thought, would add a beautiful spiced apple flavour and, if the theory was right about reducing the fat content, still keep the cake moist. The recipe I was tinkering with had specified 80ml of vegetable oil so I had effectively reduced the oil by 25% when I only put 60ml in.
I mixed that through, gently then added the flour, bicarb and baking powder mix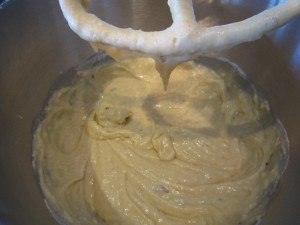 Again, another gentle mix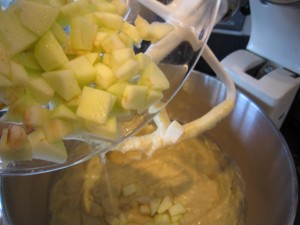 And then the apple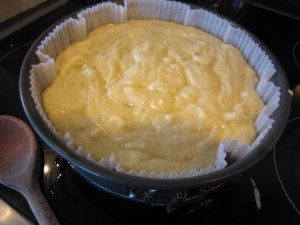 Once in the springform tin, I gave it a little shake, from side to side to even out the mix and then put it in the oven on the middle shelf.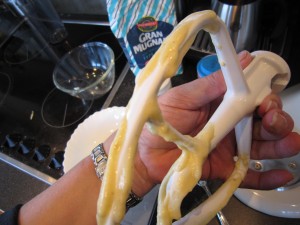 I had a feeling that this was going to be a good cake because when I was clearing up, I just happened to run my finger over the mixer blade… and tasted the mix…..it was delicious.
I felt like a little kid again, scraping out the bowl and eating the mix.
Now, my original recipe had said that 35 minutes would do the cake to perfection but I HAD added what would be extra moisture with the apple butter… and apples do make cakes very moist whereas the original recipe specified blueberries. I was prepared for extra cooking time.
Which was just as well because I kept checking and the skewer kept coming out sticky and the top started to brown. I decided the thing to do would be to turn the oven down slightly  to 160 degrees C/320 degrees F and keep going.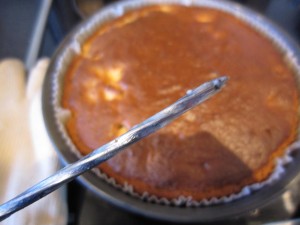 Eventually, a good fifty minutes after I put it in the oven, the skewer emerged clean.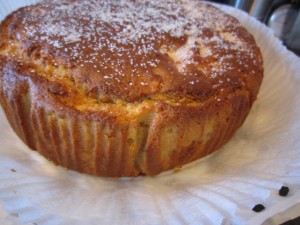 It looked pretty good and smelled even better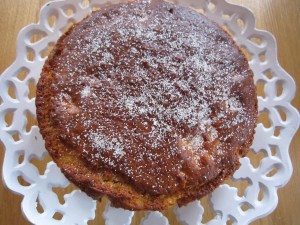 I sprinkled just the faintest dusting of golden caster (superfine) sugar over the top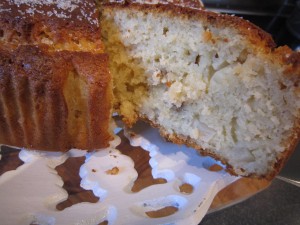 And cut a slice.
It was excellent. Not too sweet and with little nuggets of apple and the hints of aromatic spiceness from the apple butter it was more than just a plain cake for tea or coffee. I wanted to eat more of it but I couldn't. I had promised to take it round to my friend's house to let the children try.
These are the children who came round to learn how to make Bear Bars and helped to make pasta and they are developing a keen interest in cooking. They were waiting to try the apple butter as well as the cake.
Their verdict? They want more. This cake is perfect with a cup of tea or coffee but they had it as a pudding with an extra spoonful of apple butter and a spoonful of cream.
And you know what? They were right. It makes a pretty good dessert.
And as that was done in a haphazard fashion and I want you to try baking this cake I shall set out the recipe:
Apple Butter Cake
Wet ingredients: 6 small apples/3 medium apples, peeled, cored and diced;  juice of half a lemon; 250ml natural Greek yoghurt; 200g golden caster sugar; 60ml vegetable oil; 2 free range eggs; 1 teaspon of pure vanilla extract, 2 tablespoons of brandy; 2 heaped dessertspoons of apple butter (if you have it. Otherwise increase oil to 80ml)
Dry ingredients: 300 g  of plain flour; 1 ½ teaspoon baking powder and  ½ teaspoon bicarbonate of soda.
Heat the oven to 180 degrees C /350 degrees F and line a medium sized springform tin with a cake liner.
Mix all of the wet ingredients first, bar the diced apple which goes in after the flour mix has been added. Only mix it gently.
Mix the dry ingredients together to ensure an even mix then add that to the cake batter, again only mix gently.
Now add the diced apple . The apple will sink in the mixture so don't bother to stir it through – it will settle of its own accord.
Pour the cake mix into the lined tin and shake slightly to let it setlle and place it in the middle of the preheated oven.
After 40 minutes turn the oven down to 150 degrees C/ 320 degrees F and check with a skewer to see how the cake is doing.
After 50 minutes check again and leave in until the skewer emerges clean.
Take out and let cool.
And that's it.
Put the kettle on, will you? Make a cup of tea and have a perfect slice of cake!