We didn't have much in the apartment – I'd been getting to work early and getting back late and the thought of stopping to buy food was just too much. Crawl through rush-hour traffic and pull off the main road, then fight through shoppers and then try and get back to the main road? No thanks.
I knew there were a few potatoes left and I could do something with them….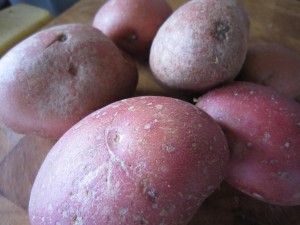 I had some polenta pie left so that would go with them.
I needed to liven them up a bit so as I drove back I worked through what else we had in the apartment… or what else we had growing outside the apartment.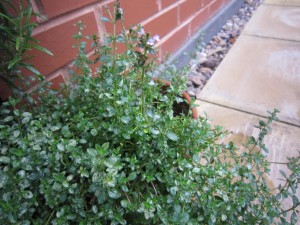 There was a lovely, healthy bush of thyme, just outside the french doors. I could use that…..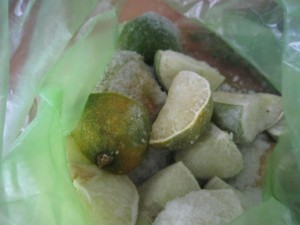 And in the freezer there was a bag of quartered lemons and limes. Whenever I have lemons and limes left over, rather than letting them dry out and go to waste, I quarter them and freeze them. That way I have a marvellous ice cube for a G&T or other drink. But if I used them for the potatoes… well… they would go perfectly with thyme.
So I had a plan.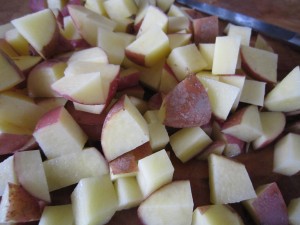 The potatoes were washed and  cubed and the oven put on at 180 degrees C/160 degrees C, fan assisted/350 degrees F.
I put the cubed potato in a bowl with some water and salt – minimal water – and microwaved them for 5 minutes. You could parboil them but this was faster and I was tired, hungry and didn't want to wash any pans.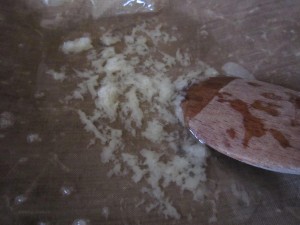 In a lined baking tray, I mixed crushed garlic with oil and salt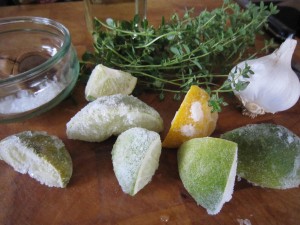 and grabbed a handful of thyme and lemon and lime pieces.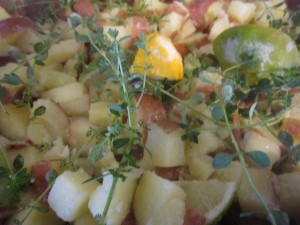 The potato cubes were thrown into the baking tin with the thyme and the frozen lemon and lime and everything was tossed in the garlicky oil.
Into the oven for twenty to thirty minutes while I went to get changed out of my work clothes and into something more comfortable.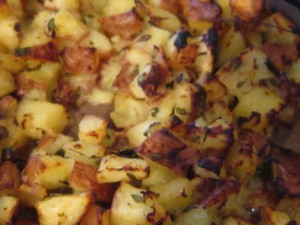 The thyme leaves fall off the stem so all you have to do is pick out the stems and Bob's your uncle.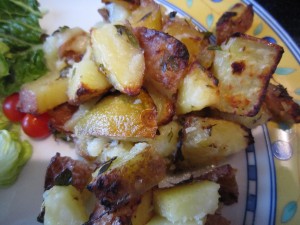 The potatoes had that lovely, almost sweet, savoury taste, crunchy on the edges and deliciously soft in the middle. The lemon and lime had cooked slowly from frozen solid to soft, almost caramenlised roastedness, which gave everything a lovely sharpness and the garlic and thyme worked wonderfully. With a few salad leaves from the box on the balcony and a couple of tiny tomatoes and the remnants of the polenta pie, I had a marvellous meal in less than 40 minutes.
Now, look at that photograph more carefully…. guess who didn't spot that lime quarter nestling amongst her potatoes?
What have I learned from this?
That a delicious meal can be made from scraps, that freezing lemons and limes are not just for gin…. and that wearing your glasses when dishing up is a good idea.