After I'd made the dulce de leche, the important thing was , first of all to use it and secondly, use it sensibly to get as much joy as possible from eating it for as long as possible.
It would be so easy just to spoon it down…. but I resisted and set to, thinking about what to do with it all.
It just so happened that we were going to a barbecue with our friends and I had promised to make the desserts. An ideal opportunity to make something truly delicious…..I had once made a rather delicious meringue, cream and dulce de leche dessert when we had everyone round to out house. I'd bought the dulce de leche then, of course, I wouldn't have dreamed of making my own.
I'm sure there should be a name for this but I don't know what it is… think Pavlova base, spoonfuls of dulce de leche, piles of whipped cream, studded with little nuggets of the best fudge you can get…. mouth watering yet?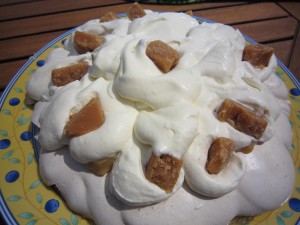 It's not a Pavlova, of course, because Pavlova has fruit as a sharp contrast to the sweet crunchy and chewy (yes, a good meringue should be like that!) base and the smoothness of the cream.
This was going to be sweetness personified, mellowed with the whipped cream. That was good though, because the people that were going to eat it have a distinct liking for sweet things. Anyway, it was a good day – we would be meeting with our friends, the weather was marvellous and a barbecue was planned. The fact that the World Cup was on that afternoon seemed to heighten the joy of some people….
So, first things first. I needed to make the meringue base.
Start by preheating the oven – 150 degrees C (130 if it is a fan oven) or 300 degrees F.
Make sure you have a good baking tray and line it with either baking parchment or a silicone liner. You will need something like that so you can peel the meringue off when it has cooked.
The important thing about making meringues is that you must – absolutely MUST – make sure there's not a speck of fat in the egg whites. So when you are separating the eggs be careful, very careful. Make sure the bowl you will be using is spotlessly clean.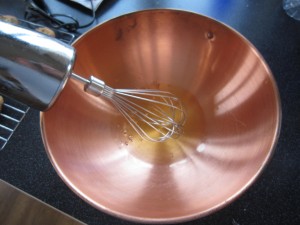 When I make meringue, I use my copper bowl.  My all round hero food-guru, Harold McGee told me to do so because it stabilises the egg whites and makes a better foam with less risk of it all collapsing. It's not just a wild fancy to have yet more gorgeous kitchen equipment, you know… it does work.  You don't have to have one but I bought that back in the days when I had a well-paid job and I  could indulge myself.
If you haven't got one, don't worry. A pinch of cream of tartar can do the job of stabilising just as well.
The important thing is that you whisk the whites well, no matter what bowl you are using.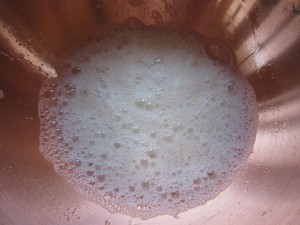 Three egg whites in a spotlessly clean bowl can be whisked to meringue perfection in a few minutes. 
Before you start whisking, though, weigh out your sugar – you need 175g/6oz of caster sugar (which for those of you in Canada – Lorraine- or America, means super fine sugar.) When it is time to start adding the sugar, little by little, you want to have everything ready.
Whip until the egg whites have formed soft peaks and you can tip the bowl up without it all falling out. Only then do you start to add in the sugar, bit by bit.
You can see the whites becoming glossy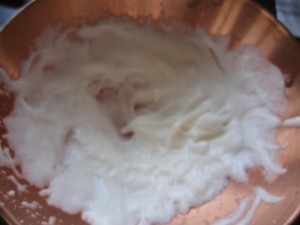 When everything has been whisked together and you have a mound of glossy, white fluffed up meringue mix, spoon it out onto the parchment or the silicone liner, making a circle as the base. Some people draw circles on the paper to make sure they get a proper circle but I never do. It's a meringue for goodness sake… it is going to be pillowy and blowsy and laden with whipped cream. We aren't talking architecturally precise. I like the organic look of it when it comes out – so very obviously not manufactured in an industrial complex.
Once you have the circle, you make a sort of blobbed wall around the edge with more spoonfuls of meringue. You are supposed to twirl each blob round with a cocktail stick to make little pointed swirls of meringue…. but….
And this is a big but.
Normally my meringues are fine. But normally I am not attempting to make then in a boiling hot kitchen on one of the hottest days of the year (31 degrees C) with lots of humidity.
Humidity is the killer of meringues. I waited until 8 at night in the hope the weather would break and the humidity lessen.. but it didn't happen. I had to have the not-really pavlova ready for the next day. I had to get cracking.
Reasoning that it would be OK, if not as beautiful, I got on with it. Into the oven it went and the temperature was immediately turned down to 275 degrees F/140 degrees C/120 degrees fan assisted.
It was going to take an hour to cook and once that hour was up, the oven is switched off and the meringue left there overnight. That lets it dry out perfectly.
So, the next morning, I opened the oven to take out the base.
Ah. It was as I thought. As I knew really, when I first put it onto the baking sheet. Despite whisking and using my copper bowl that dratted hot and wet air had wreaked havoc. It was OK but it wasn't billowing into crisp peaks of perfection.
 It wasn't the most beautiful meringue I have ever made but, what the heck. It was going to be the most delicious meringue I'd ever made and that's what counts.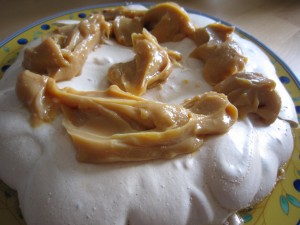 The next day was brighter and hotter than ever. I carefully peeled off the silicone paper and put the meringue onto a plate so I could take it to J's house.
Once there, while he and N busied themselves with the barbecue, I spooned the delicious dulce lecheover the base of the meringue.
Just look at it….. thick and rich and caramelly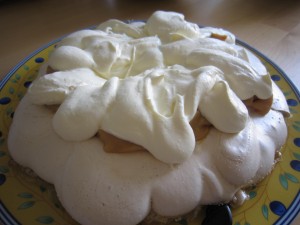 Next, great luscious spoonfuls of whipped cream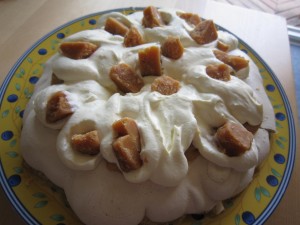 Then, pieces of delicious fudge scattered over the top….
And more whipped cream on that.
It was delicious. It was a triumph.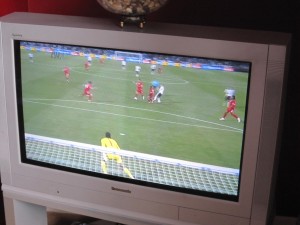 Which is more than you can say for the football.
England were out of the World Cup but the not-really pavlova was a winner. Not a scrap left. Depite it not being the most beautiful meringue base ever.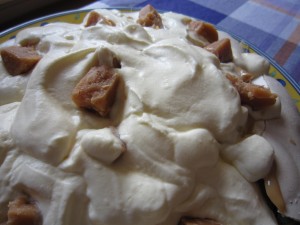 Don't despair if your meringue isn't perfect. Looks aren't everything you know. Taste is.