At long last the days are becoming brighter and the weather seems to be improving. Today at work I had the windows open as it was getting rather hot, sitting behind glass with the sun shining in. It's time, I think, to start freshening up food…. making it lighter and more summery.
Time, in fact, to make something like a pastryless pie.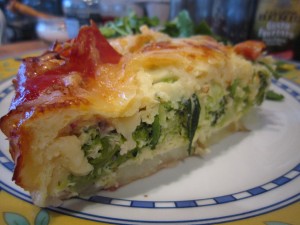 I often make this because it is perfect with a light, dressed green salad for supper and also because it is absolutely ideal to take to work for an easy packed lunch.
A pastryless pie is, in effect, a quiche without pastry. The quiche filling is baked inside strips of ham. What that means is that if you are baking it to share with friends then anyone with a wheat intolerance or coeliac disease doesn't have to miss out.
If you are trying to cut carbs from your diet, well, it isn't exactly Atkins because there's plenty of vegetables in there but it does, at least, avoid pastry.
So then… what do you need?
I had some broccoli in the fridge and that, along with a lovely piece of Stilton cheese would make a lovely pie.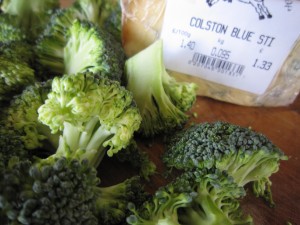 I had half a dozen free range eggs, a small pot of cream, a packet of sliced Serrano ham, 200g of Emmental cheese (which I love for its sweet nuttiness) a courgette, a handful of cherry tomatoes and few baby salad potatoes.
For those of you who don't have access to Stilton or Serrano ham or, in fact, anything else I have listed, just remember I am putting those ingredients in because that's what's in my fridge.
As long as you have eggs, cream, some ham (some kind of air dried ham, sliced thinly) some cheese and some vegetables you can make this.
Now, because you are making what is really a quiche filling, it is going to be runny. And you don't have a pastry shell to pour it into. I told you we were wrapping some air dried ham around it but that isn't going to stop the filling from running out, so this is what to do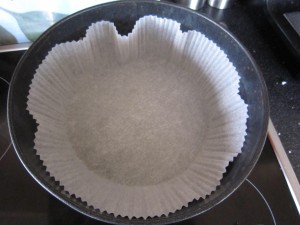 You can buy silicone paper cake liners from most places now – one of these popped inside a springform cake tin makes the ideal liner to keep all your lovely ingredients from seeping out when you bake it.
Open your packet of ham and drape the slices round the edge.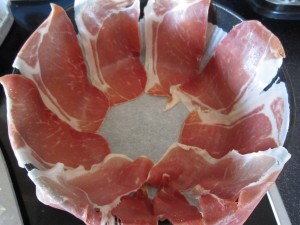 You don't need to completely cover the sides and you don't need to cover the base. What you are doing is making what will turn out to be a lovely, savoury, lightly crisped ham edging. It helps keep it in one piece when you cut it.
The bottom of the pie will be lined with a layer of steamed and sliced potatoes – it makes for a firmer base. Either slice them and steam them now, or use left  over cold salad potatoes. Because I am using broccoli, I steam that at the same time.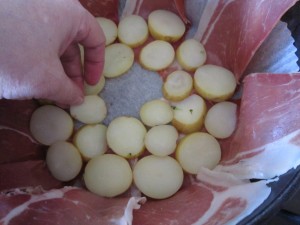 See? Just a thin layer of little slices of potato.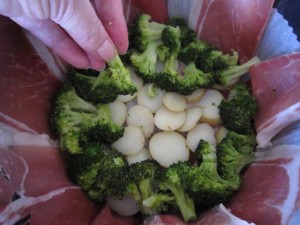 Followed by a lovely layer of broccoli florets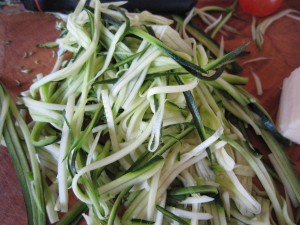 I found a courgette in the fridge and if you use a julienne cutter, you get a glorious tangle of shredded courgette. When this cooks it disappears into the gorgeousness of the creamy, cheesey, eggy filling so even for avowed courgette haters… this would slip right on past them. Another vegetable chalked up!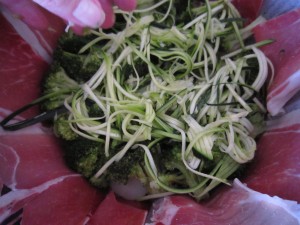 Scatter those shreds over the broccoli layer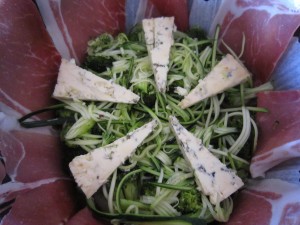 And as it is a broccoli and Stilton pie, now is the time to slice that piece of Stilton you saw earlier.  You could crumble it if you want to, and scatter it across but I thought how pretty and symmetrical it looked to arrange it in thin slivers.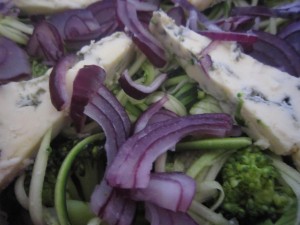 I had half of a red onion left over from something else I'd made so I thought that, sliced finely so that it would cook through while the pie was baking, it would add an extra hint of savouriness.
 That was scattered on top of the cheese.
That's the vegetables taken care of, the next thing is the delicious cheesey, eggy mix.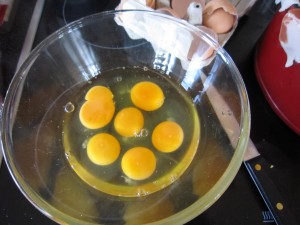 6 beautifully golden fresh free range eggs need breaking into a bowl and whisking round with a fork.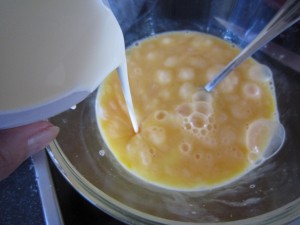 A small (150 ml) pot of cream gets poured in and whisked around again.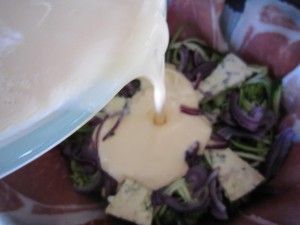 And pour it in……
Give the springform tin a gentle shake from side to side to make sure the eggy mix falls down around those lovely vegetable layers.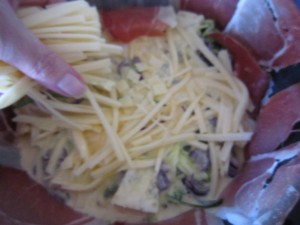 I had some sliced Emmental to use up as well, so that was shredded and scattered over the top.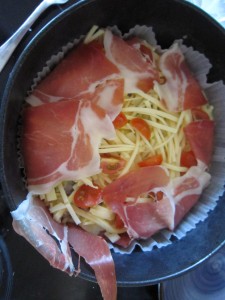 Little cherry tomatoes (there were only 4 or 5 left) were quartered and added to the top layer before the ends of the ham were folded over.
You can see when you do this that the egg and cream mixture seeps between the slices of ham and then you realise just what an excellent idea it was to use the paper liners…
Into the oven with it at 160 or so degrees C for approximately 30 -40 minutes.
You can tell when it is done when the top looks golden and if you give it a gentle side to side shake the pie quivers just a little bit… and if you press it with your finger it feels soft but firm…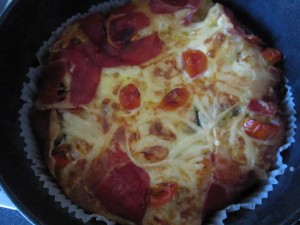 The only thing to do now is to free it from the springform tin, peel back the paper liner and slide it onto a serving plate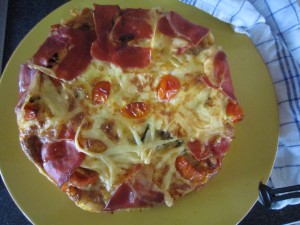 The hardest part is waiting for it to cool slightly so you can slice into it….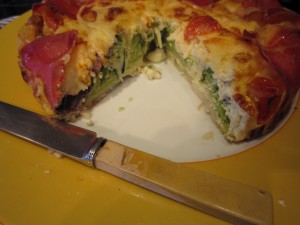 With a green salad it truly is the perfect lunch or supper.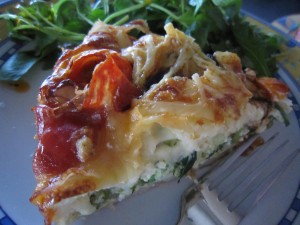 Tasty, easy to make, easy to take for lunch… cunningly packed full of vegetables in the midst of that delicious filling… just the thing for the summer months!