I bought a bacon shank while I was out because I had a fancy for pea and ham soup…. and because I haven't been paid since September, I am being very cautious with what is left of my cash.
What could be better, then, than a thick and savoury soup, where the ingredients come to less than £2?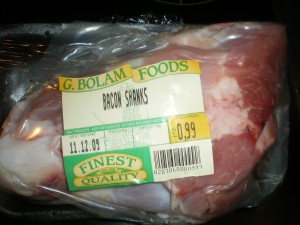 99p for a big and hefty bacon shank….
49p for 500g of split peas
A couple of carrots, some onion and a few bay leaves from the tree on the balcony and you have all you need to make a delicious supper.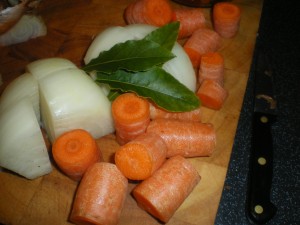 The thing is, it does take time to do this but the way round it is to start the day before. This amounted to a few minutes work and then leaving it to simmer for a couple of hours. That was OK by me because I knew that the following night I would come in to a perfectly cooked soup that would just need a few minutes work.
I'm a great fan of food that you can spend just a short time on and then leave it to cook quietly….. I work full time and I don't always want to spend hours cooking when I get in at night.
So…. carrots cut roughly, as was the onion, and then they were put into a pan with the bacon shank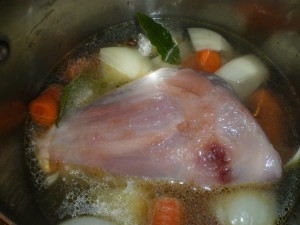 I poured in the full bag of split peas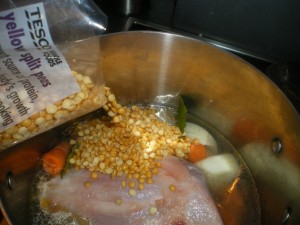 And then brought everything up to the boil.
See? That isn't much work, is it?
You do have to hover about every now for the first ten minutes or so  because you need to scoop off the froth that come up…. but it's no real hardship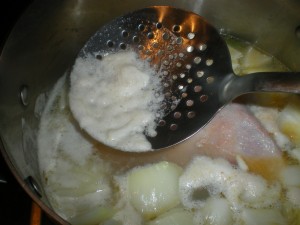 Doesn't take long though and once it's done, put the lid on and leave everything to simmer for a couple of hours.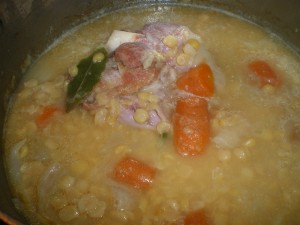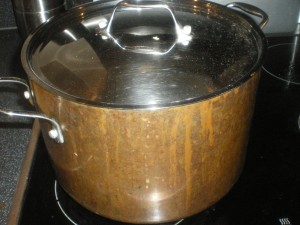 That's it, for one night… just turn the heat off and leave it, you will finish it off the following night.
So, when you come in the next night, you will find a big pan of cold and solid soup. That's good – it shows that the bacon shank has done its job.
Heave the shank out of the pan… and I do mean heave….I had to lever it out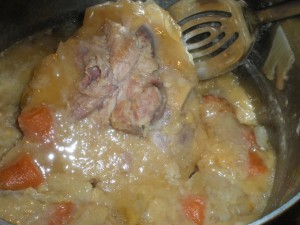 Look at how it has set!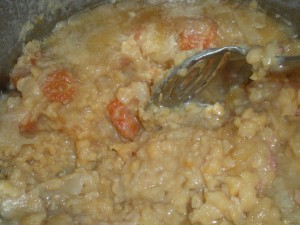 I like a smooth texture with a few split peas, so what I do is take out a couple of ladlefuls of the peas, remembering to remove the bay leaves and blitz the rest to a glorious silky smooth base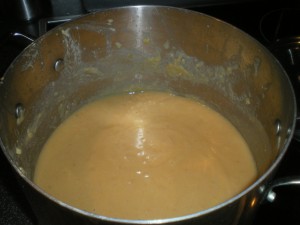 Now all you have to do is shred that shank….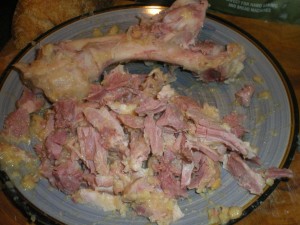 There's a lot of meat on there…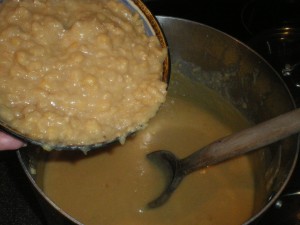 Remember I said I took out a couple of ladles of the peas before I blitzed the rest? I put them back in now to give just a bit of texture to the smooth base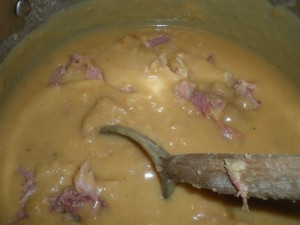 … and then add that lovely, shredded bacon
And just to show how easy it is, I made foccacia bread.. this time chopping  sage leaves and garlic into the mix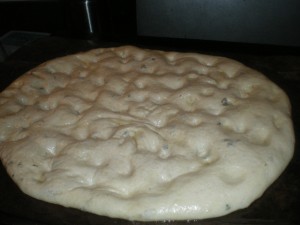 It really is the easiest bread in the world to make and takes maybe 15 minutes in the oven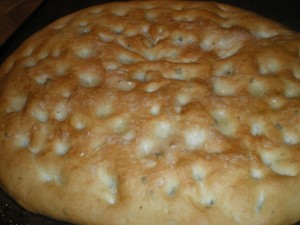 Another 30p maybe for the flour? Pennies for the yeast and salt and oil? The sage leaves I got from the pot on the balcony….
Still under £2, then.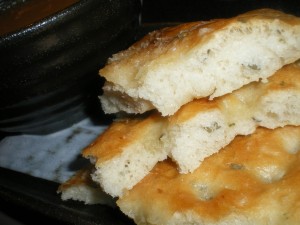 And truly, the work involved for soup and bread was minimal… a bit of chopping the night before, scooping off the froth from the boiling peas and then leaving it to do its thing…and tonight? Shredding the bacon and blitzing half the soup… mixing some dough….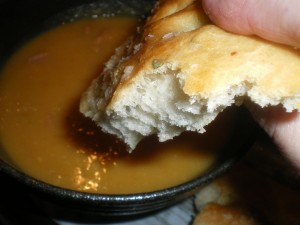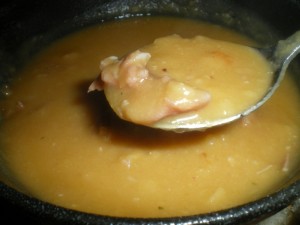 That made 4 huge and sustaining bowls of soup…..
……the bacon shreds were delicious bites in the silky soup…. ohhh it was delicious.
I loved it and my purse loved it. I'd make this even if I wasn't almost penniless.