I have been away this weekend, back up to the North. While I was there, I went to see my little brother so I could collect some pheasant and we decided to go to the beach and take his son, my four year old nephew.
We live close to the sea and it is only a matter of minutes before we can get down to this faded little seaside town. I love it for its ageing beauty and the beautiful white sands lashed by the ferocious North Sea.
It's also where the Bear and I used to go for a walk when we first met. That was  romance………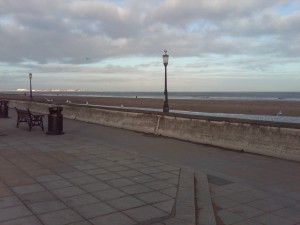 It's all pretty much deserted at this time of year with only a few hardy souls out in the biting wind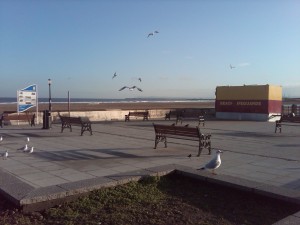 The North Sea sweeps straight round and down from the frozen wastes of Russia… and you can tell. Your face hurts and your nose goes numb from the biting wind.
I have actually been swimming in the sea in January and once you get over the initial agonising shock it is, in fact, quite exhilarating. Our Granny used to live in this small  town and she swam in the North Sea most days. Tough old thing she was, too. I reckon the ice cold dousing  every day did her the world of good.
She believed in open windows, whatever the weather, and lots of exercise. She was never ill. Mind you she ate nettles and wheat germ, which for a woman born in 1896 made her a real health freak. Forward thinking, I'd think she'd say.
And yes, that does say 1896.
I don't think we will ever be as fit as her because once we got there we decided that fish and chips would be the perfect treat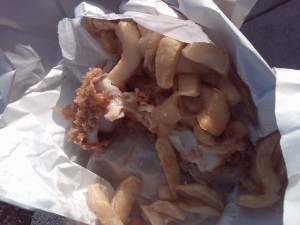 Oh the smell of them… there's something so lovely about freshly fried chips and beautiful crispy batter round just caught fish…. there's no way you could make this at home. Not to have it turn out the way a real chip shop can do it.
We opened the back of my brother's car and perched in the boot, keeping as much out of the wind as we could.
When I broke open the fish, clouds of steam came out. Hot and fresh and doused in salt and vinegar. Now that is a smell that makes me smile!
You have to eat it quickly because REAL fish and chips are fried in dripping and once they go cold the dripping congeals. Not, I have to say that we tend to hang about .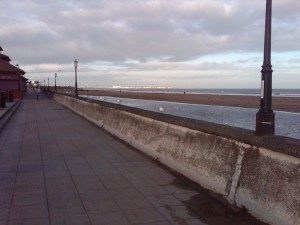 When we finished, we decided to get my nephew an ice cream…. well, it's not a trip to the seaside unless there's ice cream, is it? And even in temperatures well below freezing, with the wind chill factor, small boys will always want ice cream.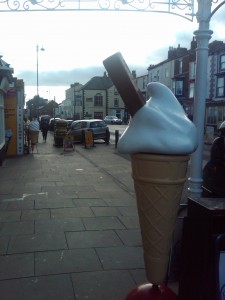 Especially when they see an enormous ice cream in the street…
The ice cream was being sold in a sweet shop… a real. old fashioned type of sweet shop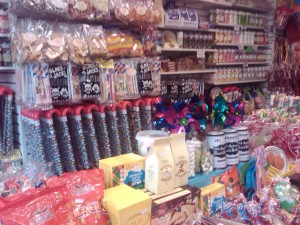 And even in December there were bags of luridly coloured candy floss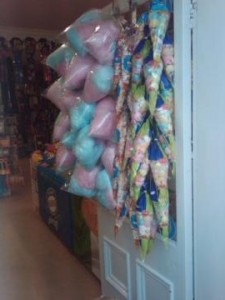 So, with our noses frozen and the little one beaming happily we got the most seasidey kind of ice cream.
Not for us the handmade, carefully crafted, organic, free range and  chef inspired icecream… no, we went for the industrial whipped….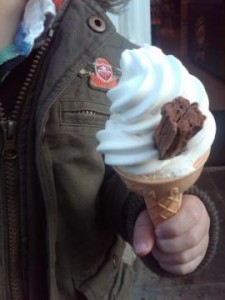 Because sometimes, just sometimes, there's nothing nicer than recreating childhood pleasures.