I first made this years ago and it is rather like Marmite… not in taste, of course, that would be silly, but in causing complete polarity amongst my friends. They either hate it with a passion or they love it.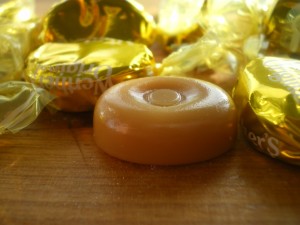 Toffee vodka – at least this rough and ready version of it – is the easiest thing in the world to make. Quick, too. Which is handy as I have a couple of friends coming to stay tomorrow night and it would be good to offer them at least a little drink….. These are the friends who once called me, whilst on a camping trip, for instructions on how to make it. J & M  called later to say they had been bashing the toffees with a tyre iron to get them to fit in the bottle neck.
That did cause a bit of a mess as they were bashing them on the dashboard. Shards of toffee were found for months afterwards.
Anyway, this is the quick and easy way to do it……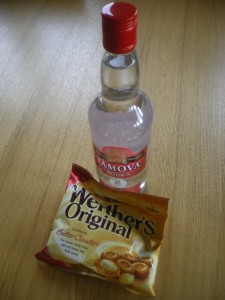 Get a bottle of vodka – it doesn't have to be good vodka.. in fact, why would you use expensive stuff when you are going to add a packet of Werther's Original Toffees?  Then, get a large jar
The first experiments involved taking some vodka out to free up some space and shoving the toffees down the neck of the bottle (hence the adventures with a tyre iron) but we realised that while that may be necessary when you are living rough (or camping, as they chose to call it) a large jar was much easier to deal with.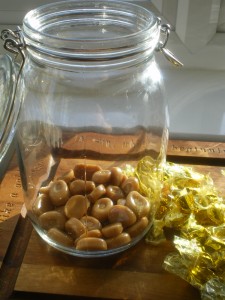 Step one…. unwrap the Werther's (they really do taste the best)  and add them to the jar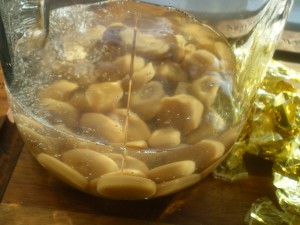 Step two … add the vodka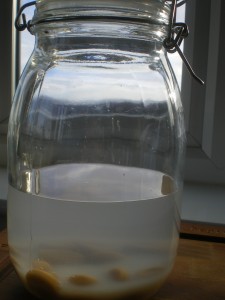 Step three… watch how quickly it all dissolves – this is after ten minutes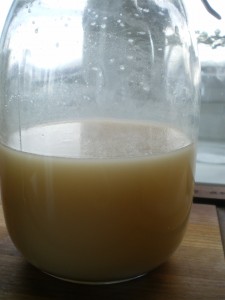 Step four… give the jar an occasional shake… it will be dissolved completely within 3 or 4 hours. Shake or stir to help it along….
Step five…. decant it into pretty little bottles, wrap a ribbon round and give it as a Christmas present… OR… serve it in a glass with plenty of  ice and some single cream.
I'd like to think it was some sort of cocktail…..It probably is in some sort of chavvy way.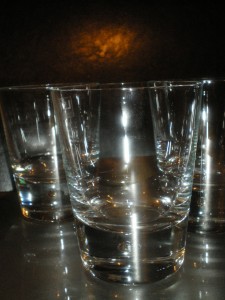 Oh and be warned. You really must dilute it .. While it tastes almost innocuous with its rich toffee flavour, it is, after all, the equivalent of drinking neat vodka while sucking a toffee.
The way to go is to add a mixer and what seems to work best is milk or cream. M and I like the cream option while J goes for soya milk. It transforms it into a soft and delicious drink. In fact, you could start off a party evening with  a round of this for everyone.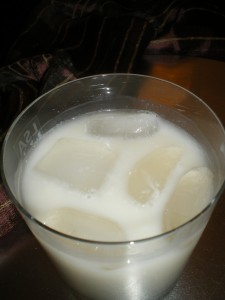 Drinking it neat is madness and may lead you to complete inebriation and a life on the streets.
And don't sneer… some of us are very partial to it!