As part of the Bear's training process ( in order to be truly omnivorous, he must learn to eat everything… and that includes shellfish) I am trying out various prawn recipes on him. He used to  get a very stubborn look on his face when I suggested shellfish and shake his head fiercely but he is getting used to me insisting he tries a mouthful, at least. These tactics are beginning to pay off. 
He not only ate his salt and pepper prawns but actively enjoyed them and would have eaten more but for the fact I insisted I had my fair share. I moved onto the next step in my plan….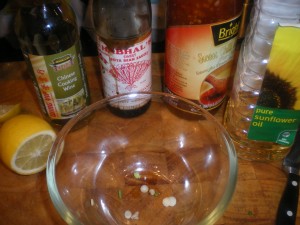 I knew he had liked the savouriness of the salt and pepper prawns and I wanted to give a hint of that when cooking this next lot. I decided that a marinade would boost things up, so I mixed a bowl, using Chinese cooking wine, some sweet soy sauce, some sweet chilli sauce and some sunflower oil. A squeeze of lemon would sharpen up what would be a sweetly savoury spicy marinade.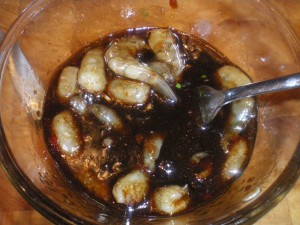 In went the prawns and I got on with other stuff. I thought noodles and vegetables would be good to go with it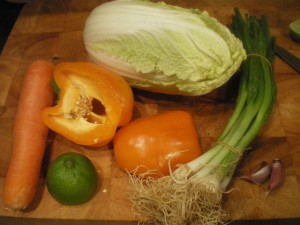 I had an orange pepper, some spring onions, a carrot, some garlic and ginger and some Chinese leaves. They would give a lovely crunch to the dish and be a good contrast to the softness of the noodles. I got some ready (because this is so quick to do, you need to have everything ready before you start cooking)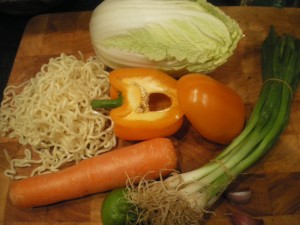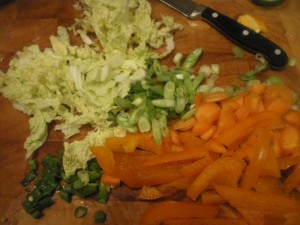 With some hot oil in my largest frying pan (I really should get a wok, you know, but our kitchen is tiny and there isn't another square inch of space to put anything and the benches are full already)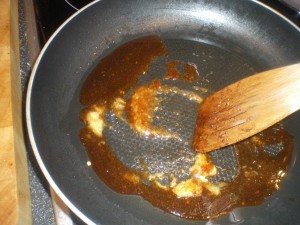 I started by frying some garlic and ginger with a splash of sweet soy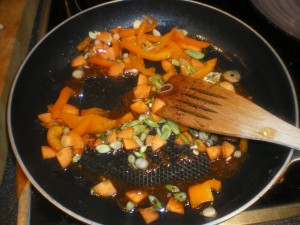 and then started frying the pepper, carrot and spring onion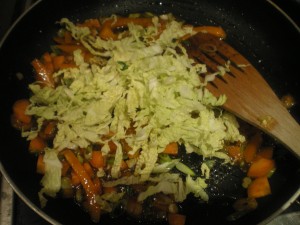 then the shredded bits of chinese leaves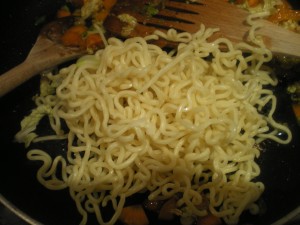 Put the noodles in and stir fry quickly.
Next step….prawns. By now they will have been doused in the marinade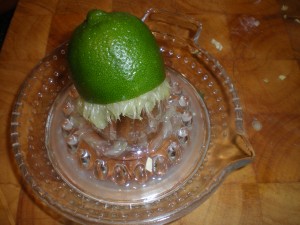 Squeeze a lime – roll it first to get the juice going .. you will need that to squeeze over the cooking prawns
 and then take out the noodles and vegetables – you are going to need that pan for the prawns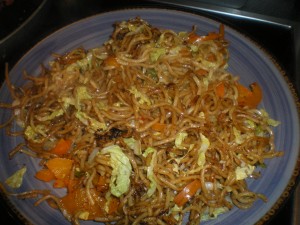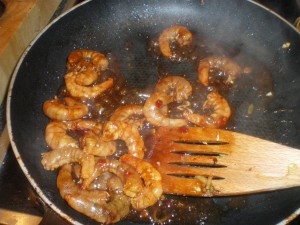 Pour in the marinade as well – there is oil in there… just look how quickly they go from grey to pink….
And serve. Some finely chopped spring onions scattered over the top just sets things off.
And was it eaten? Yes it was, by a person who says he hates shellfish. Well that's two lots he has eaten now…. and it's not as if he left any. Was it enjoyed? Draw your own conclusions.