Last week I got two of Matthew Walker's Christmas Puddings  sent through the post.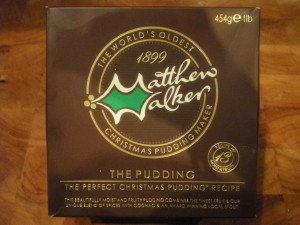 The company have a competition  to win a camera and a photography course and asked  everyone  in the UK Food Blogger's Association to have a go and invent something new using their Christmas puddings…
As the company says,
"the original Christmas pudding is based on a traditional recipe that includes 13 core ingredients, which represent Jesus and his 12 apostles.
I travel the globe to select the very finest spirits, vine fruits and seasonal spices, from a stout that is brewed right here in The Peak District to succulent sultanas and currents from Turkey and Greece.
The result is a beautifully moist and fruity Christmas pudding that truly captures the traditional taste of the festive season."
And what exactly are the ingredients?
Sultanas
Raisins
Demerara Sugar
Currants
Glacé Cherries
Stout
Breadcrumbs
Sherry
Vegetarian Suet
Almonds
Orange & Lemon Peel
Cognac
Mixed Spices
Well then. With a list like that of ingredients,  I had better start thinking. I began with the little pudding. I was thinking of trying something savoury, something different….
And then I thought of stuffing. What about some lovely roast pork with crispy crackling? After all apple and apricot are perfectly normal stuffings for pork. When I talked about this at work there was a fifty-fifty split about whether this would work, probably just as there will be amongst those of you who read this.  I thought it would work… sweetly, spicy, savoury stuffing? What's not to like about that?
The very first thing to do will be to get the oven as hot as possible to make the perfect crackling for that lovely pork… so put it on now to preheat
Then, open the pudding and smell it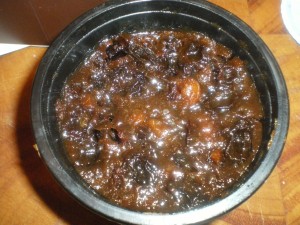 It was rich and dense and spicy and dark – as dark as the devil's heart as we would say.
 So the next step was to make it into stuffing – first things first, start with the savoury aspect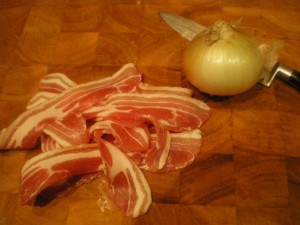 Bacon and onion would add a good savoury taste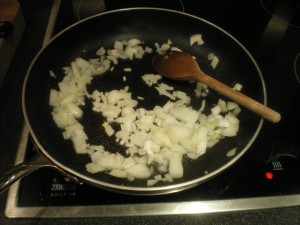 Gently fry the onion then chop the bacon (or do as I do and use scissors – much quicker)  and add that to the onion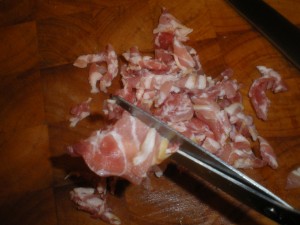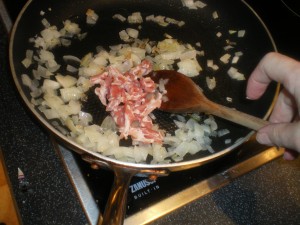 Make some breadcrumbs  – I have a Bamix and this makes breadcrumbs in seconds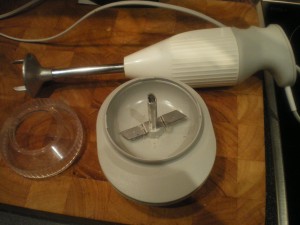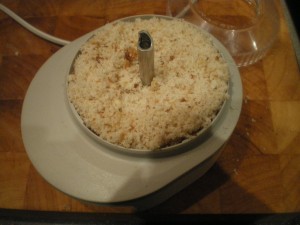 Cut up the pudding and add it to the breadcrumbs and mix it well. Adding a sprinkle of  some salt and pepper rounds things out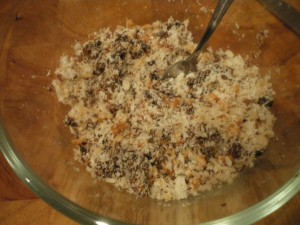 Some suet.. real suet from the butcher….. just a sprinkle, but imagine how that will make it taste….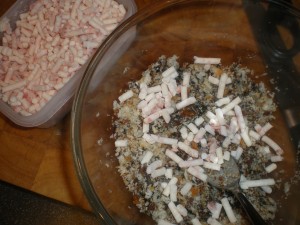 Once the bacon and onion have cooled slightly, stir that in as well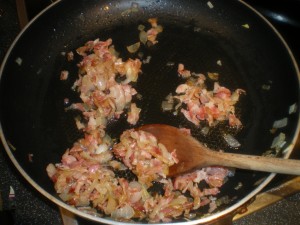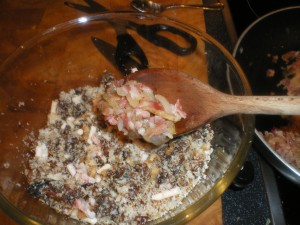 Then mix an egg lightly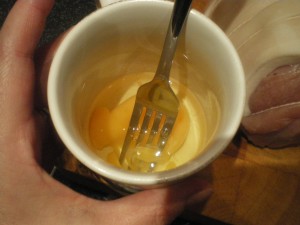 And add that – this will bind everything together and chill the mix in the fridge. Having it cool will make it easier to roll and it also means you have time to tidy the benches and give things a quick wipe down.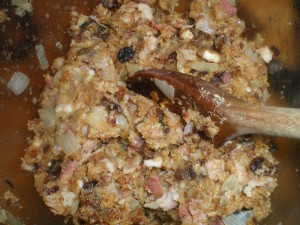 On to the pork…. make sure the skin is properly scored – if it isn't already, sharpen a knife and slash it. Remember, the thinner the slashes the thinner and crispier the crackling will be. Massage in some oil and then rub that rind with salt.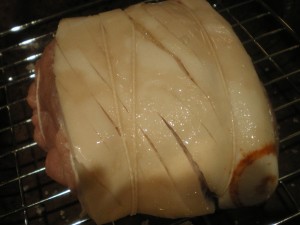 Now, I spotted a problem… I had been going to stuff the pork with the stuffing but it wasn't the best rolled joint…
Balls, I thought. 
Stuffing balls, I mean, obviously! Straightforward stuffing the joint wouldn't work, but rolling it into balls and roasting separately might just do it….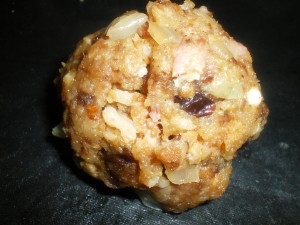 Look how pretty they look
So, put that pork in to sear and blister. Leave that in there on the highest heat till you can see the skin bubbling, then you can turn things down and relax for a while.
I decided some nice goose fat roasted potatoes and the benefit of that would be that I could put those stuffing balls in with them towards the end of the roasting time and they could roll around in the sizzling goose fat so they become crispy on the outside and stay moist and juicy in the middle….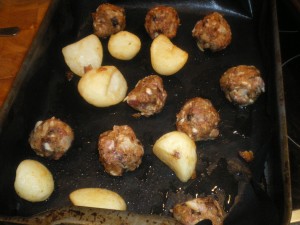 So, things were progressing well….once the potatoes were starting to turn golden, in went the stuffing balls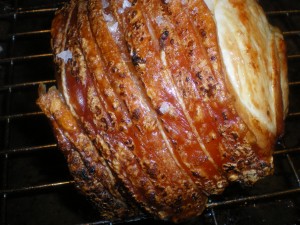 The meat was taken out to rest… look at that crackling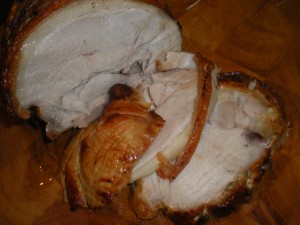 And then…. put everything together…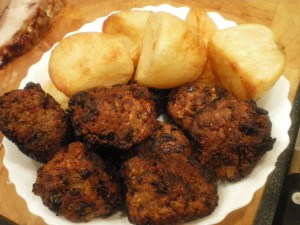 In conclusion? I was right. As a festive stuffing it hits all the right buttons.
The stuffing balls, born from necessity, are probably the better way to go. The outside crisps up beautifully, while the inside stays juicy.
And… this might be noted as a guilty pleasure… I got in from work the following night and nibbled one… even cold it tasted gorgeous!
And the Bear's verdict? He ate everything and then asked for pork and Christmas Pudding stuffing sandwiches for lunch. I guess that means he likes it too.
Make them, this is a recipe to remember and use.
Oh and thank you, Matthew Walker, that pudding is a real Christmas cracker     😉