As I look out of the window I see greyness everywhere…the skies are grey, the pavements are grey and even the people look grey. It's the Age of Austerity, say the Government and the financial whizz kids who got us all into this mess.
Time to tighten our belts… cut back…spend less. We have to suffer….
The papers are full of articles on the cost of living and how food bills are soaring, utilities bills are going through the roof and how the ordinary person must make sacrifices.
Well, I agree. I agree on the cutting back, anyway. If we cook at home with care we can all produce marvellous meals for much less than you would spend on a takeaway or a pizza, or even fish and chips.  I have made a habit of cooking carefully and spending very little and, truth be told, have often turned out meals that are better and tastier than many meals I have had in restaurants. Look through the Credit Crunch section and you'll see recipes for Beef Cheeks (the most wonderfully tender beef casserole you will ever eat); delicious soups like Roast Garlic and Marrow or Puy Lentil and Pumpkin or the gorgeous Tomato Rice Soup – simple, inexpensive ingredients made into food that you are glad you are at home for. There's recipes using polenta, that staple of Italian peasant cooking made into Baked Polenta Pie and rice…. risottos made with Black Pudding and Apple and Bacon – just scraps of things added to a basic ingredient and transformed into something you'd be proud to serve to guests.
I don't really believe in too many sacrifices though. I always like to use butter in my cooking – I certainly won't use margarine or some cheap, chemically concocted spread, where dubious oils are treated with this and that to make them go solid and spreadable. Butter is better. I don't use too much and it doesn't feature in every dish but when I need it, it's there.
Butter is just milk shaken until it is solid. What could be simpler?
What could be better than calling in at the supermarket and spotting, in the marked down section, a large pot of cream that you know, with very little work indeed, can be made into lovely fresh butter? That appeals to my penny pinching ways and my love of luxury.
I've written before about making butter, way back at the start of this blog, when I did it by using marbles in a tupperware box. I still say this is a fun way to make butter and a most excellent way of entertaining children. I don't suppose you could get them to do it all the time, but as a one-off? A Saturday afternoon's entertainment? It's a brilliant way to keep them occupied and then, of course, you can make them buttered toast for tea. 
This time, however, I had plenty to do and didn't need to entertain myself unnecessarily, so I was going to do it the quick way. It's probably the way you will end up doing it, too.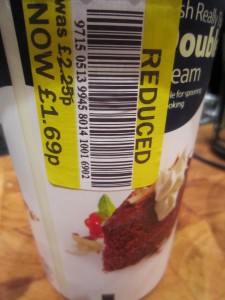 I had been shopping to get some ricotta as I was going to make ravioli and as I walked past the Dairy section, I spotted a large pot of double cream… the really thick double cream. It had been reduced  as it had reached the sell by date. This doesn't mean that it was going off at all, just that the date they had set for it still to be in peak condition was today. Fresh cream, still perfect and at a reduced price?
Well, I had planned to be doing other cooking and I had plenty to do in the kitchen but this was a bargain, calling out to me. And it just shows how easy it is to do if I was going to do it in between making three different sorts of bread and pasta.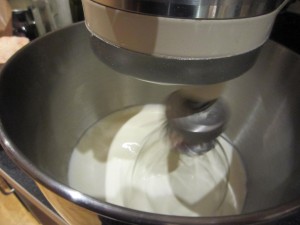 I put the cream into the mixer (you can do it with a hand mixer if you haven't got a standing mixer… it doesn't take long) and started to whip it.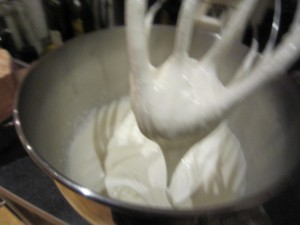 It thickens quickly.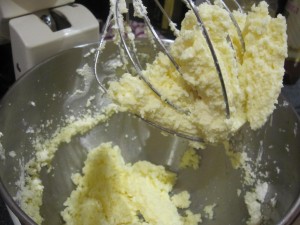 And you keep whipping.
All of a sudden it transforms from a white, whipped mound to a lumpy, granular and yellowy mass. This is not great if you were looking for a topping for a dessert… but it is just what you want to see if you are making butter.
Perfect.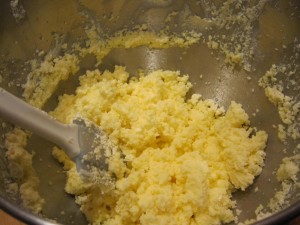 Look at it. Granular and yellow. That's the butterfat.
Now, if you were using a thinner cream than I was, you would see quite a bit of buttermilk separating out from the creamy globules. The cream I was using was almost solid it was so thick, so there was less liquid.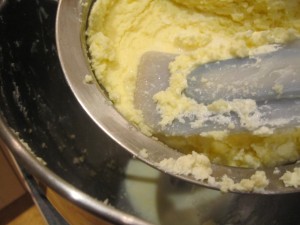 Pop the lot into a sieve and wash it inder a tap. I gave it a squish with a flexible spatula to get more of the buttermilk out.
You can save the buttermilk for baking, or adding to soups – yet another credit crunch saving.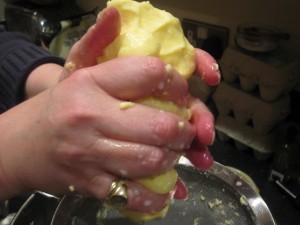 The Bear came over to help at this point… not because it is difficult but because I needed him to take the picture for you to see.
I got the butter out of the sieve and squeezed it together. More buttermilk ran out.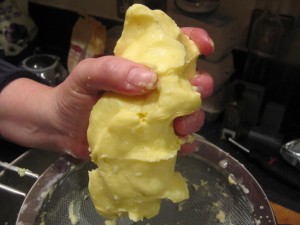 That's butter, that is!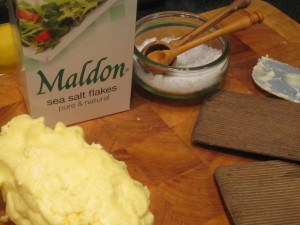 The next thing to do was to add salt.
I'm a great fan of Maldon sea salt and a pinch or so of that, scattered over my hand squished butter and then squished some more meant I would have a beautifully salted butter.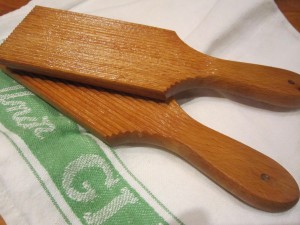 I do happen to have some old wooden butter pats  which are ideal for flattening the butter and getting the last of the buttermilk out. It also adds to the fantasy playing in my head that I am the consummate housewife and cook….
If you don't have any, don't worry. I just like them, that's all.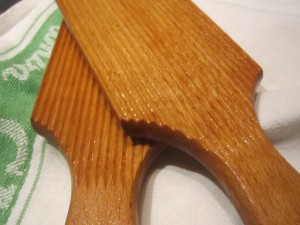 If you look at them you can see they are finely ridged to help force the liquid out.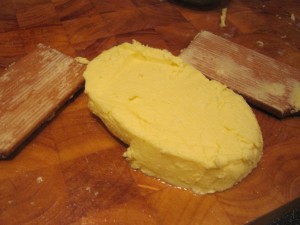 It helps make the shape of your butter. Again, it doesn't matter if you haven't got any, just shape your butter neatly.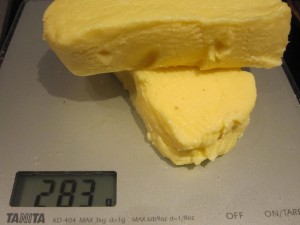 And look what I ended up with…283g of best butter.
Surely that counts as being careful with cash? A credit crunch success?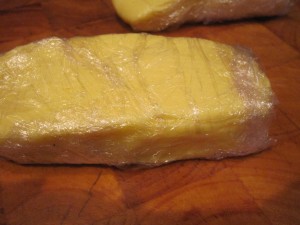 The butter can be frozen if you wrap it carefully…. you can flavour it with whatever you fancy….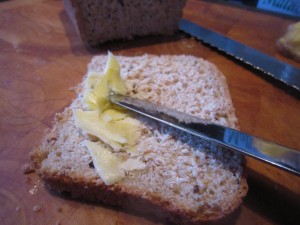 Or you can spread it on bread that you made and just enjoy it.
How simple was that?
That was made, while I did other things, in less than half an hour.
Now, as I said,  you can do it in a more relaxed fashion, getting young helpers to shake it about in a jar or a tupperware box, but you know what? This is just as satisfying and oh, so delicious.
Credit crunch money saving at its best.