I'm very fond of November as a month… I love the dark nights because it means when I get in that I put the lights on and the place seems to glow making it seem like a warm cocoon; I make lovely, comforting food that soothes us both, no matter how stressful a day we have had at work; it's getting close to Christmas so the excitement is building… but it's not close enough to terrify me because I haven't done the shopping. But the best thing of all is that in November we have our wedding anniversary.
We got married on Guy Fawkes night and the week leading up to and the week afterwards the night skies are filled with fireworks. It's like a city wide celebration, just for us. In 1605 a law was passed, The Observance of 5th November Act, that called for a public, annual thanksgiving that the treasonous plot failed.
I have to wonder that anyone would think we would need a law to make us celebrate anything, as the Great British public will have a party at the drop of a hat, but there you go. Not wishing to be law breakers, we all join in and enjoy ourselves. It seemed to us to be a great day to get married, too.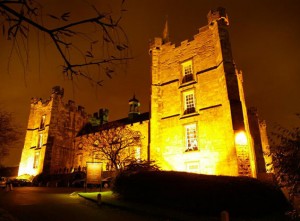 We got married, in the late afternoon,  at Lumley Castle , near Durham, in the far north of England,one of  the most beautiful and romantic places in the world to have your wedding. There were fireworks going off outside as the speeches were taking place and the whole place had a magical and special air. The castle staff did everything to make our day perfect… and it was. We laughed as we exchanged our wedding vows – so much that the cermony stopped for a while as the giggles took hold of us all – and we carried on laughing for the rest of the evening.
Most of our wedding photographs show people, giggling helplessly. That set the tone for our marriage, I think.
Anyway, here we are, a few years on, still laughing and still celebrating. Last year I made us roast vegetables for our anniversary supper and we sat and watched the fireworks going off below us. This year we decided to take a day's holiday from work and really celebrate.
The night before our anniversary we went to  Restaurant Sat Bains. This was our fourth visit to Nottingham's only Michelin restaurant and, as it always has been, it was spectacular. Sat is one of the UK's finest chefs and one of the most approachable and welcoming. One time we went we took the Bear's sister, who had come from Australia  for her birthday and Sat invited her (and, therefore us, because we weren't going to be left behind) into the kitchens.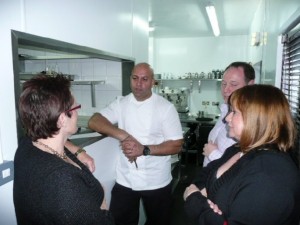 Sat really achieved  national fame in "The Great British Menu" that was screened on TV. Fourteen of the UK's top chefs competed to win a place cooking a course in what would be the best menu Britain could produce. Sat's starter of slow cooked duck egg, peas and ham scored a perfect 10 from each of the judges. It really is special and we have had it a couple of times before but this night we thought we would have the  ten course tasting menu. It's not as daunting as it sounds.. the ten courses are delicious bite sized, or mini portions that make you glad you are there.  Explore the link if you want to see the kind of menus on offer… our menu started with scallops, then salmon that was so delicious I could have eaten plates of it, then duck, mutton, a barley and snail dish, then leeks before moving to the transition course and desserts. You need someone better than me to tell you how lovely it was. It's not enough that I just make whimpering, moaning noises of delight and say it was lovely.
Life can't be all Michelin restaurants, though, so for our anniversary proper, we decided to stay in and cook for ourselves. The Bear decided he wanted to have sausages in buns for supper because… well, because that's what you have on Bonfire Night!
I made the buns from so No Knead Bread dough that was ready to be baked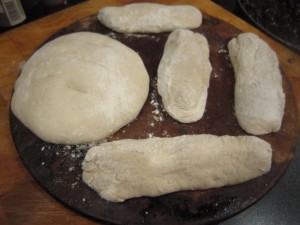 and instead of baking the dough in a cast iron pot as I normally do, I heated a baking stone in the oven and just shaped the dough and then baked them on there. Without the cast iron pot which sears the outside, you get a softer bun, which was what I wanted.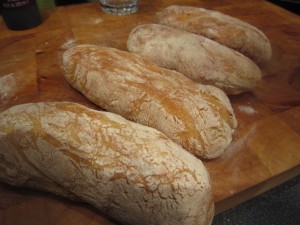 That was going to be delicious… but, it was our anniversary, so I decided I needed something to make the sausages in buns special. Caramelised onions would be just the thing, I thought. Rich and tasty, soft and savoury onions, stuffed into the buns with hot sausages… what could be better or more appropriate for Bonfire Night?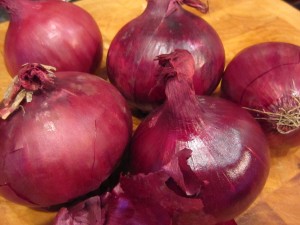 All you need to make this is time (maybe an hour), onions, balsamic vinegar (a spoonful or so), some sugar and some salt and pepper.
I had five red onions. That was going to make a lot of caramelised onion, I know, but whatever I didn't use was going to be put in a jar and kept in the fridge for later. It won't keep forever but it will certainly keep for a couple of weeks at least, so you may as well make extra.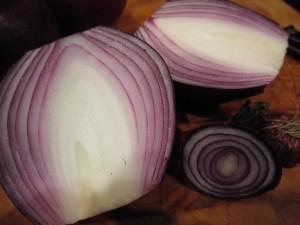 I love the look of red onions.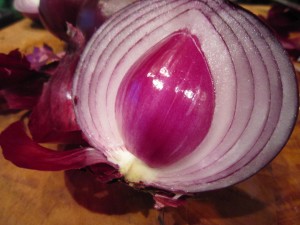 They are so vibrantly pink and beautiful.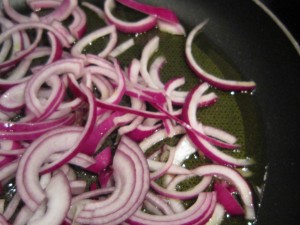 Slice your onions finely and add them to a large frying pan with a good amount of olive oil, warmed on a gentle heat.
You are not wanting to fry them to a crisp, just to soften them as they cook slowly.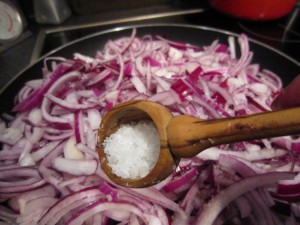 Adding a spoonful of salt keeps them soft and enhances the flavour.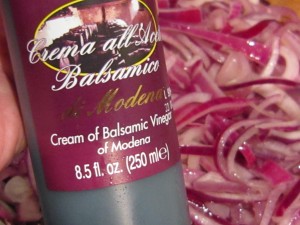 As the onions start to soften, the colour gentles and blends slightly. What you need to do now is add some extra flavour and add to the caramelisation process. Balsamnic vinegar works brilliantly here, or, as I used, a balsamic vinegar glaze or crema. What they have done is reduce the vinegar down to a thick, sweet and sticky glaze that can be used in dressing, on roasts, in salads or in general cooking. It is, I suppose, what you would end up with if you slowly cooked straight balsamic vinegar, so don't worry if that's all you have.
The aim is to add another layer of flavour.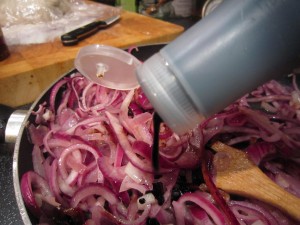 A tablespoonful or so needs to be stirred through while the onions carry on cooking slowly.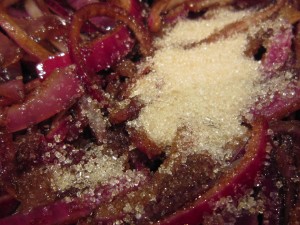 A dessertspoonful of golden granulated sugar needs to be stirred through to help the caramelisation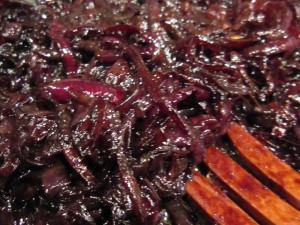 And then, after maybe another quarter of an hour you have a rich, sticky, soft and tasty tangled pile of onion……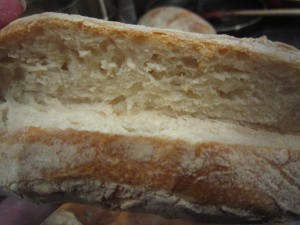 All I had to do was slice open the buns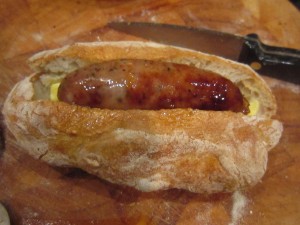 Add a fat and juicy sausage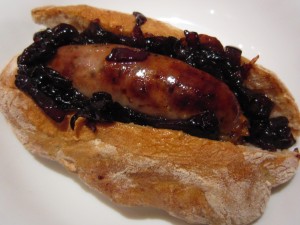 … and then start adding the onion…..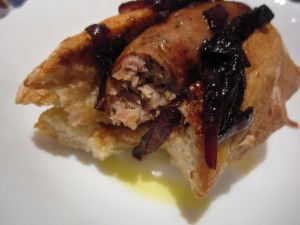 It was delicious.
The night before, Michelin starred restaurant… that night, champagne, sausages and fireworks.
Pretty simple. Pretty delicious.
At the end of the night, we had had a lovely time and I still had enough caramelised onion to put into a jar and keep in the fridge. It's perfect to serve with sausages, or pate, or cheese. Make some yourself and see how easy it is. It's enough to make a simple supper special. We thought so, anyway.