When I made the delicious Roasted Garlic and Marrow Soup, I wanted something to go alongside the soup to make it a substantial lunch as I knew we weren't going to be eating until late that night. What better, I thought than a savoury scone? One still warm from the oven? Maybe a good cheese scone would be just the thing.
Those of us who are British will know what I mean by a  scone – it's what American's call biscuits. What they call cookies, we call biscuits. Confusing, eh?
(A scone is an essential part of a British tea and  as Wikipedia points out " According to one academic study, two-thirds of the British population pronounce it /?sk?n/, rhyming with "con" and "John", with the preference rising to 99% in the Scottish population. The rest pronounce it /?sko?n/, rhyming with "cone" and "Joan". British dictionaries usually show the "con" form as the preferred pronunciation, while recognizing that the "cone" form also exists". I say "skon"  and as my husband will tell you, I am invariably right……..)
When I walked to the local shops I saw that the greengrocer was selling corn on the cobs, locally grown.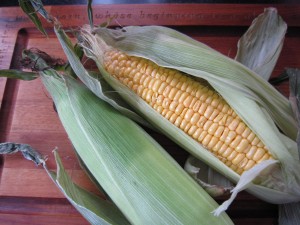 I knew from experience that these were sweet and delicious so I bought a couple. I'd seen a recipe in Good Food for cheddar and sweetcorn scones  so I thought this was the ideal opportunity and recipe to try out. I got some really good Cheddar from the Farm Shop and came home, knowing that it wouldn't take more than half an hour to get them made.
The first thing to do was to cut the sweetcorn kernels off the cob. The easiest way to do this is to stand the cob in a Pyrex jug or bowl and run the knife down so the kernels fall into the jug. If you don't do this then the kernels scatter everywhere. I know this because I have done it. What that means is that you then waste time looking for the sweeping brush and clearing up the mess. Do it in a bowl or a jug, eh?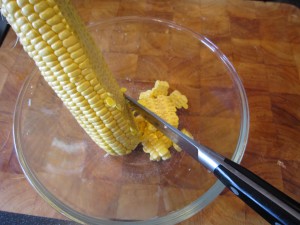 It's quick and its easy.
The next thing is to cook the kernels quickly. I  put a knob of butter in the bowl and microwave them for a couple of minutes if I am serving the corn as a side dish, but as these were to go into scones I decided that a small amount of water would do just as well. Adding extra butter to the recipe would skew things. It will only take a couple of minutes and then you can drain them, ready for the next step.
Start by heating the oven to 220 degrees C/430 F.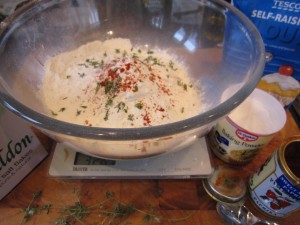 Mix, in a large bowl, 350g self raising flour, 1 teaspoon of baking powder, ½ teaspoon sweet smoked paprika, 1 teaspoon of salt  and some thyme leaves.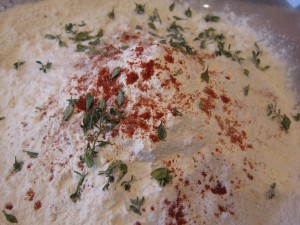 The original recipe called for mustard powder too, but mustard is one of the Bear's Big Hates so I tend to avoid it whenever possible.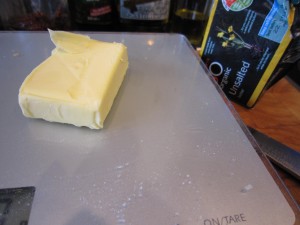 50g of unsalted butter must then be rubbed through until the mixture looks like fine breadcrumbs.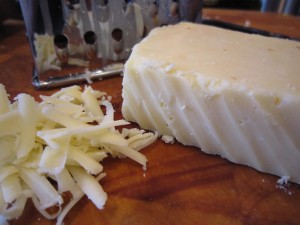 Grate 175g of good strong Cheddar cheese and add most of that to the flour mix.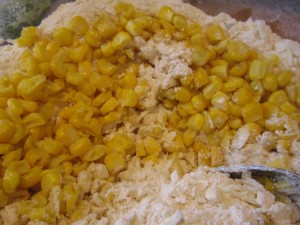 Add all of the cooked and drained sweetcorn and mix it all well, so there's an even distribution of ingredients.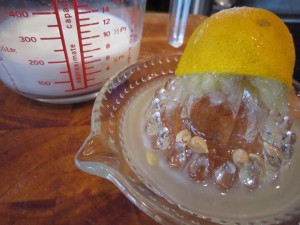 Add the juice of half a lemon to 175ml of semi skimmed milk.
My mother always used to save soured milk for scones when we were little… which makes me wonder, did milk go off more quickly years ago? I hardly ever have soured milk nowadays. maybe it is that fridges are better?
So, with no soured milk available, lemon juice does the job.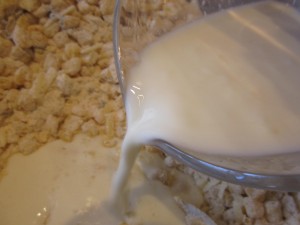 You can see that the milk looks almost lumpy… the lemon has acted on the milk, souring it and that's the way to get perfect scones.
Mix it all together.
The dough will be sticky, but don't despair and DON'T faff about with it. You need minimal interference for scones, otherwise the gluten in the flour toughens then and you end up with hefty, solid lumps, when you were wanting light and delicious morsels.
Sprinkle some flour on the board and knead the dough briefly so it comes together.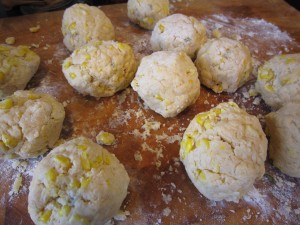 Make into 10 or 12 little balls by roughly rolling them.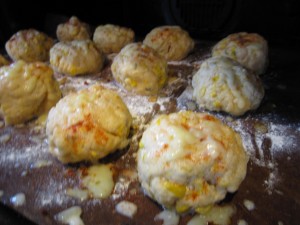 Flour a baking tray or a silicone sheet on a baking tray and put the scones on.
Brush them with some milk, then scatter them with the rest of the cheese, some paprika nd any remaining thyme leaves.
Into the oven for 10 to 15 minutes until they are risen, golden and sound ready… that is, when you tap the bottom, they should sound hollow.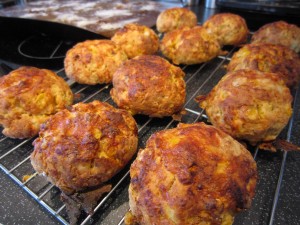 And just look at them!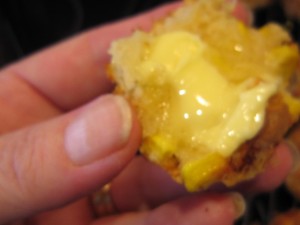 Of course, we had to try one with some butter to see how they were……..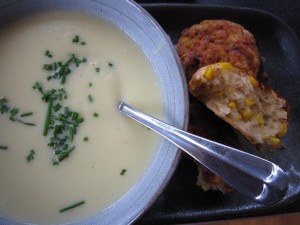 Before I served them with soup for lunch.
A perfectly light and deliciously tasty scone makes a great accompaniment to soup and now that the weather is changing I'm going to be making a lot more. Whyever wouldn't I when in half an hour I can have beauties like these emerging from the oven?