It was half way through the working week and it felt like it should be the end of the week. I got in from work, too tired to go to the supermarket on the way back  and was desperately craving something tasty and filling to eat. Looking around the kitchen I found various bits… some ends of cheese, a couple of limp looking spring onions,  the last bit of a chorizo, the end of a pot of cream, two wafer thin slices of  Parma ham and, of course, eggs.
I love eggs. I really do. I could happily eat eggs every day.
Some times I do. I mean… they are packed full of protein and they have been shown to have no real effect on cholesterol. If you eat eggs for breakfast, the high protein levels make you feel full for longer, which is just the thing you need to stop you snacking mid morning. Eggs for supper stop you having cravings late at night.
So, it seemed just right to have an omelette. I had that lovely chorizo which neede using up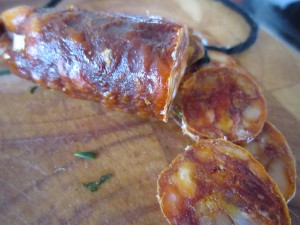 And  I had that cheese… so Cheese and Chorizo Omelette it was going to be.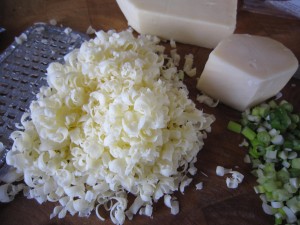 There was  the last of the Emmental and Gruyere cheese that I had used in Omelette Arnold Bennett and some farmhouse Cheddar.  The sorry looking spring onions weren't bad once I had trimmed them down and refreshed them in ice cold water.
I microplaned the cheese and sliced the spring onion.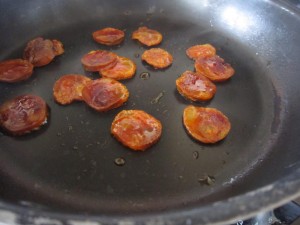 Dry frying sliced chorizo releases the oil and cooks the outside to a sort of caramelised bronze. Once the slices were browned on both sides, I took them out and left them to cool.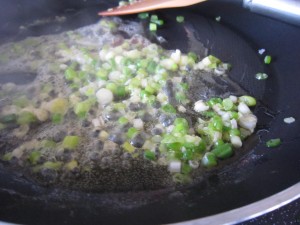 A knob of butter softened the spring onions (I really can't stand raw onion … it gives me a headache)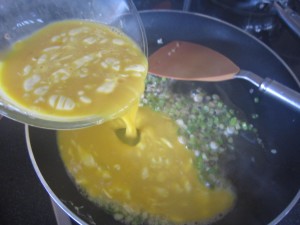 I briefly whisked the eggs with a fork and added the last of the cream. That's what you can see in the egg mix. I didn't bother to whisk it all in smoothly (it was very thick cream) but I knew that with cooking it would all melt in with the cheese.  That was all poured in over the softened spring onions.
My mother always calls them scallions and I don't know why. I really should ask her.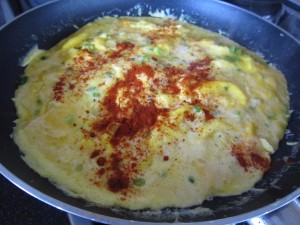 Look how gorgeous it looks… I scattered over some sweet smoked paprika because I love the taste and that would be echoed by the chorizo. Don't add it before the omelette has started to set because otherwise you get a diffuse pinky orange looking omelette. I still like to see the creamy golden yellow of the eggs.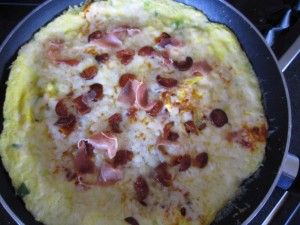 Slices of chorizo would be too much but it is easier to cook them in slices. Once they were cool I cut them in half and scattered them over the still soft egg.
Then a layer of cheese and those two remaining slices of Parma ham, torn into pieces..
I stuck the pan under a hot grill for a minute and the cheese softened and melted over everything… the eggs puffed up a bit more and then…..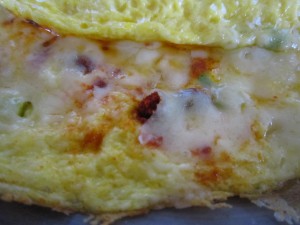 Then, it was supper made from scraps.
A truly delicious  omelette. The cheese and chorizo worked perfectly well together and I had not only used up stray items in the fridge but I had made supper in less than twenty minutes.
It really did taste gorgeous. I really must make sure I have more scraps in my fridge.