We have decided on a new regime. We seem, somehow, to have become rounder.
Somewhat stout, actually. We are going to have to go on a diet. Only thing is, we aren't very good at diets … well we aren't very good at chewing on celery and raw carrots.
What we thought we could do is eat as if we weren't on diets but make sure what we do eat is low calorie.
I started to go through magazines looking for recipes that came in at under 400 calories a serving. My thinking behind this was that if we ate sensibly at breakfast and lunch then we could look forward to something nice at supper.
But supper had to be low calorie….. I wanted proper food not some kind of packet.
You can buy packets of ready meals that have the calories counted for you but that wasn't the way I was going to go.  If I could make sure that each serving was low calorie but still home made and tasty.. well that was the answer.
If it was only 400 calories a serving then that would mean there was still room to bring in a side dish… we could diet and feel as if we were still enjoying ourselves! All I had to do was find some recipes
One of the first recipes I found was Chicken Jalfrezi in Olive magazine, October 2008.
And it was only 250 calories per serving!
That had to be a winner. So, what did we need?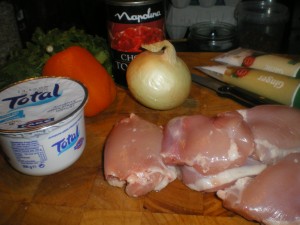 A large onion, sliced,
3 cloves of garlic
2-3 green chillies, sliced
Ginger grated
Chicken thighs – 6 cut into chunks
Tomatoes, 5, roughly chopped
Green pepper, chopped into pieces
Coriander – small bunch with the leaves picked off
Yoghurt – small pot
Spice mix
1 tsp turmeric
1½ tsp ground cumin
1 tsp ground coriander
1 cinnamon stick
5 cloves , ground
Well, you can see in the picture that it is, first and foremost, rather dark. That's because I was late in from work and despite all the lights being on, it still looks dark.
You can also see a tin of tomatoes – I forgot to get fresh. Just as I forgot to get fresh garlic and ginger, hence the tubes of puree. Oh, and the pepper is not green but orange.
Still… everything else is OK……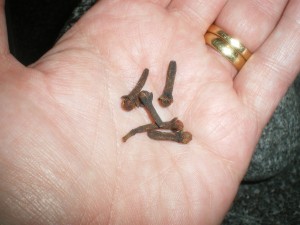 First thing.. heat 2 tablespoons of  oil in a pan and add the onion and a good pinch of salt and fry until it is soft and golden, then add the chillies, garlic and ginger and cook for another couple of minutes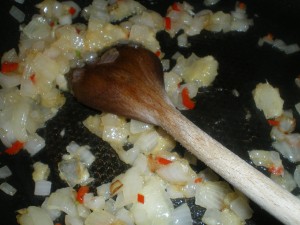 Make the spice mix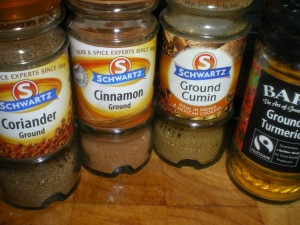 And add it.. I had also put in the stalks of the coriander (they can't contain many calories, can they? And they do taste nice)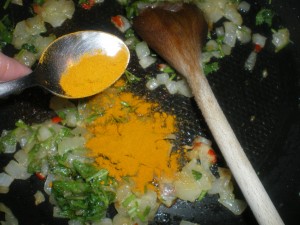 Cook it all for a couple of minutes to round out the flavour..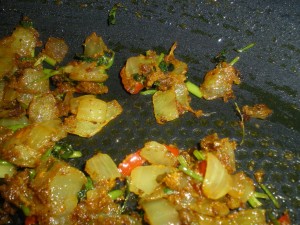 Add the chicken pieces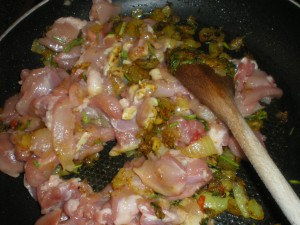 And stir round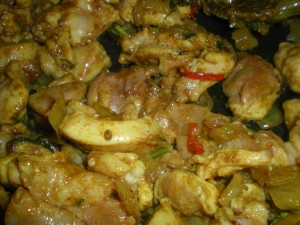 Then add a splash of water, the tomatoes and the pepper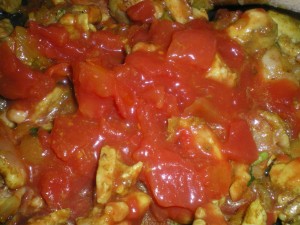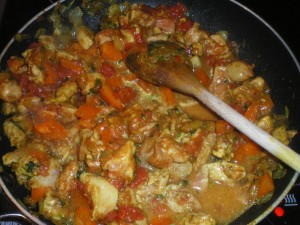 You can now cover the pan and let it cook gently for 30 minutes or so.
That gives you enough time to go and settle yourself for a while… it had been a long day for me and I was tired. Even so, that wasn't a lot of work and was surprisingly quick to do….
The sauce will have started to thicken up by now.. if not then take the lid off for the last ten minutes. If you are using the yoghurt, add it now and stir it in for a creamier sauce. I still had plenty left from the Total Great Greek Yoghurt Experiment, so this was an ideal dish to try it in.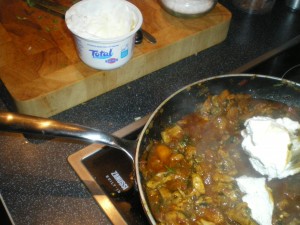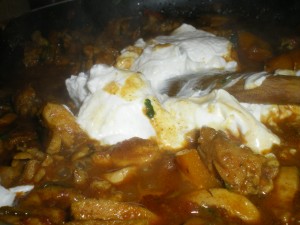 and add the coriander leaves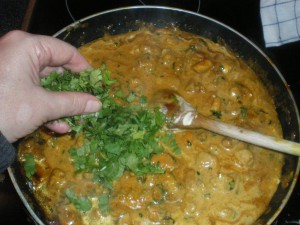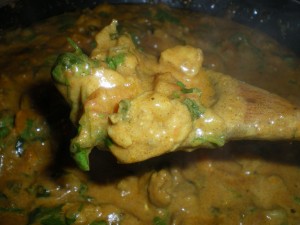 I made steamed basmati rice to go with it….and served it up.
Even with the rice that had to be less than 500 calories.
A bowl of ice cream is 500 calories.. and that's a small bowl. I know what I prefer.
The Chicken Jalfrezi  was quick and easy to prepare (there was a half hour break in the middle while it cooked) and it was ready and served within the hour. It felt like we were having a real meal….. it certainly didn't feel like any kind of diet I had been on before. The yoghurt made the sauce taste rich and creamy so there was a definite level of luxury about it all.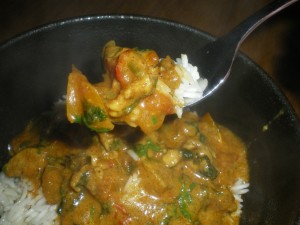 There you go. A way forward out of the diet doldrums. I made that after a long day and it certainly wasn't difficult but it certainly was delicious.
400 and Under is the way forward!