We're here… and we are almost sorted. They say (well, Lao-tzu said, anyway) that a journey of a thousand miles begins with a single step. A journey of 6,570 miles must also begin with a single step then… and an awful lot of boxes in the container and a car full of bags and suitcases to drag with us.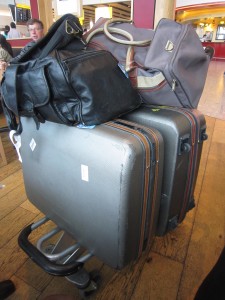 It was odd, driving through the night to Heathrow and knowing it would be months before we would be back in the UK. Odd and strangely sad. All we had, as we walked into Departures, was each other and those few bags.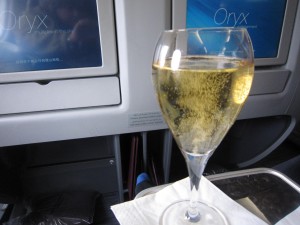 The glass of champagne that the Bear insisted we started the journey to our new life with, took the edge of the sadness though and we raised a glass to each other, toasting the start of our biggest adventure yet.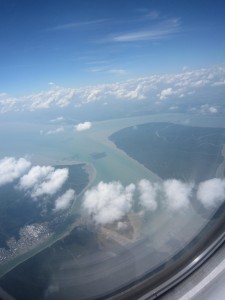 Then, after many hours of flying, there was Malaysia below us. That was where we were going to live… how strange it seemed. We looked at each other and laughed. Our new country!
We got through Immigration with only a few questions, though I have to say I was a bit put out when the Immigration Officer studied my passport, stared at me, studied my passport again and then asked if I was that woman in the photograph. I said I was and she didn't believe me. Trying to explain that a photograph taken in a booth, when you know that this is the photograph you will be stuck with for ten years, so you've taken particular care with makeup, your hair is brushed, you look as good as you are going to get…..well, that photograph is a good one.  It may not, as the Immigration Officer pointed out, look very much like the face that was staring back at her from the other side of the desk. That face, however, did not have the benefit of makeup, the hair had not been freshly blowdried, and travelling from the Saturday night till the Monday morning does wreak its own awful havoc.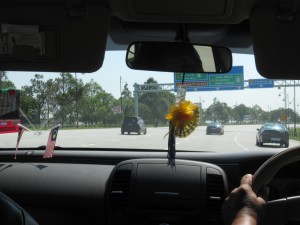 Eventually, though, because if I was a criminal I might have made more effort to look like the person in the passport,  she let me in to the country and we grabbed a cab and set off. Our suitcases were jammed in the boot, on the front seat next to the driver and on our laps (Malaysian cabs are quite small) and we started on the trip into Kuala Lumpur.
There's a smell to Malaysia… a green and sweet smell that makes you smile. The roadsides are green and bursting with shrubs and palm trees. It rains every day so everything grows rapidly and the rain washes the dust away leaving everything clean and fresh. I suppose the smell is rather like a fresh air version of a tropical hothouse, if you can imagine that.
And then we were in the city. We stayed in the rather wonderful Grand Millenium Hotel while we got our bearings and while I started looking for a place to live.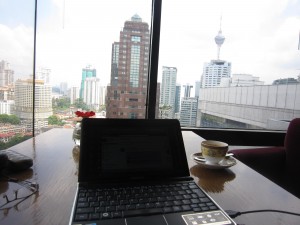 The Bear went straight to work and I spent my time searching the internet and looking for apartments to rent. I sat in the Executive floor lounge, drinking coffee and looking out over the city and wondering where we would end up next.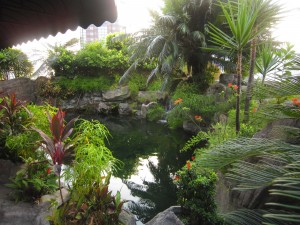 Each night the Bear would come back to the hotel and we'd sit outside, 20 floors up, with a drink and a snack, talking about what we'd done each day. I'd tell him about the apartments I'd viewed and he would tell me about his work.
One night there was a surprise for him….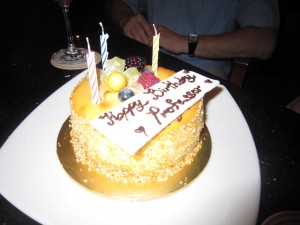 It was his birthday and the lovely staff from the Executive Floor and the managers of the hotel came round the corner, bringing him a cake and singing Happy Birthday. If it wasn't for the fact he is such a shy and retiring Bear, I'd show you a picture of his surprised and beaming face as everyone joined in with the singing.
We went out that night to celebrate, with friends  on Jalan Alor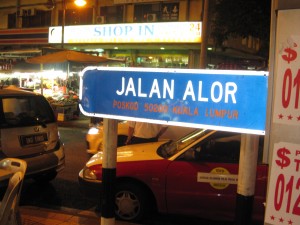 This is the famous street of food at night in Kuala Lumpur and a must-visit destination if you are ever here. It used to be the red light district but is now the home of what seems like hundreds of restaurants and hawker stalls, where you eat in the street. You get the most delicious food here – there's so much to see… and eat.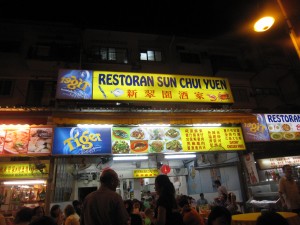 And the best place of all in the street is this restaurant… better known as the restaurant with yellow tablecloths. I think I'll tell you more about Jalan Alor another time…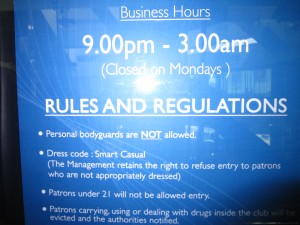 When we finally got back to the hotel we thought (briefly) about finishing the night off by going to the nightclub but realised that we were probably too old; too fat;  too full of delicious food and too casually dressed for that. A club where customers routinely have bodyguards was too smart for us. Besides we were exhausted. … and there were going to be many more long days ahead of us as I tried to find us somewhere to live.
We needed to rent somewhere in KL that we'd be happy with for the three years we are going to be here. I had so many things on my wish list and the person that was going to help us was Roopa. Probably the best letting and relocation agent in KL. She spent days with me, rocketing around the city in her car,  showing me condominium after condominium, searching out the best deal possible. The Bear left on a trip to Arizona and it was just me and Roopa. She drove through crowded streets even on Fridays (the worst day to drive in KL) in her attempt to get us the best place to live and we narrowed the search down to one particular condo.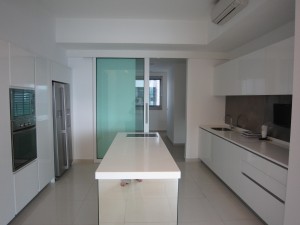 The apartment we were looking at had a large dry kitchen…. in Malaysia it is common to have both wet and dry kitchens. The dry kitchen is usually attached to the living area and this is where the less messy bits of preparing food go on. This one had an induction hob in the central island, a large two door fridge freezer, an oven, microwave, more cupboards than I would have thought possible and a sink.
So far, so good.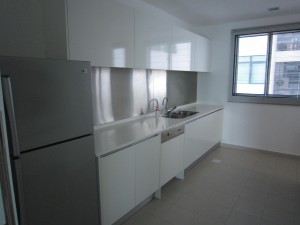 Then, behind the sliding glass door was an enormous wet kitchen, with yet another fridge freezer; a dishwasher; a double sink; even more cupboards…and  a waste disposal unit (probably one of my favourite kitchen gadgets – just think how useful that will be at getting rid of peelings and food scraps when the temperature is always over 80 degrees C)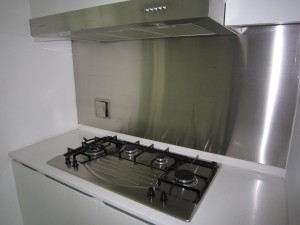 …. and best of all, a gas hob! It was everything I wanted in a kitchen.
And rounf the corner from the wet kitchen was the laundry area and a huge storage room.
It really was perfect.
I could cook and prepare stuff in the wet kitchen and the smell of frying wouldn't be all over the rest of the apartment. I would have been prepared to sign up for the apartment there and then but Roopa had more to show me….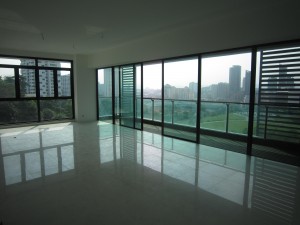 The living area was huge with windows on two sides and a balcony running the length of the room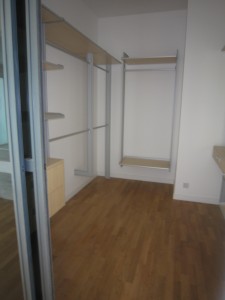 There was a massive dressing room, off the master bedroom…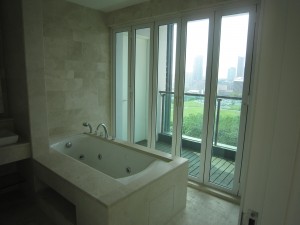 … and the master bathroom had doors that opened onto its own private balcony.
How could we say no to all of that? The kitchen alone swung it for me. And so, the deal was done.
There was one problem though…… we took the apartment unfurnished which meant that we moved in with what I could buy quickly.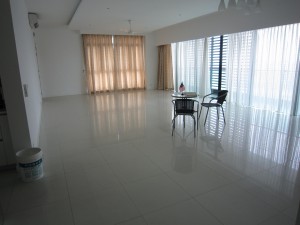 Which was a table and a couple of chairs from IKEA and a bed.
All I had in the way of kitchen stuff was what I brought over – two plates; two bowls; two sets of cutlery and two mugs.  I went out and bought the bare minimum of kitchen ware – a pan, a chopping board and a knife – and we settled down to wait for the container.
But I didn't mind too much…. I had the kitchen I had always longed for.
We were home.