Whenever I go home to the North I always call in at my favourite butcher's, George Bolam at Sedgefield. It's from here that I have got the more unusual cuts, like plate of beef or lamb henry, where I get the best belly pork, either in strips or rolled, to make the perfect joint with crackling. I get my favourite beef skirt from there, too – the tastiest and tenderest (if cooked quickly) steak imaginable. He makes his own haggis and black pudding and has the widest variety of sausages imaginable.  He has a bakery there too, a deli, a fish counter and an amazing selection of fresh fruit and vegetables.
Everything I get from George's is absolutely fresh, generally local and incredibly good value and that is, I suppose, why all of us should support our local butchers rather than just buy meat from supermarkets.
On my last trip home, I called in to stock up on meat to bring back to the city and saw, for the first time on his shelves, cheeks of beef.
These are, as you would imagine, the cheeks of the cows. The price was incredible – 717g of meat for £3.14? I had to buy it and try it.
So, that was frozen and put into the freezer until I had time to think of what to do with it and the time to cook it.
And then I got ill. I could barely move and any cooking that needed me to be alert and available to do things was out of the question. To be fair, I didn't want to eat either so for days I lived on hot drinks and an occasional slice of toast.
Then one day I realised I had to have more than that – the Bear needed feeding, for one thing. And then I remembered the beef cheeks in the freezer.
Now, a cheek of a cow would get a lot of exercise, I would have thought. All that chewing of the cud must give those cheek muscles a good work out. Cows seem to chew none stop. So a well muscled piece of meat would need long and slow cooking. And the best thing about long and slow cooking is that it requires minimal preparation, even less attention and the opportunity for a nap while it cooks.
The end result is always something succulent and tasty, perfect for anybody…. even an invalid.
That settled it. I summoned up the strength to go to the kitchen and took out the cheeks to defrost. I would cook them the next day.
The next morning, I unwrapped them and looked at them properly. They were much larger than I thought they were going to be.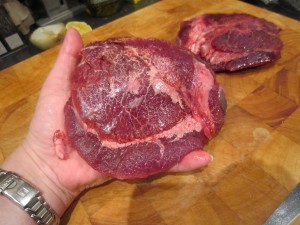 What a size they were….I have normal human sized hands, you know, it's not as if I am a miniature person. Each cheek was bigger than my outstretched hand.
That was going to feed four, at least.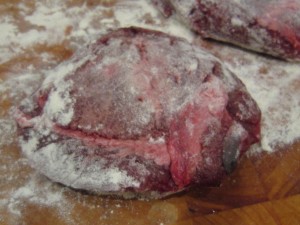 As with so many delicious things, the simplest way is often the best way and with slow cooked food that seems to be particularly true.
I dusted them with flour…..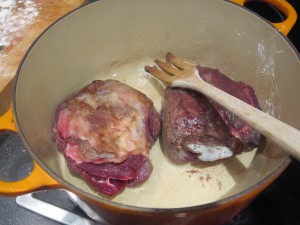 … and then browned them quickly in a splash of oil, in the bottom of a hot casserole.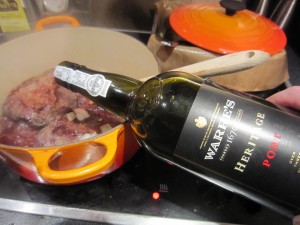 I poured in some stock, made from granules and hot water and then thought I could perhaps boost the flavour even more……As we seemed to be stockpiling port, I decided to add a good amount of it to make the gravy even more delicious. I don't know when we were going to get around to drink it all, so it seems a good choice to use it in cooking now and again.
Don't worry if you haven't got port, or don't want to use it. Use all stock instead, or maybe add in some wine, or sherry… it's your choice. You do need to add something to make the gravy with, so add enough liquid of whatever you fancy to just cover the meat.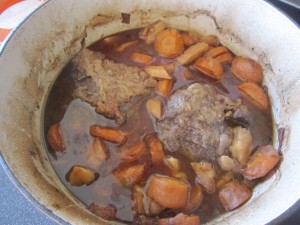 I chopped in some carrots and parsnips and put the covered casserole into the oven at 160° C/320 °F for three hours.
The smell was amazing.
As the oven was on anyway, I scrubbed some potatoes, jabbed them with a knife so they wouldn't burst, rubbed them with oil to make the skin crispy and put them in the oven to bake alongside the cheeks, then I went back to bed.
When I next roused myself, I went upstairs to a beautifully warm kitchen, filled with wonderfully rich and aromatic smells and opened the oven.
The potatoes were perfect and the beef cheeks looked good. More than good, actually.
I got a spoon to stir the vegetables and gravy round and moved a cheek… the spoon went through it.
Remember how big those cheeks were? Well they were still in one piece, it's not as if it was all in bits and easy to scoop up. People say, when they are talking about tender meat, that you can cut it with a spoon but this was the first time ever that I really could do that.
The spoon sank through the silky soft meat and there, on the bowl of the spoon, was the most delicious looking piece of meat.
And the taste? It was beyond delicious. It was rich and soft, succulent and tasty.
Probably the best beef stew I had ever eaten. In fact, calling it a beef stew seems to be a bit of an insult.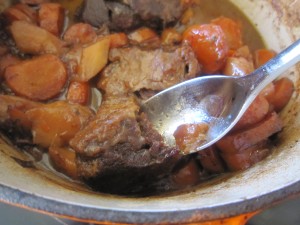 The vegetables had kept their shape in the long, low and slow cooking and were perfectly tender. The funny thing is, I'm not that fond of cooked carrots, especially cooked carrots in what is, to all intents and purposes, a simple stew but these were gorgeous. They still tasted carroty but they also had a deep rich layer of taste from the gravy.  I loved them.
But it was the meat that was the star of the show and now, thinking back as I write this, I long for beef cheeks again. So much so that I've just 'phoned my mother and asked her to go and get me some more and freeze them ready for me to collect on my next trip.
Those two cheeks made enough to feed four or five healthy appetites….and for those weakened by the dreadful colds and flu, well that boosted my appetite and for the first time in days I enjoyed my food.
Simple, so very simple and it cost so little.
If you see beef cheeks, buy them immediately. If you don't see them, start picketing the butcher to get some for you. You won't regret it… although you may regret the fact you spend days yearning for beef cheeks when there are none available.